Blu-ray Movie Review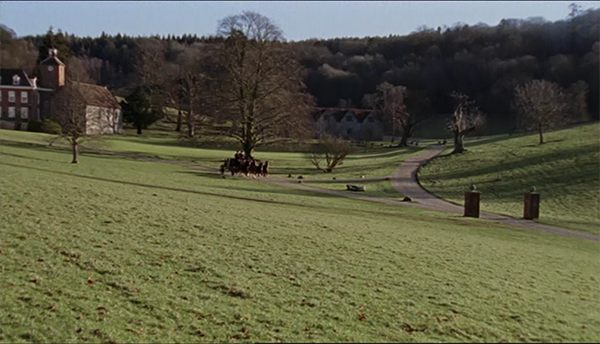 To The Ends Of The Earth
from Timeless Media Group / Shout! Factory
March 5, 2015
Introduction
Back in July 2005, the BBC presented the 3-part series, To The Ends Of The Earth. At the time, we had a few actors who were not so well known in the US. Jared Harris eventually went on to take solid roles in Fringe as David Robert Jones and Mad Men as Lane Pryce, as well several other movies along the way. Benedict Cumberbatch has been Sherlock for the last 6 years of the same series name, and is a popular favorite in the US. Star Trek: Into Darkness became major hit as well, taking the role as Khan.
Sam Neill, Charles Dance, and Joanna Page are also featured, and many more stars, which make this series something special, as you won't find too many of these types of series with amazing actors on the store shelves these days (or a movie shelf), as they are rare gems which are passed on from viewer to viewer who just happen to come upon them.
Hopefully, this review will encourage some of you to seek out this series, and possibly even the enjoyment of reading the books themselves.
The Plot
Son of a very wealthy British family, Edmund Talbot (Benedict Cumberbatch) has been guaranteed a prominent position in Australia (thanks to his influential godfather) with the Governor of New South Wales. His godfather has also given him a journal to write of his experiences as he crosses the tempermental waters, and hopes to read of his journeys when he arrives.
Captain Andersen (Jared Harris) laterally achieved his position (i.e., aristocratically) but there are many moments when his fractious behavior can be observed getting the best of him and taking a toll on his loyal crew — especially 1st Lieutenant Summers (Jamie Sives), who is more level-headed.
Mr. Prettiman (Sam Neill) is somewhat of an idealist and doesn't tread too far off the path, nor does he want to impede on others if it means he will get more attention.
Miss Granham (Victoria Hamilton) is indrectly thought of as a spinster and rather rigid — probably as eccentric as the old war boat that will carry the entire crew to Australia itself. However, the crew will be suprised of events as time goes on, and will come to know her as a very caring woman.
Packaging
Packaging for To The Ends Of The Earth is packaged in a single disc Elite case.
Video & Screencaps
Video for To The Ends Of The Earth is not going to impress anyone, and I'm surprised for a production date of 2005, and a 2011 release, we didn't see something a little better. Regardless, you're not going to purchase this as a reference video title, but more for the acting talents of a great selection of actors.
Viewers should note, TMG (Timeless Media Group / Shout! Factory) has presented this in a 1.78:1 aspect ratio, and NOT 1.33:1 (Fullscreen) as labeled on their Blu-ray case. Amazon also mistakenly has this as fullscreen. The 1.78:1 AR has been taken from the fullscreen image, and you can easily see this from the screencaps below. I don't think much care was taken when transferring this to Blu-ray, and given the bitrates, I have to wonder if this series was just ported over from the DVD version, stripping the extras due to liability reasons.
Screencaps
Additional Screencaps
Audio
Audio for To The Ends Of The Earth is certainly not impressive, and is only available in stereo. However, dialogue seems to come through ok most of the time, but I would have preferred a more dynamic range. Delivering only 256 Kbps, there are inevitably going to be issues with separation and muffled voices, which I did experience.
Main Audio Track: Dolby Digital 2.0 (English) @ 256 Kbps (48kHz)
Subtitles: No Subtitles
Extras
Extras for To The Ends Of The Earth are non-existent, and extras which were on the 2-disc DVD version...are not to be found here. This is the second Shout! Factory release where I've experienced this issue, but also their Capricorn One release as well, which I avoided by getting the UK release. Unfortunately, I have not seen any positive comments about the BBC release either, so if you have the DVD...you might want to hold on to it.
Specifications
Active Pixel Area: 1920 x 1080 pixels
Inactive Pixel Area: Not Applicable
Aspect Ratio: 1.78:1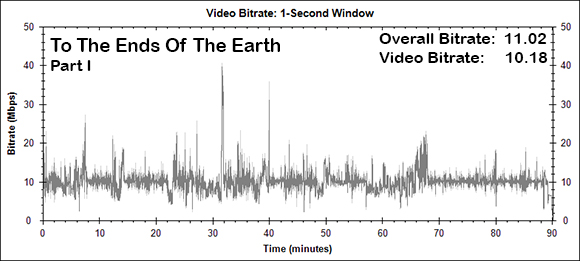 To The Ends Of The Earth (Part 1) Bitrate Graph
To The Ends Of The Earth
Codec: MPEG-4 AVC
Resolution: 1080p
Blu-ray BD-50
Disc Size: 22,187,724,001 bytes (20.66 GB)
Movie Size (EPs 1-3): 22,144,333,824 bytes (20.62 GB) (4:27:49)
Overall Bitrate: ~11 Mbps
Video Bitrate: ~10 Mbps

Conclusion
So yeah, To The Ends Of The Earth does absolutely miserable in the video, audio, subtitle, extras, and just about everything else associated with the technical aspects of a release...but this series excels in its delivery of presenting Edmund Talbot as true to the book as I've ever seen. The close quarters of the ship and the social interactions in it being reenacted from William Golding's trilogy comes through rather well.
With performances easily overcoming the technical failures, To The Ends Of The Earth (Blu-Ray) gets a RECOMMENDED.
Since this was released in 2005, it's a real treat to see these actors perform. In so many cases, I've observed their performances were stellar back then...and still are today. This demonstrates what a class act the BBC put together, and even what a timeless presentation To The Ends Of The Earth really is. This is a must-see feature.