February 10, 2016
Introduction
In September of last year, I reviewed the H-07 Bluetooth Hi-Fi Stereo Sports Headset and was impressed. I mentioned if EC Tech created a more rugged headset for users who were more active and could benefit from better protection from water/sweat, I would certainly be interested in trying it out. Well, that time has come. EC Tech has announced the Shine, which adds a few important and significant features I think my viewers will find very exciting for a product they can use that's still affordable. If the H-07 was great, but you wanted something even more...the SHINE is what you need.
The EC Tech SHINE Bluetooth 4.1 Stereo Headset
Taking the SHINE out of the rather impressive packaging, I immediately could feel it was ready to go for some serious workouts and activity. So...I took it on my 2-mile jog. Putting on the SHINE, I noticed it was heavier, but not to the point of distracting. Compared to the H-07, I felt more relaxed with my movements. Rapid and continuous contact of my feet hitting the concrete didn't affect the SHINE's positioning on my ears, thanks to the extra support of the earlobe clip. The clip looks like it would be hard rubber or plastic, but it's not. The clip is very comfortable and attaches to your earlobe and thereafter, you don't even notice it's there.
Exciting New Features

EC Tech SHINE Neon LED cable
Yes, these are exciting features. Why? Because you will use them. Let's begin by noting the added heavier-duty cable, connecting the left and right earphones. This cable is not only designed for more ruggedness, but also visibility. Multiple modes can emit varying LED light sequences, and one of those modes is having the LEDs jump to the beat of your music. If you want to be seen in low-light situations, this is certainly the way to get noticed.
Play By Swipe 'N' Swirl — Literally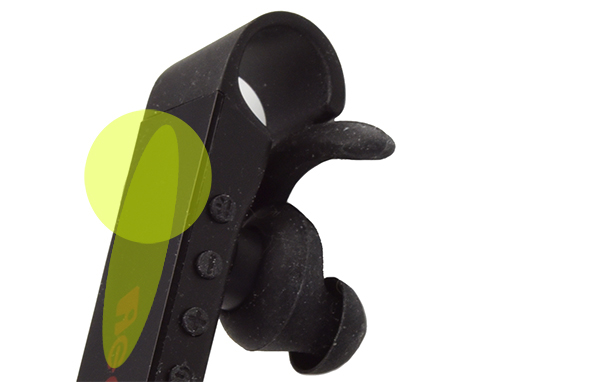 EC Tech SHINE - Play By Touch
You have two options on the SHINE to play your music. The first is using the buttons on the SHINE itself. The second option, is somewhat of a new idea from EC Tech. There is a sensor located in the area shown above with a highlighted circle. Making a small circle with your finger clockwise or counter-clockwise, will pause/play the particular audio track. To go forward to the next track, slide your finger forward along the axis of the right-side earphone (which has the iEC label), as illustrated above. And to go back a track, slide your finger in the opposite direction (backward).
Most of the time, I did not encounter issues with the SHINE recognizing my finger directions, however, I did encounter delays of the track pausing and then playing, track selection, etc. This isn't necessarily bad per se, as I'm used to instant response from audio equipment of my previous DJ days, so I'm leaving this up to the user to determine. If you're ok with a 1-second delay, then you'll be fine.
During physical activities, it was somewhat difficult to manage to move my finger exactly as needed to get a response, and I found myself using the buttons about half the time. However, for typical leisure listening, I wasn't as "demanding" to wanting a response. I think my viewers will understand that when you're jogging, running, or any activity where you're moving and concentrating on that activity, having other things comply around you is more of a demand than it is a feature.
Packaging
Packaging for the SHINE headset was above average as you can see below. Normally seen in $200+ headset systems, the outer box is made of a tough cardboard material which will last. 3 additional sizes of ear pieces are located in the smaller box along with a basic mini-USB charging/data cable. The rest of the inside of the box is custom cut styrofoam for the SHINE to be store. A removable circular styrofoam piece is also featured, so the cables can be easily be fit and secured for storage.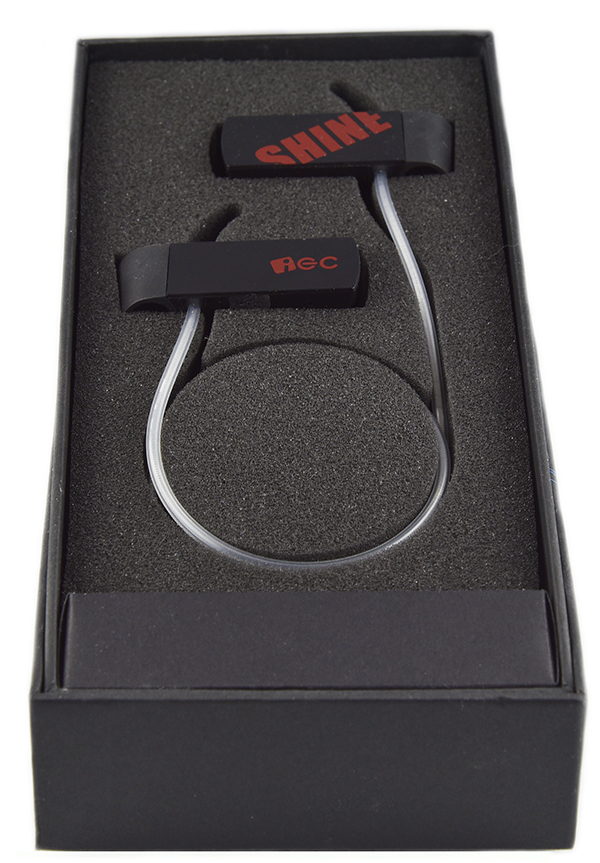 EC Tech SHINE Bluetooth 4.1 Stereo Headset
Audio Performance
Simply put, the SHINE sounds terrific. The H-07 does well, but there's a little more mid-punch and bass in the SHINE. More than likely, this has to do with a solid fit with the added outer earlobe attachment and the inner-ear extension. I've probably said this in the H-07 review and maybe elsewhere (maybe the FiiO X5 review), but using an equalizer application greatly helps get that custom sound from a headset to your ears. I'm not particular to any EQ App, as most of them do what they're supposed to and a few add more bands of equalizing and different skins, but the overall effect from any equalizer will significantly help you achieve the tuning of your headset, whether it's $20 or $200.
Pros
A very welcome bold and robust headset model

Heavy-duty housing

Buttons are big enough to use via touch

Very bright multi-colored LED for low-light visibility

The user can select body movements to trigger the LED lights, music, or random patterns.

Bluetooth pairing happens without issue

No experienced drop-outs

Higher quality cable connecting the two earphones to protect from sweat, water, etc.

Not exactly inexpensive...but still affordable

Contemporary design
Cons
Observations
When pairing with your bluetooth device, the name SHINE will appear.

Stays on the ears even more solid while active and moving fast

User is not informed when aptX is enabled

Music did not cut out — the Wi-Fi issue may have been solved

IP Rating of IPX2

User manual could be more explanatory

Selection of audio tracks by touch may not be as functional when using it during physical activities versus using the buttons
Conclusion
The EC Tech SHINE does exactly what I was hoping for from the H-07. Improving on a more secure fit for demanding sports and activities, keeping the headset virtually waterproof and sweat-proof with just a simple wipe clean after every activity to keep it in good shape, as well as a much thicker connection cable which is also resistant to the elements.
One of the more exciting features of the SHINE, is the ability to use it as a low-light visibility tool when jogging and walking at night. The very bright LED makes the clear connection cable visible to potential vehicular traffic which probably would not see you otherwise. Having the option for the LEDs to react in-sync with your music's beat, is an exciting feature.
Improving upon an already great product line of bluetooth headsets, EC Tech manages to offer a higher performance model which does not disappoint. EC Tech still managed to keep the SHINE under $100, and what you get is a great product for your money. The EC Technology SHINE Sports Headset receives a HIGHLY RECOMMENDED.
Worthy of mention is the IP rating of the SHINE. I'm somewhat surprised the SHINE has a rating of IPX2 because of the impressive build of the SHINE itself. Just so viewers are on the same page as I am, an IPX2 rating is such that: "Vertically dripping water shall have no harmful effect when the enclosure is tilted at an angle up to 15° from its normal position." I was expecting an IPX4 rating at the least, but I haven't encountered any specific issues with sweat potentially getting within the SHINE because it's a solid product. However, with an IPX2 rating, I advise users to clean their headset with a mildly damp cloth after a good workout to remove any contaminates which could build up over time, and I would not recommend using the headset for swimming or any situation would introduce the SHINE to extended periods of extreme amounts of water. Rain is ok, but extended periods of submersion is not.
Looking Further...
The EC Tech SHINE is putting itself quite comfortably into a new category of the affordable Bluetooth sports headset. Looking further, I would be excited to see an overall smaller design, lower weight spec, and an IPX4 or higher rating. Of course, this would mean a slightly increased price, but considering we are now in the realms of a professional headset which would be virtually waterproof and small, the competition is still way over $100.
EC Tech products are continually managing to impress me with their modern designs, technological improvements, and keeping prices respectively low to allow a much wider consumer base for added expansion of participation with their very enjoyable digital device offerings.