digitaldingus Review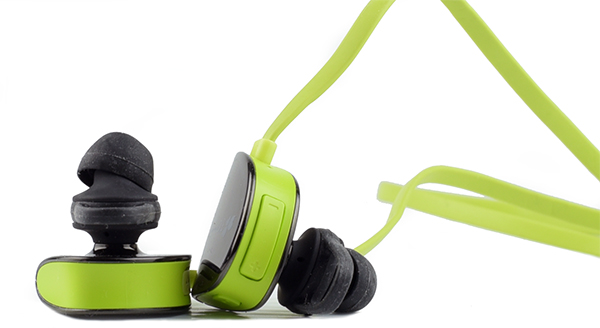 H-07 Bluetooth Hi-Fi Stereo Sports Headset
from EC Technology
September 4, 2015
Introduction
I've had a difficult time looking for a bluetooth headset that has a good sound, relatively lightweight, and has a price tag which doesn't hinder my purchasing. Some of the issues I have with a wireless headset are the potential for trampling over it while jogging, getting caught on a branch during a hike in the hills, or just getting damaged being exposed to the environment itself. Coming across EC Technology, I noticed they have expanded their product line to include the H-07 Sports Headset, and of course, I had to see if this would work for my wireless needs.
The EC Tech H-07 Bluetooth Headset
For about $35, EC Tech has brought the wireless sports headset to those who don't particularly want to spend $50+ on something which will more than likely get abused and worn out anyway. Once the price is reasonable, we now have to ask is the sound coming from the headset going to be good enough for sports activities.
aptX
The EC Tech H-07 has aptX technology, which is a proprietary compression formula (audio codec) to hear audio from devices which use aptX. Both the transmitting device AND the receiving device MUST have aptX. It will not work if one or the other has it, and in this case, the H-07s will just revert to the standard codec. Bluetooth inherently has a 24Mbps data rate, which translates to about 3MB/s. 3 megabytes is about 7 megabytes short of CD quality sound, but with proper perceptual algorithms, you won't notice much of a difference. My Samsung S4 Mini is equipped with aptX, and so I transferred a few music files (uncompressed .wav) to it to see how the H-07 would sound.
Initially, music sounded good. However, there was a slight treble cutoff and mids were a little lacking. But this wasn't due to the headset itself. What H-07 owners will have to do is download an equalizer application. There are many out there for free, and various features and settings are available, but having at least a 5-Band EQ will greatly open up the highs and mids. Your smartphone device especially will not have music playback maximized for listening because it's mostly used for voice communication. And voice communication cuts the lows, some of the mids, and almost all of the highs unless you play around with an equalizer to offset these settings.
If you would like to read more about aptX, please visit the aptX website.
One particular observation which I experienced, where the aptX technology needs to evolve, is allowing the user to know just exactly when aptX is being used. There are no LED indicators (which would solve the issue right there) or anything on my device which tells me when aptX is enabled. Audio compression was certainly enabled when I listened to a few uncompressed music tracks, but I have no idea which compression codec is in force.
Music Cutting Out? Read This
Some of you may encounter issues with music cutting out when using the H-07 headset, but this isn't due to the H-07 not being up to the job. If you're on a Samsung smartphone, it is best to turn off your Wi-Fi connection. I noticed the Wi-Fi connection interfered with the wireless connection from the H-07 and one of the reasons why is because both wireless protocols allow for data travel over the 2Ghz frequency. In other words...interference. If the Wi-Fi application is continually looking for a connection, it will interfere with any other connection within that frequency.
Fits The Ears Quite Well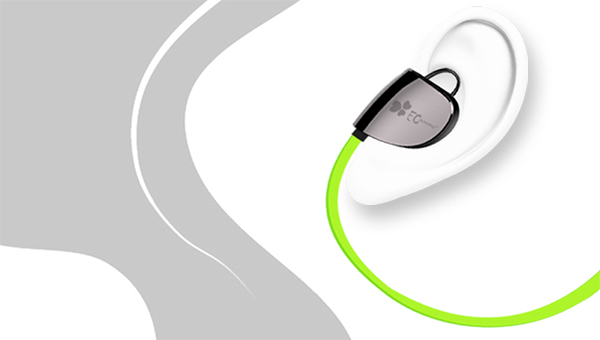 I'm not going to scare my readers with images of my ears, but the image above properly represents how the H-07 headsets fit on your ears. They're made to cut into the movement of your speed when you jog or any similar activity.

The build quality of the H-07 Sports Headset is simple, but solid. Taking a look above at the parts which make the H-07, the design is created to have protection from the elements.
What's Included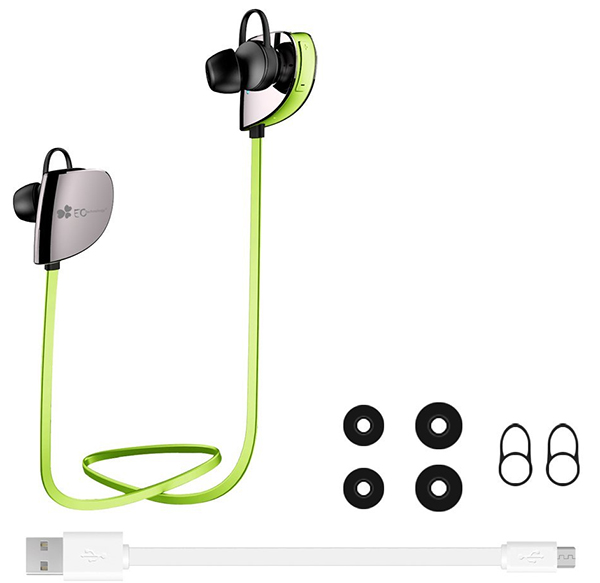 A medium-sized ear cover is already on the H-07 when you receive it. Two other sizes, small and large, are also included along with the charging cable.
Pros
Solid housing

Buttons are big enough to use via touch

Small but bright multi-colored LED to give status of connection

Bluetooth pairing happens without issue

No experienced drop-outs

Quality cable connecting the two earphones

Inexpensive

Sleek contemporary design
Cons
Observations
Stays on the ears while jogging

User is not informed when aptX is enabled

Music did cut out from time to time — this was a Wi-Fi issue
Conclusion
The EC Tech H-07 Sports Headset is going to be once of those instant-hit products once they become known. The headset could be a tad smaller, but for $35 I'm rather pleased, and you really can't go wrong. Why spend hundreds of dollars for something that is more than likely going to be broken while you're working out or doing a physical activity outdoors. The H-07 is perfect for those who want good sound quality, a solid design, and of course, for those who want to venture into the wireless stereo headset realm.
The H-07 being another solid product I've reviewed from EC Tech thus far and being such a great deal as well, the EC Technology Bluetooth H-07 Headset Wireless Headphones receives a HIGHLY RECOMMENDED.
If EC Tech decides to make a slightly more upgraded version, such as a smaller design, and a more heavy cable with more protection from the outdoors for around $60, I'd really be interested.
Another note I'd like to make is as of August 13, 2015, Qualcomm Global Trading Pte. Ltd. (a subsidiary of Qualcomm), has acquired CSR, which developed aptX. CSR was a company which began in the UK in 1999.