February 12, 2016
Introduction
As smartphones are becoming more of the Computer Away From Home, I found myself conflicted with a few devices which could play my favorite music while I'm on the road. For outdoor activities, I noticed when I was hiking, a good set of earphones and a high quality media player was nice, but I soon became more interested in playing music on my smartphone's speaker when I was taking a break and having a good heart-healthy snack (i.e., chocolate, nuts, Chile plantain chips, and soda!).
Once I began to leave my somewhat expensive media player at home with earphones, and resorted to my smartphone's abilities, the sound quality coming from my Samsung S4 Mini was killing me. I needed something portable with a good sound to it...but most of all, I needed a product which could survive the elements of the outdoors.
Yatra caught my eye when I was researching weatherproof speakers online. What's significant about Yatra's products, is the high level of weather resistance their Aquatune products have. In this review, we'll be looking at the Aquatune 5712, an entry-level speaker, which makes a good impression of the type of products Yatra makes available to its consumers.
The Aquatune 5712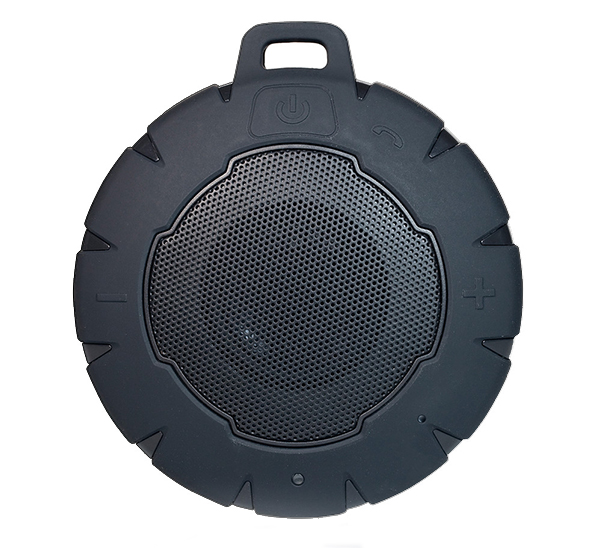 Aquatune 5712 Bluetooth Speaker
The Aquatune 5712 is a simple, but very effective, bluetooth speaker. With a 5-Watt output rating, you might be wondering what this rather small $40 speaker is capable of. After some extended uses both inside and outside, I can say with confidence, the 5712 — being only one speaker — has the capability of playing music at a level of a fraction of the size of a typical music speaker.
IPX7 Rating
The 5712 has one of the highest IP ratings I've seen for a wireless speaker. With an IPX7 rating, the Aquatune is spec'd to be under water for 30 minutes at a time. This should put outdoor folks at ease when taking this along for a nice hike or bike ride. Participating in water sports is also not a problem. With the supplied carabiner, you can hook the 5712 to your backpack, bike, or even around your neck.
Accept/Reject Incoming Calls
The 5712 is not exclusive for playing music. Incoming calls can be accepted (or rejected) by pressing the phone icon, located just to the right of the power button. With the built-in microphone, you can talk and hear your conversations with much more clarity and fullness.
Rugged Protection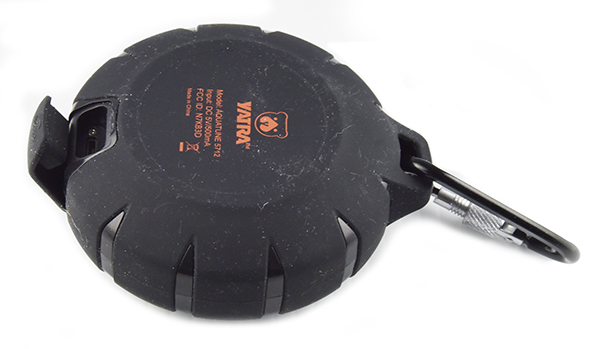 Aquatune 5712 (Mini-USB Charging Port)
The Mini-USB charging port is well protected as you can see above by the thick and deep rubber protector which fits tight and snug into the Mini-USB area.
Packaging
Packaging for the Aquatune 5712 was done well, and the included manual is very easy to read.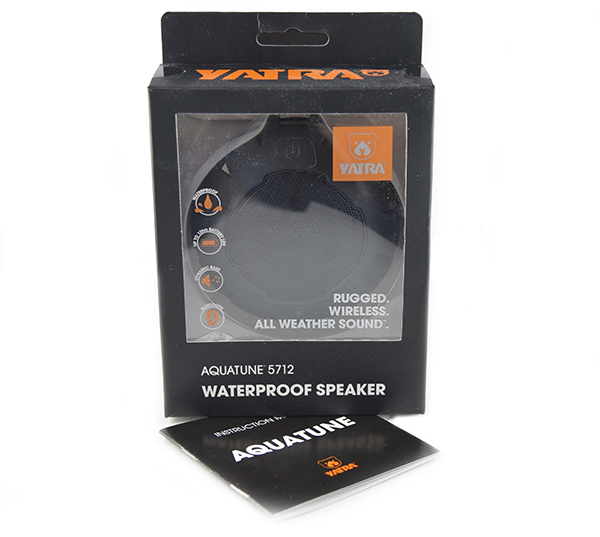 Aquatune 5712 Packaging
Audio Performance
Sound from the Aquatune 5712 was downright awesome. At only 5 Watts, the speaker put out enough sound to not only keep me entertained...but the wildlife nearby me as well. Deep bass was somewhat lacking (as expected), but there was a nice mid-range bass which sounded great. In the outdoors, a mid-range bass frequency can sound rather full, and an extremely low frequency response can often go unnoticed just because there are so many natural sounds which make up a wider dynamic range.
Pros
A powerful 5W speaker

One speaker is enough for some great sound in the outdoors

IPX7 rating!

Built-in microphone for phone calls

Quick Bluetooth pairing

The included carabiner and the carrying slot on the 5712 allow for suspended carrying on bikes, backpacks, and other gear.

Hands-free speaker is perfect incoming or outgoing calls and will sound much better than the speaker on your current smartphone

Rugged rubber sleave which protects the speaker from bumps and falls
Cons
Observations
When pairing with your bluetooth device, the name 5712 will appear.

A rather LOUD beep when turning the 5712 on
Conclusion
The Aquatune 5712 was very enjoyable to use, both indoors and especially what it was designed for...OUTDOORS! Having only one of these speakers sounded terrific, and I can only imagine pairing two speakers would be even better. Phone calls had a lot more clarity than even the speakers in my car, and since the speaker is free to be moved around for better microphone pick-up, this makes it a preferred way to speak to others. Since driving with the windows down on a nice summer day can distort the sound on a fixed car system, the 5712 makes it so much easier to move the speaker around, adapting to my environment.
Producing rich and full sound which comes from a rather small form factor and with an amazing IPX7 rating, I can't help but give the Aquatune 5712 by Yatra a HIGHLY RECOMMENDED.
Yatra's Aquatune 5712 has the most basic of features, but for $40 you can't go wrong with the sound it produces, and let's face it...that's what a speaker is supposed to do. Produce great sound!
Yatra is from a parent company, NuLine Concepts, and based out of Chicago, Illinois. This is another company I'll be keeping tabs on and I hope to review other products from them in the future.