November 28, 2016
Introduction
One of the issues with having convenient digital devices as well as taking them wherever you go...is how you're going to charge them. Of course, the first thing that comes to mind is simply buy batteries and chargers, but if you're like me, your desktop is now cluttered with so many chargers and plugs and whatever else, any type of system to coordinate which charger is at full capacity and which one doesn't have much juice left...is non-existent.
To some degree, realizing you're low on power while close to home or the car, is not a complete disaster. However, if you embarked on an outdoor adventure, and suddenly observe the battery indicator on your charging source only having one LED segment of power left, the situation becomes rather dire. There are no AC outlets to charge your device or "backup charger", and if the problem arises where you need to use your smartphone or any device you brought along with you in case of an emergency, you might as well start thinking about how to use smoke signals.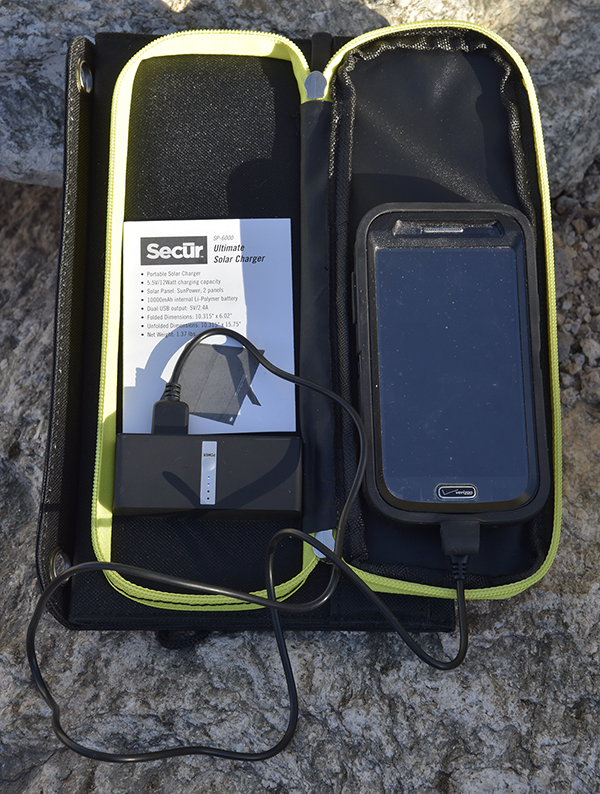 Click Here
for larger size (1.5MB)
The SP-6000 Ultimate Solar Charger
Secur Products has a rather extensive line of accessories for your vehicle, home, and your digital devices which require power. One of the more interesting lines of products they offer, is the SP (i.e., "solar-powered") charging series. The particular type and model of charger digitaldingus is presenting in this review, is the SP-6000 solar charger. Solar chargers are not just for those who want to engage the climate change problem, but I would strongly suggest for those who are concerned about going into to places where there is absolutely no manufactured power available, and the only source of power will be directly from the sun's energy.
High Quality Material For The Rugged Outdoors
The most important factor in determining whether to use a solar panel...is whether it can sustain environmental bumps, thumps, and beatings while embarking on say, a hike. When I felt the SP-6000 for the first time in my hands, I could immediately tell this was made from very high quality and durable material to protect my digital devices from water and other elements. The SP-6000 is certified waterproof, so you can place a smartphone or whatever will fit into the charging pocket area, and not worry about your investment getting touched by Mother Nature.
Dual 5V / 2.4A USB Ports and 4-Segment LED Charge Level Indicator
Click Here
for larger size
Two USB ports are available on the SP-6000 Solar Charger. This is rather convenient, and you can set it up to charge your smartphone as well as an accompanying smartphone...or a single phone and tablet, or maybe a phone and another charging device. Whatever the combination, it's up to you to decide and customize to your liking.
The 4-segment LED charge level indicator lets you know when your capacity is at its optimum...or needs to be revitalized in the sun. In my experience using the SP-6000, when there is only one LED lighted...you only have about 20% of the battery charge left (as opposed to thinking you have 25% left).
10,000 mAH Of Power
The SP-6000 battery, which is charged directly from sunlight, is comprised of Lithium Polymer. Some of you might be more familiar with the term LiPo. LiPo batteries have been around for a while, but many manufacturers do not use them because of cost reasons. LiPo batteries are much safer to use as they are the least likely of all batteries currently on the market to explode. This is because their inherent design keeps the chemicals from reacting in an unpredictable way.
LiPo batteries are also much lighter in weight than typical batteries (even Lithium Ion) because of the reduced need for metal in its properties for conduction and power. While not having the capabilities of higher charging capacities as Li-Ion, the benefits of being lighter and less opportune to a volatile end, is worth it, in my opinion.
As noted in my suggestion below, it does appear as if there is room to easily accommodate a 20,000 mAH LiPo battery because of the empty space (an inch or so) between the battery and the edge of the weatherproof zipper casing. If this can happen, an upgraded model of 20,000 mAH would easily compete with almost all of the current high-capacity Li-Ion battery packs. And these battery packs are not lightweights, either so having a LiPo version would be exciting to have.
Packaging
Packaging for the Secur Products SP-6000 came to me in the original retail packaging box, which has minimal non-recyclable materials.
Pros
Charging power exclusively obtained from the sun

2 large solar panels in a compact design

24% solar panel efficiency rating

Lightweight 10,000 mAH LiPo Battery

2 USB ports to charge two devices simultaneously

Waterproof pocket to keep your devices safe and dry

Dual-directional zippers for easy device fitting

Simple easel design to position in direct sunlight

Very tough material for rugged use in the outdoors

Contemporary but still a minimalist design for backpack efficiency

Reasonably priced for what you get
Cons
Observations
The 4-segment LED indicator can be misinterpreted when in use. Pressing the button by the LEDs will show you 1-4 levels of power remaining. However, once you plug a device in...the number of LEDs will DROP by one. So, if you have 3 LEDs indicating a 75% charge, plug a device in and it will read 2 LEDs. In my use of the SP-6000, this has NOT affected the amount of charge. It's merely a cosmetic issue.
Suggestions
Offer an even larger charge capacity (around 20,000 mAH). There seems to be room in the compartment for a larger battery, and Secur Products might already be one step ahead of me...
Conclusion
The Secur Products SP-6000 Ultimate Solar Charger is the first solar charging device I've used. One of the reasons...I've been hesitant to use them as they have not been too reliable. But this has changed. Technology has gotten a lot better in the last few years of solar portable charging devices, and Secur Products has delivered a very high quality solar charger at a very reasonable price. You can order directly from their website for $125, or look elsewhere. Generally, you'll find it costing around $100-$125. Again, this is rather reasonable, as I've seen solar panels of this size costing about twice as much (some even around $350). In addition, Secur Products has obtained solar panels which have 24% efficiency. Currently, this is a very respectable rating when considering price, and even at that, panels costing twice as much have been known to only carry a ~21% rating.
Relying on nothing but the sun's energy, a waterproof container to charge your device (or two) while on the move, having an overall extremely tough material to keep it resistant to the elements, and having a price which is affordable to those don't want to be chained to an electrical outlet, the Secur Products SP-6000 Ultimate Solar Charger receives a HIGHLY RECOMMENDED.
Overall, the SP-6000 solar charger is a very good bargain for the money you spend on it. There are so many panels out there which are either too expensive for the amount of power they provide...or cannot provide enough power at all for inexpensive price. Secur Products has managed to create a product which satisfies both issues without sacrifices.