May 14, 2016
Introduction
Panpany is a brand new company with a new product line which digitaldingus will be reviewing here for the first time. Their debut offering is an LED desk lamp which is meant to be very simple but yet very functional. From their Facebook page, they are focused on Tools & Home Improvement.
Panpany LED Table Lamp
The Panpany LED Table Lamp is very modern approach to putting light where you need it most. But not just location, the type of light is also a consideration, and with an LED source for this light, there is much less power consumption and the need to replace the "light bulbs" is not necessary. In fact, the Panpany LED Table Lamp is designed for long-term use, without the need for replacing the LEDs.
Slim, Sleek, and Simple
The biggest advantage of the Panpany LED Lamp is the smooth, high-quality aluminum parts which fit together like a glove, creating something of an art piece. The entire surface of the lamp has minimal protrusions, and since the buttons function by touch versus "push" (see the image below), and don't have a mechanical switch sticking out like many lamps do, contamination from dust and water is very unlikely.
Variable Lighting Options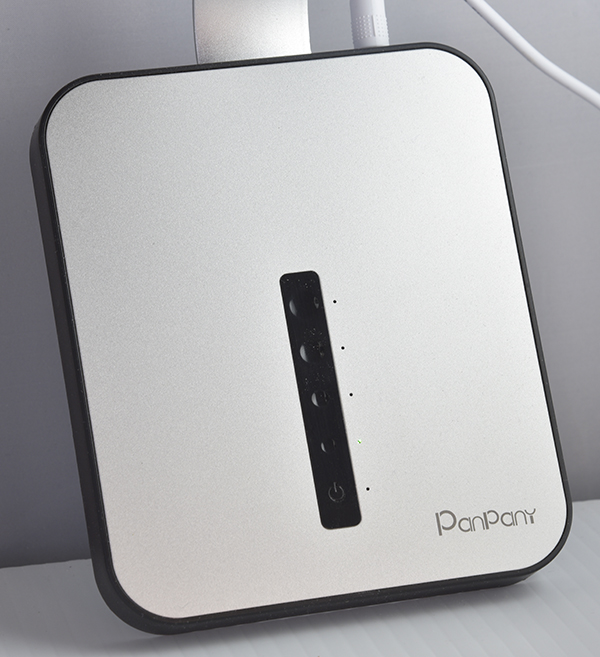 Panpany 5-Level LED Table Lamp Controls
There are 4 levels of light available to you (the 5th level being OFF), and on the highest setting, the lamp produces quite a lot of light for its small size. Perfect for reading a book or anything requiring dedicated light on a smaller and focused area, the Panpany can easily make sure you have enough light for these various situations.
USB Port To Charge Small Devices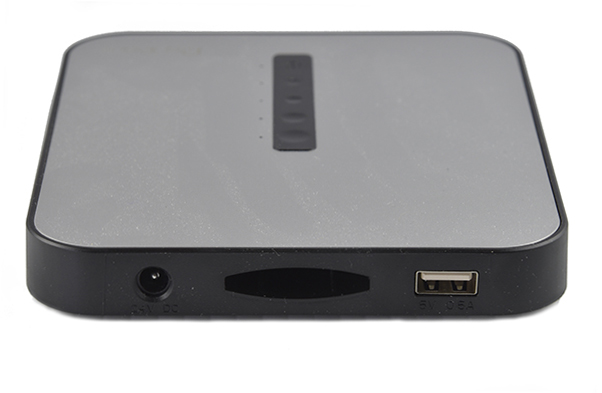 Panpany USB Port Device Charger
On the back of the Panpany LED Lamp, is a USB 5V/.5A charging port. While not designed for charging of major devices, you can use this for many smaller devices, like bluetooth headsets and ear pieces, and even mobile phones. With mobile phones, it will probably take a little longer to charge than using your dedicated charger, but if you don't have access to your charger...and the Panpany lamps is conveniently on your desktop...why not charge it.
Packaging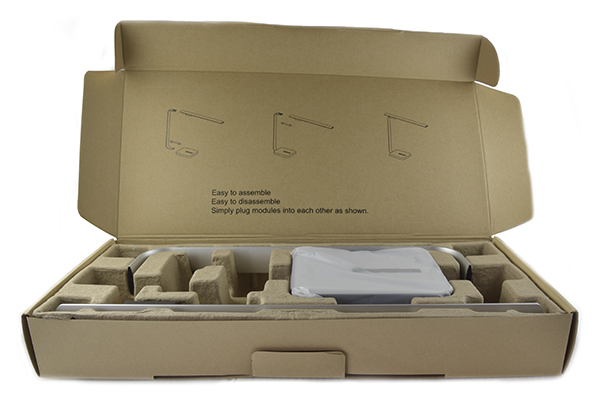 Panpany Packaging
Packaging for the Panpany LED Table Lamp is very impressive, and I always like to give a shout out to those companies who do their best to minimize the plastic packaging. When I received my Panpany LED Table Lamp, it was entirely packaged in cardboard. This cardboard can be easily recycled at home or through your local recycling center without issue.
Pros
5-Level LED Lamp

Quality construction

Easy to clean

Bright LED for reading and hobbyists

Simple to take apart and put back together for storage

Sleek design keeps visible footprint to almost nothing

Sealed by-touch 5-level controls which can be cleaned over time from fingerprints with a simple wipe of a damp towel

Contemporary design which will compete with any modern residence

Affordable price
Cons
Observations
Due to the LED lamp's slim design, it is barely noticeable if the light is turned off.

For the ~$40 range, this is built rather solid, and the pieces are designed to last
Suggestions
Conclusion
A new company which is focused on improvement in the home and tools, Panpany has made a good impression with me with their initial product. The way the HML01 was designed to be put together is simply amazing. Try going to your favorite hardware store and finding such a lamp which can be broke down into pieces like these. And second, try to find one under $50.
Having a design which will accentuate any home, a high quality aluminum construction, as well as a bright light output when needed, the Panpany LED Table Lamp receives a HIGHLY RECOMMENDED.
As noted above, I look forward to a model which can integrate an adjustable arm, so the lamp can be raised higher. In fact, Panpany might be able to manufacture a longer arm for this model and sell it individually. Just a thought. In any case, I'm sure the Panpany line has some really innovative and high quality ideas for their LED lamp series, as well as other products on their way.