digitaldingus Review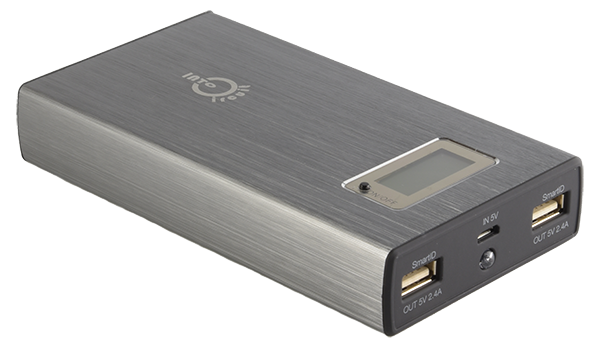 intocircuit 15000 mAh Power Bank
Introduction
intocircuit is a branch of HISGADGET, and specializes in the latest portable battery charging products for consumers who want something powerful in the smallest form factor mixed with style, and of course, reasonably priced. Taking on the more power-hungry devices such as tablets and laptops, intocircuit offers a wide range of AC chargers. While I won't be reviewing an AC charger for a laptop in this review, I highly recommend you explore the website and see what they have to offer — especially if you have a Dell laptop.
The 15K Power Horse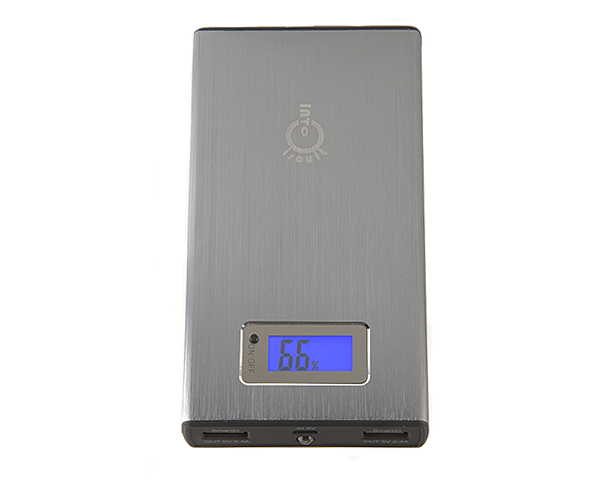 Shown above is the 15,000 mAh Power Bank, which is also called the Power Castle, and now I'm calling the Power Horse. Having a nice brushed aluminum case, a vibrant blue background easily displays the capacity remaining in terms of percentage.
With this particular power bank, SmartID technology is also integrated into the design. This will probably sound familiar, but an average power supply does not determine what type of device is connected to it, and for the most part, it's up to you to figure out which is the appropriate output current.
What I like about the SmartID circuitry, is it allows you to plug in the device and the power bank will determine just how much power current should be delivered to it, allowing for maximum efficiency, as well as a faster charge. Just like iClever's 6-port USB Charger, this is the same technology and is very helpful for the consumer who has a lot of electronic devices, and isn't aware of the different power current stipulations.
Complementary Carrying Case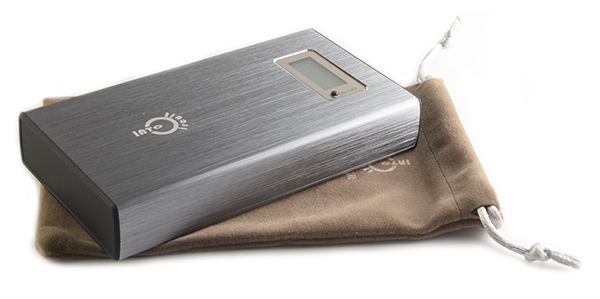 A soft carrying case comes with the intocircuit 15K which will protect the outer shell from scrapes and dings when you travel with it. At first it might seem a little too cautious, but you'll realize as you use this more and more...a carrying case is essential.
Two Powerful Outputs
A few power banks I've used have one 2.4A output and one 1A output. Initially, this a good thing, as you can connect which device needs what power current, but with SmartID, you don't need to figure out which USB charging port needs which device specification, so there's no need to have separate charging ports with separate power limits. The intocircuit has two 5V/2.4A (12W) ports which can power lesser-rated devices as well.
In addition to having double 5V/2.4A outputs, there's an LED flashlight located between the two USB ports, and the flashlight can be activated by simply pressing the on/off button twice on the top of the power bank.
Pros
Quality brushed aluminum housing

Portable for traveling

A rather bright (and convenient) LED flashlight

SmartID Technology

Inexpensive

Two 5V/2.4A USB outputs for two different devices
Cons
Observations
Conclusion
intocircuit's 15K Power Bank is a nice thing to have, and I really enjoy the percentage indicator, telling me how much charge I have left. Yes, having 3-5 LEDs lit up is ok, but I would prefer to have a more specific amount of charge remaining, as well as how much more charge is needed. The intocircuit provides exactly what I wanted out of a charger.
A modestly affordable quality power bank to pair with your digital devices, the intocircuit 2-port USB Charger (with SmartID) receives a HIGHLY RECOMMENDED.
intocircuit has a wide range of other devices, and I encourage viewers to not only browse intocircuit's website, but also take a tour of HISGADGET as well. There are several product offerings for those who are using products on the technology edge.