August 6, 2016
Introduction
I remember watching Betrayed on DVD when I was FINALLY out of my teen years. I could legally say I was a teenager, and I was more mature. Well, maybe not so much in the mature thing. The late 80s was a time of a lot of controversy, and one subject which was dealt with towards the end of the 80s, was racism. However, we begin to see Hollywood take off the gloves. Only months later, in early '89, we would also see Mississippi Burning released, provoking just as much (if not more) of a retrospection and reflection of how racism can still be found.
Betrayed takes a modern approach to supremacy in the United States, and gives it a more realistic face. Supremacy ultimately affects communities in the most dangerous ways possible, and polarizes them. But supremacist ideology is also no longer worn on the cuff of favored attire, either. You have to be within a select circle of people to actually have proof of its existence. And this existence is exactly what the US government character played by Debra Winger has been attempting to gain knowledge about.
The Plot
A Jewish radio talk show host Sam Kraus (Richard Libertini) who does not withhold his views from the public air waves, is gunned down only minutes after leaving work, in the talk show station's parking lot. The word "ZOG" is spray painted on Kraus' vehicle, and as his corpse is laying against the car, his head is in the center of the "O".
Katie Phillips (Debra Winger) is a federal agent, working deep cover. Michael Carnes (John Heard), superior and ex-boyfriend, believes her recent exposure to a local farmer Gary Simmons (Tom Berenger) may have some connection to the recent murder. Katie initially believes otherwise. Expecting to see the typical White Supremacist behaviors, she finds none, and doesn't think she is on to any group or secret society in the local community, which has any relevance to the murder of the radio talk show host.
Packaging
As with other Olive Films Blu-ray cases, packaging for Betrayed came in a slightly different case which is more "square" on the spine. I actually prefer these types of cases as you can more easily see the title of the movie when displayed on the shelf.
Video & Screencaps
Betrayed is on a BD-25 (like so many Olive Films and Kino Lorber releases), but it looks rather good. I don't think it has been cleaned up as far as specks and dust being on the transfer, but these are not particularly noticeable when the movie is playing. Screenshots are a completely different matter, but overall, it is too bad the film couldn't have been cleaned up a little.
Outside of minor annoyances with speckles, the transfer looks sharp and crisp in many scenes. Low-light scenes, especially at night, are when we observe some crushing going on. Blacks tend to overwhelm the color palette rather aggressively.
Additional Screencaps
Audio
Audio for Betrayed is ok, but I would have hoped for a little more. Conversations are sometimes hard to figure out, and I found myself increasing the volume in a few places. This may not be an issue for many viewers, but with many 80's films, the audio recording was not done in a way as to extract everything from the actors' mouths in the realization that future transfers, with better resolution, were going to be used for consumer-level appreciation.
Main Audio Track
English DTS-HD Master 2.0 @ 1987 Kbps (48kHz/24-bit)

Subtitles: English
Extras
Extras for Betrayed were non-existent, except for the (2:14) HD trailer.
Specifications
Aspect Ratio: 1.85:1 (1.846:1)
Active Pixel Area: 1920 x 1040 pixels
Inactive Pixel Area: 1920 x 40 pixels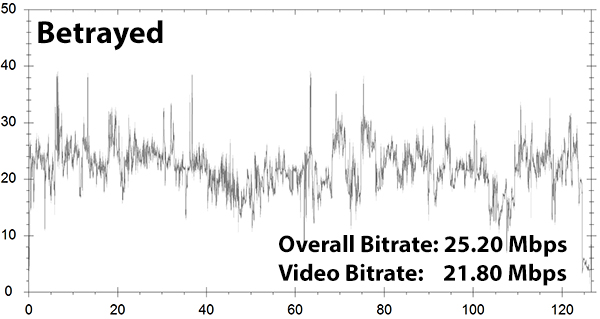 Betrayed Bitrate Graph
Disc Name: BETRAYED
Codec: MPEG-4 AVC
Resolution: 1080p
Blu-ray Size: BD-25
Disc Size: 24,529,860,240 bytes (22.85 GB)
Movie Size: 23,935,432,704 bytes (22.29 GB)
Overall Bitrate: 25.20 Mbps
Video Bitrate: 21.80 Mbps
Conclusion
Betrayed is still a timeless film which dives into the inconspicuous nature of racial supremacy, and how it can thrive in communities who let it exist. As in the film, Director Costa-Gavras manages to successfully create an accurate representation of modern day conflicts within our society, and offers the personal choices and individual conflicts we all have when faced with preconceived notions, furthered by local community myths.
A rather nice and crisp picture for the most part, along with a good assortment of actors who accurately represent some of the most controversial issues today, Betrayed (Blu-Ray) receives a HIGHLY RECOMMENDED.
Surprisingly, Director Costa-Gavras who lives in France, has made some of the best political and racial conflict thrillers I can remember. Other films you may find familiar are Missing (1982), Hanna K. (1983) (amazingly not available on Blu-ray or DVD), Music Box (1989), Mad City (1997) (DVD) and Amen. (2002).