August 2, 2016
Introduction
Smooth Talk is a film adaption from the short story Where Are You Going, Where Have You Been? by Joyce Carol Oates, author of over 70 books. Most movies can be watched by the viewer for face value, and generally speaking, the overall idea of the book-to-film presentation is for the most part successful in its delivery. In order to understand Smooth Talk however, I do recommend reading the short story, as it gives a lot more in-depth analysis of what is going on in the mind of the main character, Connie.
For example, Joyce Oates states the overall narrative of the story, or more specifically, the character Arnold Friend, was based on the 23-year old serial killer Charles Schmid, who would purposely hang out at high schools, giving rides to girls who were attracted to his mysterious character. He would also frequent the popular strip of roadway in Tucson, Arizona, Speedway Boulevard. Driving around in his gold convertible, he eventually killed three women, sexually assaulting an unknown number of others. Schmid would also have accomplices in one of the killings, including his girlfriend.
Charles Schmid attracted and was attracted to, a particular type of young woman. In Smooth Talk we see this same type. An attractive and slender woman, who was rather naive about life, but was also continually pushing the limits on developing new experiences.
The Plot
Connie (Laura Dern) is a young woman, around 15-years old, who is experiencing changes in her life, and being on a farm with daily routines which have been so familiar ever since she was able to lift a bucket and a scrubber, was eating at her independence and discovery. She knew she wanted something more. She wanted to experience new things. She wanted to experience the feelings of being with another person.
We initially see Connie and her friends hitching a ride from a man in a truck. As time progresses, and as Connie's urges become more powerful — and to some extent uncontrollable — she comes upon a local restaurant and hangout. It doesn't take long for a swiftly-moving gold-colored convertible, to make a conspicuous turn into the parking lot. The driver is Arnold Friend (Treat Williams), a relatively older man to be patronizing a teenage hangout, but his appearance is somewhat deceiving, as his age is mysterious...just like he is.
Packaging
Packaging for Smooth Talk came in a slightly different case from Olive Films. It looks like a VIVA Elite single Blu-ray case (however, I see nothing with "Elite" on it in the case) but is more "square on the spine. A nice case, regardless.
Video & Screencaps
Olive Films has released Smooth Talk on a BD-25, and I don't have any complaints. You will notice, the first several minutes of the beginning and ending of the film have a different look, and this might be due to the inherent ways a film is in storage, and how the most vulnerable parts of a film...are the beginning and ending.
Smooth Talk looks pretty good, and besides what I observed above, the film looks great. Being a somewhat short film, we see an average video bitrate of around 31 Mbps. This gives quite a bit of room to show some great detail and colors if an opportunity presents itself. There are a few occasions where a mixture of colors does present itself, but more importantly, the detail comes through very nicely, especially in day scenes. But even in low-light scenes, such as Screenshot #9 below, the image looks clean and I have to say, very period-specific. It was almost like I was there.
Additional Screencaps
Audio
Audio for Smooth Talk is ok, but I would have hoped for a little more. Conversations are sometimes hard to figure out, and I found myself increasing the volume in a few places. This may not be an issue for many viewers, but with many 80's films, the audio recording was not done in a way as to extract everything from the actors' mouths in the realization that future transfers, with better resolution were going to be used for consumer-level appreciation.
Main Audio Track
English DTS-HD Master 2.0 @ 1985 Kbps (48kHz/24-bit)

Subtitles: No Subtitles
Extras
Extras for Smooth Talk were non-existent. It is unfortunate we couldn't get a Treat Williams and/or a Laura Dern commentary track. That would have been priceless.
Specifications
Aspect Ratio: 1.85:1 (1.846:1)
Active Pixel Area: 1920 x 1040 pixels
Inactive Pixel Area: 1920 x 40 pixels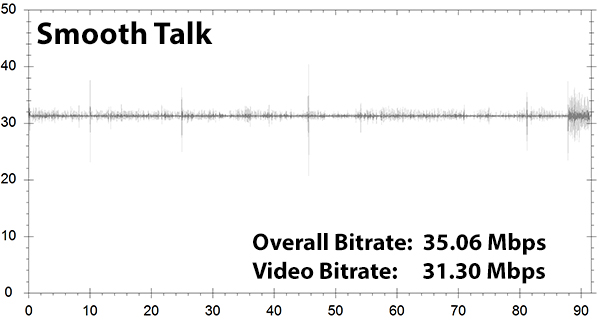 Smooth Talk Bitrate Graph
Disc Name: SMOOTH_TALK
Codec: MPEG-4 AVC
Resolution: 1080p
Blu-ray Size: BD-25
Disc Size: 24,240,051,158 bytes (22.56 GB)
Movie Size: 24,111,777,792 bytes (22.46 GB)
Overall Bitrate: 35.06 Mbps
Video Bitrate: 31.30 Mbps
Conclusion
Smooth Talk might seem like a short film about the usual curiosities of a young woman, but there is so much more, if you pay close attention to all the characters. Smooth Talk is transcending, in that it represents the growing up of young adults, and their compulsive but natural urges to take them into places where they normally would not go.
Having a very good image presentation, a strong lead by Laura Dern, along with a story which should make us all remember our younger years, Smooth Talk (Blu-Ray) receives a HIGHLY RECOMMENDED.
I commented about Joyce Carol Oates in the beginning of this review, and once again I'd like to recommend Joyce Carol's writings for viewers who may not have read any of her material. Her latest novel, Man Without A Shadow, is a story which goes extremely deep into the hearts and minds of its characters.