July 30, 2016
Introduction
It's interesting to note that Gorky Park was set in Moscow. Because of this, filming was done in Helsinki and Stockholm, Sweden. Of course today, we would never think twice about a movie being filmed in Moscow as the Cold War is a thing of the past and taking a vacation to Russia is merely a formality of passport requirements and sufficient funds in the bank to cover the airline costs (and baggage fees!). Gorky Park was filmed several years before the historic moment of Perestroika bringing down the infamous walls of traditional establishment.
What I enjoy about movies like Gorky Park, is even though they were filmed in a different country, you still got the sense of tense atmosphere at the time. For some reason, I just don't get that Restructuring vs. Communist vibe from almost all movies made after the 90's, attempting to recreate the same. It is a shame to some degree, as many would never think twice about a movie made during the Cold War in a foreign country versus one being made today in a foreign country. History is often forgotten.
The Plot
In Russia, Chief Investigator Arkady Renko (William Hurt) takes an interest in a triple-homicide in a very popular place of fun and recreation, Gorky Park. Two men and one woman, have been buried in the snow, faces and fingertips removed. Arkady is well aware this is no typical mass murder. Whoever wanted these killings to go unsolved, were more than likely affiliated with the KGB. And in Russia, during the Cold War, messing with the KGB meant you didn't really care about living or dying — but more specifically, how long it took you to die...and in what manner.
As the investigation continues, Renko comes across a New York detective, William Kirwill (Brian Dennehy), who is on the search for his missing brother...leading him to the same circle of interests. Being too much of a coincidence, Renko tracks down a pair of ice skates to a local theater, which were on the murdered woman. Knowing it is too much of a coincidence that Irina Asanova (Joanna Pacula), working at this same theater as a seamstress, was missing a pair of ice skates, he investigates further, leading to a man she is seeing by the name of Jack Osborne (Lee Marvin), who is an American importer of sable furs.
Packaging
Packaging for Gorky Park came in a VIVA Elite single Blu-ray case. No complaints.
Video & Screencaps
Once again, Kino has released a title on a BD-25, but Gorky Park does look pretty good. One of the reasons is we don't have much action in this film, and if we did, much more data would be required. For the most part, the scenes look terrific. I've never seen Gorky Park look so nice. Of course with a lot of good...there is some not-so-good. Shown below or just click here, there are some scenes (but mostly shots) where grain is much more noticeable.
Additional Screencaps
Audio
Audio for Gorky Park sounds pretty good at the rather low audio bitrate, but we have to remember this is a 2-channel soundtrack. I'm assuming Kino obtained the original track and this is it. Most of the film is conversational and dialogue which came through just fine, but there are occasional dialogues which seem to be much lower. This is not due to inferior audio mastering, but just how the sounds were recorded at the time. In any case, this is a good solid sountrack for such a movie.
Main Audio Track
English DTS-HD Master 2.0 @ 1657 Kbps (48kHz/16-bit)

Subtitles: English
Extras
Extras are...well...in Kino style. You have one featurette. And a trailer.
On-Camera Interview with Director Michael Apted (16:03) (HD)
Gorky Park Trailer (2:21) (HD)

Specifications
Aspect Ratio: 1.85:1 (1.846:1)
Active Pixel Area: 1920 x 1040 pixels
Inactive Pixel Area: 1920 x 40 pixels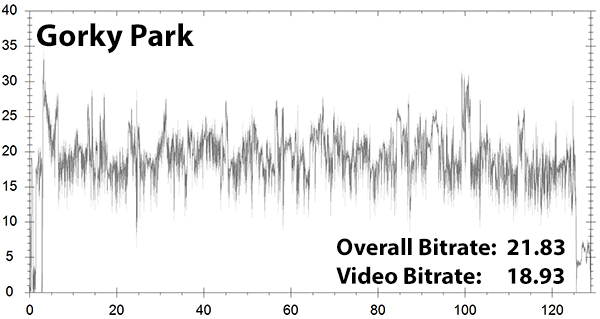 Gorky Park Bitrate Graph
Disc Name: GORKY PARK
Codec: MPEG-4 AVC
Resolution: 1080p
Blu-ray Size: BD-25
Disc Size: 23,982,485,899 bytes (22.34 GB)
Movie Size: 21,100,388,352 (19.65 GB)
Overall Bitrate: 21.83 Mbps
Video Bitrate: 18.93 Mbps
Conclusion
If you're looking for an 80's classic, Gorky Park is certainly it. The soft tones are rather unmistakable and periodic and really give Joanna Pacula some beautiful ambience. The transfer from Kino looks fabulous overall. There are some instances of unambiguous grain, but considering how well the transfer looks most of time, you won't bother with it. Having a good handful of major actors which span decades, it's a real treat to see such a combination here.
Kino delivers with a great transfer. Having such a splendid acting cast available, along with an originally entertaining mystery, Gorky Park (Blu-Ray) receives a HIGHLY RECOMMENDED.
Gorky Park is a rather entertaining mystery of murder, but I also recommend purchasing Arkady Renko's book of the same name.