June 26, 2016
Introduction
It's been a while since I've seen a good Western. I also cannot remember when I've ever seen a (successful) hybrid Western-Horror film. One reason? They fail miserably. I think the last successful Western-Horror film I saw was Ravenous (1999). Dozens of this type of genre are available if you look hard enough, and you might be especially entertained with an Italian director's take on blood n' boots, but the fact remains, it's a very difficult and challenging work to pull off without either looking extremely foolish and resorting to the excuse there was a little dark humor thrown in to neutralize the criticism.
Now, this is what will throw you for a loop and a half. David Arquette is in both of the films I mentioned! Surprisingly true, and I had to verify this looking the film up, but he is in both of these presentations, and he does exceptionally well for his appearance time. I think he knows something about successful horror films and which ones have the potential to make their mark. The films may not be amazingly popular, but making their mark is often more important.
Bone Tomahawk caught my attention by accident. I was flipping through an online streaming source for a movie quick-fix and saw Kurt Russell's name with western image background, and I thought, why not try a western. About 40-minutes into the movie, I was double-checking my western genre selection.
The Plot
Purvis (David Arquette) and his friend have bushwhacked a wagon (i.e., viciously killed 3 people), and soon after, have come across what appears to be an Indian graveyard. Not taking the grounds seriously, Purvis manages to escape the rather stealthy attack which killed his criminal partner. Just who committed the attack? Purvis has no idea and he wasn't going to stick around to ask.
Arthur (Patrick Wilson) is a rather clean-cut man who just recently became a foreman, and decided to expand on his new powers by attempting to do some work on the roof of his home. Needless to say, he took a tumble and lower right leg was significantly hurt, and he's been advised by the doc to be un-adventurous for the next 12 weeks. His wife Samantha (Lili Simmons), is the doc who gave him the advice.
Packaging
Packaging for Bone Tomahawk came in a semi-eco designed Blu-ray snapper case. Ugh.
Video & Screencaps
Image quality coming from Bone Tomahawk looks darn spankin' nice. It's crisp, even in night shots, and the widely-shot scenes give a very good interpretation of the environment. If you take any appreciation of digitaldingus providing the bitrate graphs for movies, this time will be especially informative for you. The bitrate graph below shows how dynamic this particular movie is, and where the movie needs to extra video data to make a crisp and clear picture...it is capable of doing so without restraint. While the average bitrate is 21.00 Mbps, there is much more to this as you can see by the bitrate graph below.
Additional Screencaps
Audio
Audio for Bone Tomahawk comes across rather solid and I did not observe any issues with conversations not coming across clear. Sound effects, which were naturally lacking but still present, came through directional and the DTS-HD Master 5.1 soundtrack performed well.
Main Audio Track
English DTS-HD Master 5.1 @ 3684 Kbps (48kHz/24-bit)
Subtitles: English, Spanish
Extras
Extras for Bone Tomahawk are a little lacking, but the Q & A is interesting to watch, and the very short Making Of featurette is worth taking a look.
The Making Of Bone Tomahawk (10:05) (HD)
Fantastic Fest Q & A (with Director and Cast) (34:41) HD
Odd Thomas Trailer (2:29) (HD)
Bone Tomahawk Trailer (2:36) (HD)
Dark Was The Night Trailer (1:51) HD
Deleted Scene (2:30) (HD)

Specifications
Aspect Ratio: 2.40:1 (2.38:1)
Active Pixel Area: 1920 x 807 pixels
Inactive Pixel Area: 1920 x 273 pixels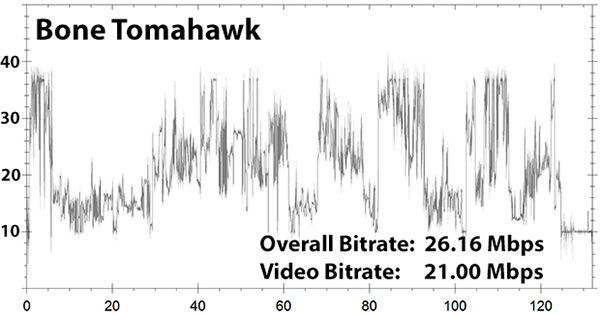 Bone Tomahawk Bitrate Graph
Disc Name: BONE TOMAHAWK
Codec: MPEG-4 AVC
Resolution: 1080p
Blu-ray BD-50
Disc Size: 34,724,411,893 bytes (32.34 GB)
Movie Size: 25,914,562,560 (24.13 GB)
Overall Bitrate: 26.16 Mbps
Video Bitrate: 21.00 Mbps
Conclusion
Bone Tomahawk manages to score a hit in the Western Horror genre. It provides everything this type of film would need to incorporate to become successful: A sense of grit, a believable Western Hero, terrible and horrible baddies, and an undeniable sense of period-specific cinematography.
Having an exceptional image presentation, along with some really great "Western" scenes, and having a fairly powerful soundtrack, Bone Tomahawk (Blu-Ray) receives a HIGHLY RECOMMENDED. Be sure to add this title to your collection.