June 26, 2016
Introduction
One of those horror classics that I just can't deny myself, and not to mention, a little more Clive Barker involvement as well, is Lord Of Illusions. At the time, I never heard of Famke Janssen, but I sure remembered her afterwards and quickly recognized her in Goldeneye. Scott Bakula was of course, familiar from Quantum Leap, but I never really regarded Bakula as a lead character in a film. His real talent, in my opinion, shined on with Star Trek: Enterprise, and I highly recommend the series which doesn't get much recognition.
Lord Of Illusions is a 1995 horror / supernatural film, which for the most part, generalizes Clive Barker's written story and is considered to be holding to the content in the movie. The Last Illusion, from Books of Blood Volume 6, can be found in a variety of editions.
1995 was a peculiar year for horror movies, as we saw much more action and adventure, and the genuinely scary movie was absent. A few movies were somewhat scary but weren't taken too seriously and were a joy to watch over and over, such as Tales From The Crypt: Demon Knight.
The Plot
Harry D'Amour (Scott Bakula) is a private detective from New York who is basically pushed by his partner into going to Los Angeles to get a tan, maybe take it easy, and even make a few bucks while closing a quick investigation involving insurance fraud. Of course, you're probably ahead of me already in seeing the Truck Of Complications steaming full-on in our direction. And you would be right. In the middle of the investigation, Harry comes across a fortune teller at a filthy building in the late hours of the night, who has a half dozen or so scalpels in his upper body, and mentions the name, The Puritan (Daniel von Bargen), just before dying.
Fast-forward to the following early afternoon, almost out the door, Harry gets a knock by a man who says he'd like to retain services for $5,000. A day. Dorothea (Famke Janssen), wife of the famous illusionist Philip Swann (Kevin J. O'Connor), has seen Harry's name and face in the local paper in relation to last night's murder of the fortune teller (those paper's printed stories pretty darn fast...even in 1995!), and has asked the close friend of Swann to personally ask for help.
Swann is being pursued by a supernatural force, knows more about what's going on than he's telling everyone, but what he's not exactly sure of, is just who is wanting him dead. Since Harry got himself involved with the same force who wants to destroy Swann, a form of mutual discovery and understanding develops between the two, hopefully shifting the odds into their favor.
Packaging
Packaging for Lord Of Illusions came in a VIVA Elite 2-Disc Blu-ray case. The Director's Cut is Disc 1 and the Theatrical Cut is Disc 2. Of course, the sleeve is reversible, and in this particular case, has the poster image which I remember. Very well done.
Video & Screencaps
Lord Of Illusions looks pretty good, but I have to say, I wanted more from the video bitrate. Shout! Factory seems to have capped the average video to 25 Mbps (with a majority of the video hovering in the 27 Mbps range), and if there was a space issue, they should have had two BD-50 discs in this "Collector's Edition", instead of just one, and put the 1 hour featurette (~9GB) on the theatrical disc (which doesn't have anything other than the movie). The extra 5 Mbps would have helped significantly, and there are some highly data-demanding scenes which would have looked their best (particularly the entire sequence of Swann's death, ).
Some grain can be seen, but this is normal for such a release. Colors do appear to be muted, but minimally. This could be Clive Barker's intent, so I'm not too concerned. Day and night scene transitions do not leave out or bring significant grain, and because of this, the film flows very smoothly.
Additional Screencaps
Audio
Audio for the Director's Cut of Lord Of Illusions has yet to be desired. I'm not sure why the low bitrate for a 5.1 soundtrack, as there is plenty of room to bring it up to respectable standards for a release like this. A 4000 Kbps track would have been appreciated. Shout! Factory does have a secondary track which is stereo, but it sounds a little better and more robust. If you're not too concerned with a few spatial effects in scenes, then this secondary track might work better for you. I'm not sure if this track is the original audio, but the audio track notations on the Shout! Factory slipcover and case cover...do not mention a 5.1 soundtrack at all, and do not mention if the stereo track is the original.
Main Audio Track (Director's Cut)
English DTS-HD Master 5.1 @ 2347 Kbps (48kHz/24-bit)
Secondary Audio Track (Director's Cut)
DTS-HD Master 2.0 @ 2093 Kbps (48kHz/24-bit)
Subtitles: No Subtitles
Main Audio Track (Theatrical Cut)
English DTS-HD Master 5.1 @ 2444 Kbps (48kHz/24-bit)
Secondary Audio Track (Theatrical Cut)
DTS-HD Master 2.0 @ 2070 Kbps (48kHz/24-bit)
Subtitles: No Subtitles
Extras
Extras for the Director's Cut of Lord Of Illusions carry over from the MGM DVD release of the 1-hour featurette which is really a nice treat to have and watch in HD. The feature length audio commentary is also included. It's too bad we couldn't get Scott Bakula and Famke Janssen to weigh in because both of them were at very interesting places in their acting careers at the time.
Lord Of Illusions: The Illusion Of Reality (1:02) (HD; Fullscreen)
A Gathering Of Magic: Behind The Scenes Of Lord Of Illusions (17:52) (720 x 480)
Photo Gallery (15:53) (HD)
Drawing Boards With Martin Mercer (13:46) (HD)
Deleted Scenes (w/ Clive Barker) (3:22) HD
Drawing Boards With Martin Mercer (13:46) (HD)
Feature length audio commentary with Clive Barker

Specifications
Aspect Ratio: 1.85:1 (1.846:1)
Active Pixel Area: 1920 x 1040 pixels
Inactive Pixel Area: 1920 x 40 pixels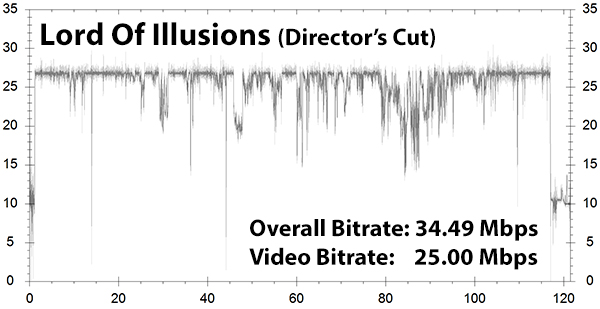 Lord Of Illusions: Bitrate Graph (Director's Cut)
Disc Name: Lord of Illusions Directors Cut
Codec: MPEG-4 AVC
Resolution: 1080p
Blu-ray BD-50
Disc Size: 45,249,653,303 bytes (42.14 GB)
Movie Size: 30,530,912,256 bytes (28.43 GB)
Overall Bitrate: 33.49 Mbps
Video Bitrate: 25.00 Mbps
Lord Of Illusions: Bitrate Graph (Theatrical Cut)
Disc Name: Lord of Illusions Theatrical
Codec: MPEG-4 AVC
Resolution: 1080p
Blu-ray BD-25
Disc Size: 25,955,003,700 bytes (24.17 GB)
Movie Size: 25,629,616,128 bytes (23.87 GB)
Overall Bitrate: 31.38 Mbps
Video Bitrate: 25.00 Mbps
Conclusion
I'm very grateful for Shout! Factory releasing both the Director's Cut of Lord Of Illusions and the Theatrical Cut. The film has a place in horror timelines and especially within the very few films Clive Barker has been a part of, as well as content taken from his literary works of macabre genius. I suppose whenever I watch Lord Of Illusions, I'm more excited by the process of knowing I have the film and playing it, versus watching it to the end, and somewhat feeling a little hollow inside. It's not a bad thing, and don't we all remember our favorite movies of long ago with more reverence than realism? I know I do.
Considering the time period of release, Lord Of Illusions was a sleeper in terms of supernatural horror and combinations of illusions versus delusions, insane versus genius. While not the best of films to bring forth this blurry mix of horror, Clive Barker still manages to keep Lord Of Illusions within his special genre of the Pain & Flesh and the enlightenment of some who pursue it (as well as pain and certain death for most who are willing pawns).
Having a pretty good image quality which is definitely an upgrade from the MGM DVD, as well as offering a 5.1 soundtrack and a stereo soundtrack for user discrepancy, Lord Of Illusions , Lord Of Illusions (Collector's Edition) (Blu-Ray) receives a RECOMMENDED PLUS.
Lord Of Illusions is a must-have title, and if you do not have the Hellraiser Trilogy set from Arrow Video, or Nightbreed (Director's Cut), be sure to add these to your Clive Barker horror collection.
A Note About The Collector's Edition Rating
Unfortunately, I had to downgrade this particular release by Shout! Factor because of three things that stood out:
Video bitrate should have been higher

Audio bitrate should have been higher; By a factor of 2

No subtitles
I'm not exactly sure why there were no subtitles, but I would expect at least English subtitles for a USA release.