June 23, 2016
Introduction
Adding to a rather exceptional series of animated titles from the DC Universe, Warner Brothers has released Batman: Bad Blood on DVD and Blu-ray. In this particular case, a Steelbook version is provided by Target, which includes both the DVD and Blu-ray. What I really like about the BD + DVD releases, is you can keep your higher definition copy at home, and let your friend borrow the DVD version. If they really like it...then they can buy the Blu-ray version. A DVD version is also nice for on the road trips, where all you need is a good quality DVD transfer to watch on your laptop or or tablet, depending on how you have your equipment hooked up.
The Plot
After a rather vicious battle in a Gotham warehouse, Batman (Jason O'Mara) is missing. Alfred Pennyworth (James Garrett) manages to keep up appareances as if Bruce Wayne is still around, but he knows something is seriously wrong, and has to pretend to make sure adversaries won't take advantage of this weakness, but also, taking a strategic process of finding out what happened.
Packaging
Packaging for Batman: Bad Blood came in a Steelbook case, which is a Target exclusive. As many of you know, it's very difficult to find these exclusive Steelbooks, and speaking from experience, it's a hit and miss adventure when finding out if a local Target has the Steelbook edition. Currently, it seems as if Target only gets about 4 copies per store, and if that isn't bad enough, Target's internal stock number is the same as the regular releases! Not good. So, if you see a Steelbook copy at your local Target while you're picking up some snacks...get one. Otherwise, I recommend buying a non-Steelie from Amazon.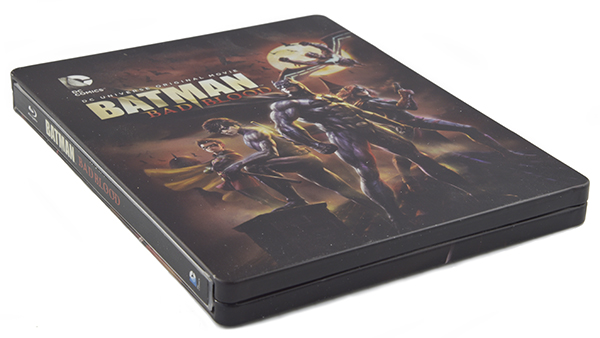 Batman: Bad Blood - Steelbook (Front Side)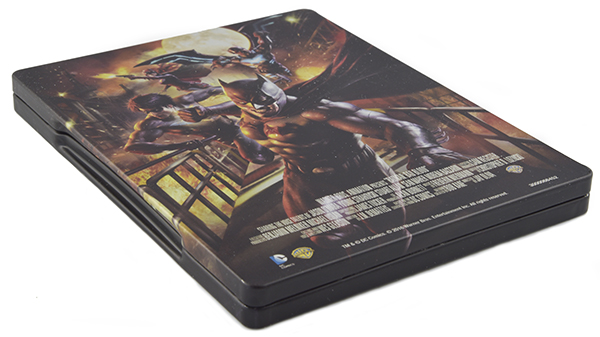 Batman: Bad Blood - Steelbook (Back Side)
Video & Screencaps
Image quality for Batman: Bad Blood looks good, and it is the usual contemporary style which has taken over the series many features prior. The video bitrate is right on the money for the standard ~17Mbps of an animated feature. And as we know, animation does not demand such a higher bitrate, and in this case, looks great. Some may not prefer the slight "aura" or "blur" of the outer edges of characters and subjects, and initially, it can be a tad distracting if you've viewed many other animated works, but at the same time, if you have viewed many other animated works...you'll more than likely appreciate this look.
Additional Screencaps
Audio
Audio for Batman: Bad Blood is another rather robust soundtrack and even at low levels, there's solid vocals coming through without any straining of the ears. The 4.2K+ Kbps audio track does a very good job.
Main Audio Track: English DTS-HD Master 5.1 @ 4251 Kbps (48kHz/24-bit)
Subtitles: English, English SDH, Spanish, French
Extras
Extras for Batman: Bad Blood are rather exciting as we have about 45-minutes of featurettes to watch, and two bonus cartoons.
Putting The Fight In Gotham (26:27) (HD)
Batman - The Brave And The Bold: The Knights Of Tomorrow! (Bonus Cartoon #1) (23:08) (HD)
Batman - The Brave And The Bold: The Crisscross Conspiracy! (Bonus Cartoon #2) (22:49) (HD)
Expanding The Batman Family (13:46) (HD)
A Sneak Peak At Justice League VS Teen Titans (11:31) HD
Suicide Squad Trailer (3:08) (HD)

Specifications
Aspect Ratio: 1.78:1
Active Pixel Area: 1920 x 1080 pixels
Inactive Pixel Area: Not Applicable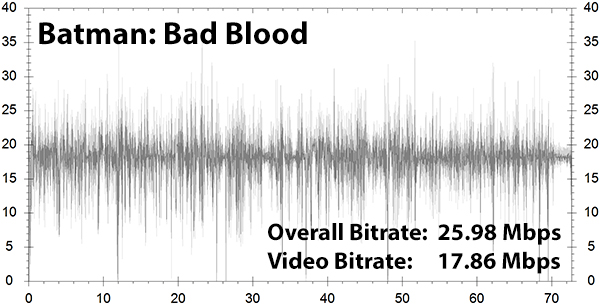 Batman: Bad Blood Bitrate Graph
Disc Name: BATMAN_BAD_BLOOD
Codec: MPEG-4 AVC
Resolution: 1080p
Blu-ray BD-25
Disc Size: 27,029,017,904 bytes (25.17 GB)
Movie Size: 14,160,900,096 bytes (13.19 GB)
Overall Bitrate: 25.98 Mbps
Video Bitrate: 17.86 Mbps
Conclusion
Batman: Bad Blood is a pretty good installment of the Batman series and I don't think you'll be disappointed. Extras for this particular release are considerable. Almost an hour of extras and two additional cartoon episodes which total 45 minutes, makes this disc worth more than just the feature itself.
Batman: Bad Blood delivers its stylistic comic book look well and has many characters you'll enjoy. Having a rather kick-ass audio presentation as well as almost 2 hours of bonus content, Batman: Bad Blood (Blu-Ray) receives a HIGHLY RECOMMENDED.
As I said above, if you're a fan of the Batman series, you'll like this presentation. If you're a fan of the Justice League series, this might be a little off center for you. I've noticed there is a developing group of fans who prefer JL to Batman, and vice versa. Whatever your preference, it is exciting to see the ongoing features of both of these series being offered.