February 20, 2016
Introduction
Wild was actually recommended to me by a longtime friend and hiker in the Pacific Northwest, so I was especially interested in seeing just what this story was about. Hiking many trails myself in the NW area (especially along the Gorge between Portland and Cascade Locks--and yes, I have many photos and I really should post them on digitaldingus!), I was surprised I hadn't heard more about the true to life story of Cheryl Strayed from other hiking friends.
True stories of a person's self-discovery in nature are often either liked...or not liked. The primary reason is due to the action of putting one's self into dangerous situations, where they could be killed or seriously hurt, is very real. And foolish. There are a handful of films (and documentaries) which tell the personal explorations of a man or woman, and sometimes they end in a tragic way. It's very difficult to watch a true story of a person making not-so-smart decisions versus a fictional film we know has little consequence — because it's fiction.
Wild is one of those films which may not initially come across as a woman who is in the process of discovering herself. This is somewhat normal because discovery is often riddled with danger along the way. And in some cases, discovery does not end well.
For those who are not familiar with the story of Cheryl Strayed, this film is based on her book Wild: From Lost to Found on the Pacific Crest Trail.
The Plot
Cheryl Strayed (Reese Witherspoon) comes to the realization she needs to remove herself from her comfortable and dysfunctional situation, to an environment that is unpredictable and outright dangerous. Recently separated from her husband Paul (Thomas Sadoski) and losing her mother Bobbi (Laura Dern) to a serious illness, as well as recovering from drug use and having a period of reckless sexual behavior, Cheryl realizes it is imperative she gets away from the toxic cycle and begins a new journey that is forged exclusively of her own volition.
While those who have experienced such a time in our lives, whether it is addiction or a combination of tragic events, there is a temporary period of time where memories are suppressed as we are in a new environment...but they always come back.
Packaging
Packaging for Wild came in an Elite VIVA 12.5mm Blu-ray case. If you take a closer look at the contents inside, there is a 9-page booklet included which Cheryl Strayed has written her post-thoughts on her life during this time. A quick read, but recommended. I have seen some editions including a slipcover, but my brand new copy did not.
Video & Screencaps
Wild has some really great cinematography going on, and if you're familiar with the PCT at all, you'll notice a few iconic areas. The overall picture has a limited color palette to convey the emotions of the main character, but it's not too distracting. Bitrates on average are at a nice and healthy ~29 Mbps, but there are times when the higher bitrate won't be noticed. This is just fine as the higher bitrate gives the film a lot more room to gently convey the grain and styling. A lower bitrate would have certainly been more difficult to absorb.
Adding to the filtered color presentation comment above, viewers will notice a green shift in scenes where Cheryl is on her PCT journey, and a slight red shift when she is indoors and/or remembering key events from her past. Also, some indoor images appear to be just a tad too dark, but I have to wonder if this was the intent of the director to some extent.
Additional Screencaps
Audio
Audio for Wild came through just fine and if you want to test your sound system on screams but don't have a horror disc available...this will do. Reese Witherspoon gives a nice scream (when the character loses her shoe and it tumbles down the hill) to give your sound system a great opportunity to make your neighbors think there's something weird going on in your home. With an almost 3800 Kbps rating, I had absolutely no problems understanding the characters, even in quieter moments. Probably the best sounds I've heard were when the Cheryl struggles to put on the backpack that is at least the same weight she is and you can hear her breathing hard along with the movement of the equipment. More scenes such as walking through various environments on rocks, dense foliage and mountainous areas...all came through crisp and clear.
Main Audio Track: English DTS-HD Master 5.1 @ 3793 Kbps (48kHz/24-bit)
Subtitles: English, English SDH, Spanish, French
Extras
Extras for Wild are plentiful in this release. It's nice to see a high quality presentation with a very respectful bitrate along with many extras on a BD-50 disc so there isn't compromise on either end of the presentation.
The Real Cheryl Strayed (8:37) (HD)
The Real Location Is The Best Location (8:45) (HD)
How Much Does A Monster Weigh? (3:46) (HD)
Trailers (15:03) (HD)
Deleted Scenes (7:49) (HD)
Behind The Scenes Featurettes
Experiencing the PCT: A Special Message from Cheryl Strayed (HD)
Audio Commentary featuring Director Jean-Marc Vallée and Producer Bruna Papandrea (Feature Length)
Pacific Crest Trail Interactive Map
Image Gallery

Specifications
Aspect Ratio: 2.39:1 (2.385:1)
Active Pixel Area: 1920 x 805 pixels
Inactive Pixel Area: 1920 x 275 pixels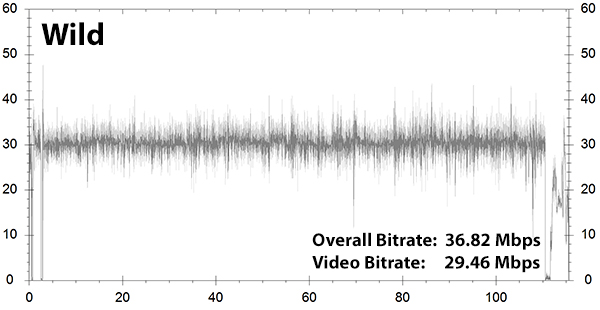 Wild Bitrate Graph
Disc Name: WILD
Codec: MPEG-4 AVC
Resolution: 1080p
Blu-ray BD-50
Disc Size: 43,850,322,607 bytes (40.84 GB)
Movie Size: 31,928,739,840 bytes (29.74 GB)
Overall Bitrate: 36.82 Mbps
Video Bitrate: 29.46 Mbps
Conclusion
Wild is one of those rare movies where you can get a new sense of your own self by just sitting on your couch for a few hours, and taking in what the true-to-life character went through and how she dealt with it. For those who see Wild for the first time, it is not forgiving, and some personal journey films tend to glorify the experience. Director Jean-Marc Vallée purposely does not go down the road of glorification and but rather, redemption.
Having some great imagery from a personal level to the outdoors, and having the image quality to compliment the presentation, Wild (Blu-Ray) receives a HIGHLY RECOMMENDED.
Most of the filming of Wild was done in my own backyard of Oregon. Key areas from Oregon's very popular recreational areas are included, such as Bridge Of The Gods (Cascade Locks), Mt. Hood, Crater Lake, and more. It was so familiar, it was like I was there with Cheryl, taking every step she took. So, for Oregonians who have hiked these trails and for others throughout the country who are familiar, this movie will strike a much more personal understanding.
Cheryl says Wild is often considering an escape but she doesn't think it was. From what the movie I saw...I agree with Cheryl. It is too easy to associate escape with a person leaving everything behind and going blindly into a new environment. But many times, picking up and leaving is more of a way to conduct a journey into further focusing into a person's issues, while having the typical distractions absent.