January 9, 2016
Introduction
While you've heard of The French Connection, there is still the mostly untold story of where the drugs, money, and notoriety originated from. Drafthouse Films and Director Cédric Jimenez take us back to the 70s in such a classy way I've rarely seen. For certain, if you've never experienced a foreign film reflecting back in time on its own country, you're in for a treat, as well as reference point.
A Quick Overview Of The French Legal System
As you're watching The Connection, the legal framework might be a little confusing because France is not an Adversarial System (i.e., Common Law) like the US or its mother country such as England and many other countries. Canada is an interesting exception, where most of the country uses Common Law, but Quebec uses Civil Law, based on the French Civil Code. Civil Law allows for a Juge (Judge) to be assigned to a specific case. They are also known as Magistrats (Magistrates).
A Magistrate who is assigned to a particular case, is completely in charge of determining whether there is enough evidence to bring it to court. This is known as an Inquisitorial system of law. Most readers would expect the law enforcement side to collect evidence, and then a prosecutor looks at what the police have to determine whether there is enough to proceed to court and issue arrests and warrants, etc. But this would be an Adversarial system.
The Plot
It's 1975 in Marseille, France. Surprisingly, at this time in history, Marseille is the heroine capital of the world. The Mob has connections all over the world, and it is being shipped to where there is the most demand. Places like New York.
Pierre Michel (Jean Dujardin) is currently a drug counselor working in Juvenile Court, but has just been notified he will be the new Marseille Magistrate, in charge of bringing the largest drug case to France's court system. This is a big responsibility, but it also puts a nice big fat target on his head.
An increasing amount of drug activity can be traced back to the late 20s and early 30s. After WWII, which effectively reduced drug supply chains, the drug dealers came back in force with even more persistence and supply chains. By the 1960's, heroin was being manufactured with no end in sight and sent to France for distribution. The world loved it. French drug dealers were more than happy to supply it. And they would kill anyone getting in their way.
In the 70s, was the major trafficking port of heroin in the world. French drug dealers perfecting their importing talents from Turkey and Lebanon, and then exporting their packages to modern countries worldwide, Americans were getting as much heroin as they could possibly shoot and snort. However, the amount of heroin and the purity of it (98% versus typical 65%-70%), was taking a toll on those societies which did not know where the supply was coming from and how to stop it.
Eventually, all sticky fingers pointed to Marseille as the source, but finding a way to combat the powerful mastermind Gaëtan Zampa and thwart his drug smuggling operation, was certainly asking to be assassinated.
Packaging
Packaging for The Connection came to me in a classy and clear VIVA Elite Blu-ray case (12.5mm) from Drafthouse Films with the Blu-ray logo removed from the top center that we normally see in almost every Blu-ray packaging scenario. The Blu-ray cover art is also reversible and a short booklet is also included. Drafthouse Films did a nice job with this release, and I'll be certainly looking to get more releases for review.
Video & Screencaps
Picture quality for The Connection was exceptional, considering the purposely-filtered 70s look. What I like about this presentation, was the look was not overdone to the point of exploitation, but just enough to put you into the era. Average bitrates were rather high, at just a tad below ~30 Mbps, which made even the dark scenes look great. For example, scenes in a nightclub came across very clear, despite low lighting.
Additional Screencaps
Audio
Audio for The Connection wasn't too bad considering the soundtrack wasn't exceptionally dynamic. Given the film was mostly dialog anyway, there were not enough scenes to exploit it if it was. Cars zooming by and motorcycles rumbling all came through well.
Main Audio Track: French DTS-HD Master 5.1 @ 2028 Kbps (48kHz/16-bit)
Subtitles: English, English SDH
Extras
Extras for The Connection has an almost hour-long making of documentary, which sheds much more light on creating the film and just how director Cédric Jimenez created it. Cédric Jimenez is from Marseille, which explains (at least to me) why the film moves along at such a nice pace, never moving too fast or too slow.
The Making of La French (The Connection) (53:16) HD
Deleted Scenes HD
Trailers HD
Specifications
Aspect Ratio: 2.35:1
Active Pixel Area: 1920 x 804 pixels (2.39:1)
Inactive Pixel Area: 1920 x 276 pixels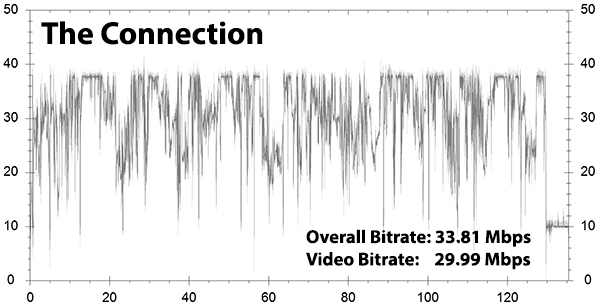 The Connection Bitrate Graph
Disc Name: THE_CONNECTION
Codec: MPEG-4 AVC
Resolution: 1080p
Blu-ray BD-50
Disc Size: 43,825,264,316 bytes (40.82 GB)
Movie Size: 34,345,000,896 bytes (31.99 GB)
Overall Bitrate: 33.81 Mbps
Video Bitrate: 29.99 Mbps
Conclusion
The Connection is a realistic look at the heroin drug trade in Marseille in the 1970s, and tells the story of Pierre Michel on a more personal level, giving more detail about the challenges he was facing, as well as the dangers of stepping up to a ruthless drug dealer and killer.
Gaumont Film Company has created one of the best representations of the 70s I've seen. Drafthouse Films was wise to add it to their collection. Having just enough violence to make a point and having a very good video presentation while still giving the viewer a feeling of being in the 70s, The Connection (Blu-Ray) receives a HIGHLY RECOMMENDED.
I'm surprised this movie hasn't received more attention, and for a first-time buyer, you might be put off by the price, but give it a chance on Netflix or Amazon Prime.