December 31, 2015
Introduction
John Carpenter's Vampires is one of those movies where you feel so excited about watching it, and then about an hour afterwards, feel so terribly guilty. JC is certainly one of my favorite directors and I really can't think of anything he's done where I've automatically dismissed it, and this is mostly because he has a way of working particular scenes into something very memorable. Vampires has those particular scenes which stick in one's mind.
No Sex? No Vampires.
John Carpenter said during the short documentary (or more precisely, a Marketingmentary, designed for mostly those with short attention spans when it comes to documentaries) provided in this release, that if there wasn't any sex in a vampire movie...then it just wasn't a vampire movie. In many respects he makes an interesting observation. But Carpenter does come close to violating his own Vampire Policy when he has Jack Crow telling Father Adam Guiteau to forget what he's seen in the movies about Vampires, seduction, and romance. There is certainly a difference between romance and sex, but the lines are pretty close.
The Plot
Jack Crow (James Woods) is a Vampire Hunter. He's pretty much seen it all. Having a small but reliable crew to assist him in carrying out the dirty work as The Church observes in the background, it's certainly a messy career. Recently following a group of vampires into an abandoned home, the team takes out another nest. The following night, as a routine, they celebrate their victory with a good old fashioned party at a local gutter-level motel. Unfortunately, the celebration turns into a massacre, as a Vampire Master unleashes his revenge on the entire team (and anyone else who stood in the way), leaving only Jack and one of his partners, Anthony Montoya (Daniel Baldwin), stunned, confused, and definitely ego-bruised.
The only other survivor from the Sun-God Motel Massacre, is a local prostitute, Katrina (Sheryl Lee). Bitten by the Master Vampire, Jan Valek (Thomas Ian Griffith), she is taken along for the ride by Jack in the hopes she might be valuable in finding out what just happened.
Jack senses there's something much more powerful than he's ever been up against before, and consults Cardinal Alba (Maximilian Schell). After confirming there is indeed a Master Vampire, with superhuman strength, who has roots dating back to the 1300's, Jack is one a pursuit that is going to be the most difficult ever.
Packaging
Packaging for John Carpenter's Vampires came to me in a very nice clear VIVA Elite Blu-ray case (12.5mm). Too bad this case wasn't black or red. The Blu-ray cover art is also reversible.
Video & Screencaps
The video for John Carpenter's Vampires is absolutely fantastic, and this is the only version I can remember which mimics the same color filtering as the original theatrical release. Overall, there's just so much more detail than the haggard DVD I used to own, it's like watching the movie for the first time.
Additional Screencaps
Audio
Audio for John Carpenter's Vampires sounded awesome, and if you have a 5.1 system...use it. Crank that sucker up, because the bass of the guitar on the intro theme song is just great. As for dialog, voices came through just fine, and I remember the DVD had some issues with audio levels. This Blu-ray seems to do away with most issues, but there are still a few areas where the volume could have been increased to match the rest of the soundtrack. Still, this is an improvement over the DVD release by far.
Main Audio Track: English DTS-HD Master 5.1 @ 4390Kbps (48kHz/24-bit)
Subtitles: English
Extras
There aren't any major visual extras per se, but Twilight Time has provided an isolated score for John Carpenter's Vampires. It sounds fabulous. There is also a short documentary, but not in HD.
Isolated Score
Audio Commentary with John Carpenter
The Making Of John Carpenter's Vampires (6:10) 720 x 480; SD
John Carpenter's Vampires Trailer (1:12) HD

Specifications
Aspect Ratio: 2.40:1
Active Pixel Area: 1920 x 800 pixels
Inactive Pixel Area: 1920 x 280 pixels. Twilight Time specs say 2.35:1, but this is wrong. No big deal, but if you're wanting to get into debates with JC Nerds, you can make note of this now and surprise them with your immense knowledge.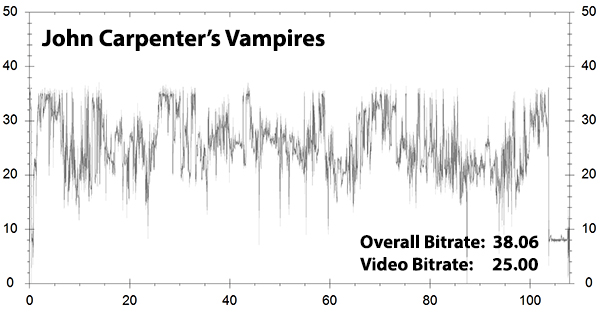 John Carpenter's Vampires Bitrate Graph
Disc Name: JOHN CARPTENTERS VAMPIRES
Codec: MPEG-4 AVC
Resolution: 1080p
Blu-ray BD-50
Disc Size: 31,766,087,666 bytes (29.58 GB)
Movie Size: 30,797,365,248 bytes (28.68 GB)
Overall Bitrate: 38.06 Mbps
Video Bitrate: 25.00 Mbps
Conclusion
One of my favorite films, Vampires has been given the best treatment I think we'll ever see. This is also my first Twilight Time purchase, and I'm very impressed with the care and attention given to the original presentation I remember seeing in theaters. Twilight Time titles are certainly not cheap, but I'm confident I won't be disappointed with other releases which are very difficult to find.
A brand new presentation from Twilight Time, scrapping the ugly DVD transfer, and giving the proper color filtering, John Carpenter's Vampires (Blu-Ray) receives a HIGHLY RECOMMENDED.
This is the first Twilight Time title reviewed by digitaldingus. I do not make an effort in buying titles which frequently sell for an average of $25-$35 each, and I think many movie fans feel the same way. If Twilight Time could get their titles down to around $15 a piece, they'd sell a lot more of them, keeping the outrageous black market prices of their OOP (Out Of Print) titles down as well.