October 28, 2015
Introduction
Hell didn't come to my attention until a few years after it was released in Germany. And even then, I grabbed it for $5 and it sat on my shelf for another year, but soonafter, I did watch it via Netflix. Just recently, I finally broke the seal and watched it again because it looked much better on a physical disc.
One of the reasons Hell probably has not made much of an impact here in the US, is because it's a foreign title, and the actors are not well known. About the only one which viewers might be aware of, is Angela Winkler, who is noted mostly from her role in The Tin Drum (1979), but there are many other films she's been in which deserve mention, such as Der Kopf des Mohren (1995) in particular.
The Plot
In the year 2016, the earth has warmed up a little bit. About 18F (10C). In most areas, tan and brown color gradients of dust have replaced the green gradients of plants. Once breathable air can only be inhaled during the night, as during the day, the hot air will do damage to the lungs. Phillip (Lars Eidinger), girlfriend Marie (Hannah Herzsprung) and sister Leonie (Lisa Vicari) are on a journey to find a place not just where the temperatures are cooler, but someplace they can live. As if things aren't bad enough already, the group encounters obstacles along the way, and it is these obstacles which forge their destination to a place they hope to be.
Packaging
Packaging for Hell came to me in a VIVA Elite Eco 2-Disc Blu-ray case (12.5mm).
Video & Screencaps
The video for Hell looks great, and due to the environment in which it was filmed, there just couldn't be any bitrate conservatism as the super hot almost-white scenes would have shown the video compression. For other scenes that are somewhat darker, the video looks even better.
Additional Screencaps
Audio
Audio for Hell sounded solid, but right off I'd recommend the German track and use the English subtitles. The English audio dub is crap and I'm surprised a dub was even offered.
Another potential issue for viewers is the beginning first scene. You have a couple who are speaking French, not German, and if you're not a typical foreign film viewer, this might throw you off a little, thinking this first couple is part of the upcoming cast of characters. Nothing to warrant a downgrade, and I'm impressed we don't have a subtitle that says the characters are speaking French. If you're not aware they are...watching more foreign films will certainly help.
Main Audio Track: German DTS-HD Master 5.1 2046Kbps (48kHz/16-bit)
Subtitles: English
Audio Track #2: English Dub DTS-HD Master 5.1 2046Kbps (48kHz/16-bit)
Extras
Except for a few theatrical trailers, extras for Hell came up empty.
Greystone Park Trailer (1:42) HD
Hell Trailer (1:12) HD

Specifications
Aspect Ratio: 2.35:1
Active Pixel Area: 1920 x 818 pixels
Inactive Pixel Area: 1920 x 262 pixels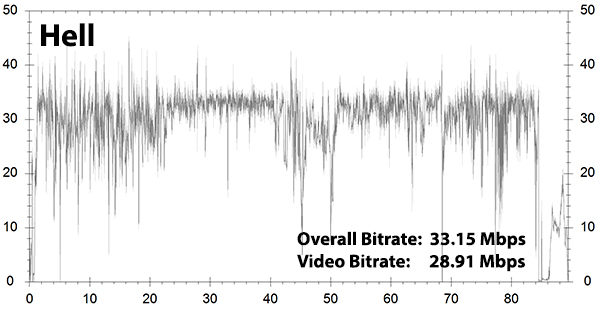 Hell Bitrate Graph
Disc Name: HELL
Codec: MPEG-4 AVC
Resolution: 1080p
Blu-ray BD-25
Disc Size: 22,682,645,591 bytes (21.12 GB)
Movie Size: 22,233,225,216 bytes (20.70 GB)
Overall Bitrate: 33.15 Mbps
Video Bitrate: 28.91 Mbps
Conclusion
Hell is a really simple Survivalist or Post-Apoc film. It was so simple, that but the end of the movie, I wasn't overwhelmed with stupid subplots and outrageous events. The pacing of Hell is well thought out, and running at less than 90-minutes was smart. Any longer, and you'd potentially bore your audience. Hell is quick, satisfying, and even intellectual.
A rather entertaining survival movie with a possibility for reference video, Hell (Blu-Ray) receives a HIGHLY RECOMMENDED.
I did mention Hell as a reference for video because it just looks so good. In many bright daylight scenes which were purposely tweaked, I expected a ton of blowouts and blooming issues, but didn't see any. This is what true HD movies can do when left without the compression architecture many studios just don't seem to care about.