October 22, 2015
Introduction
The beginning of Vice And Virtue has an introduction by Director Roger Vadim where he says in order to present vice and virtue in its most passionate and conflicting of circumstances, the span between 1944 and 1945 is most qualified. This period, says Vadim, was a time which brought out these two opposites at their peak. Vadim goes on to say historical events influenced his film.
Germany was indeed at its highest peak of passions in the year just before the Nazis were to be finally taken out of rulership of Europe. Anyone who had authority knew their time was running out, and many succumbed to their passions — probably because they knew this was going to be the last time to experience them...
The Plot
The Gestapo swarms in on the steps of a local church in France, just before Juliette (Catherine Deneuve) is about to marry her fiancé. Her fiancé is also with the Resistance. The Gestapo takes Jean away in a matter of moments, leaving Juliette on the cobblestone street in tears. Luckily, the Gestapo didn't have sights on her as well, but Juliette knows of only one person who can save Jean. Her sister Justine (Annie Girardot).
While Juliette is pretty much a clean-cut girl and even believes in sex after marriage, her sister Justine has a different take on approaching the moralities of life. Sleeping her way to the top with the most powerful councilman in the town and then finally upgrading her bed tactics to snatching Nazi General von Bamberg (O.E. Hasse), Justine is in a very powerful position, and is living the life which would normally be assigned to only the wealthiest and most privileged.
Packaging
Packaging for Vice And Virtue came to me in the not-so-usual (but highly recommended) VIVA Elite Blu-ray case (12.5mm).
Video & Screencaps
Video for Vice And Virtue was looking exceptional in many instances, but there is a natural lens distortion symptom which creeps up in scenes, making characters' bodies and heads looking stretched on the vertical. Sometimes, this can be distracting and occurs only in wide angle shots. This is due to the type of equipment used at the time, and in the 60s, it's not surprising. Lens distortion aside, there is a lot of detail which comes out that I am certain many viewers will appreciate. Close-ups of actors are very clean and clear for the most part.
Additional Screencaps
Audio
Audio for Vice And Virtue comes in the original LPCM mono soundtrack, which sounds pretty good, although there's just no depth with multiple dialogs and especially sounds such as vehicles, explosions, and gunfire will seem very flat.
Main Audio Track: French LPCM 2.0 1536Kbps (48kHz/16-bit)
Subtitles: English
Extras
Extras for Vice And Virtue were non-existent, except for a theatrical trailer.
Original Trailer (3:10) HD

Specifications
Aspect Ratio: 2.35:1
Active Pixel Area: 1920 x 818 pixels
Inactive Pixel Area: 1920 x 262 pixels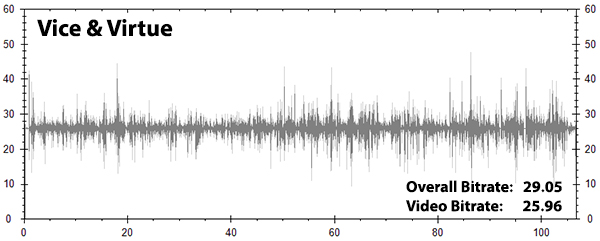 Vice And Virtue Bitrate Graph
Disc Name: VICE AND VIRTUE
Codec: MPEG-4 AVC
Resolution: 1080p
Blu-ray BD-25
Disc Size: 23,838,075,053 bytes (22.20 GB)
Movie Size: 23,246,782,464 bytes (21.65 GB)
Overall Bitrate: 29.05 Mbps
Video Bitrate: 25.96 Mbps
Conclusion
Vice And Virtue may not (and probably won't the first time viewing it) inspire much critical thinking, but we have to remember this film was released only 18 years after the worst genocide Europe had ever seen — or at least Europe had hoped it would never see again. Stories of absolutely insane torture techniques and the overtones of sexual control were coming out on a regular basis. While many thought the Nazis were some military force which was justifiably annihilated, there was an even more primal side. Those who dominated. Those who let others dominate them.
A better picture quality than ever before and certainly having a time-specific quality, Vice And Virtue (Blu-Ray) receives a RECOMMENDED PLUS.
V&V may not be the best film to expose the passions of those during a hedonistic Nazi period, but it is nonetheless a classic from Roger Vadim's interpretationist view of a period when many were just discovering it. While not something which any movie studio would be confident in producing en masse, I'm glad Kino Lorber has added this to their collection of classics.