October 12, 2015
Introduction
It's getting to be that time of year where film fans bring out the more controversial (and downright scary) movies in their collections, and since I don't have thousands of reviews online (yet), there are a few movies which I went over today and sort stood out. The Exorcism Of Emily Rose is one of those rather spiritually invoking movies which asks a few pointed questions about nefarious possession and mental illness. Let's take a look at the real events which influenced this film.
The Story Of Anneliese Michel
Anneliese was born on September 21, 1952. She and her family were devout Catholics and from reading the available information online, the family comes across as an above average family which was involved with the Church. There is no mention of Anneliese having any problems until she was the age of 16 and was diagnosed with temporal lobe epilepsy, due to having an epileptic seizure for the first time. Shortly thereafter, she was diagnosed with depression.
After staying at Mittelberg hospital, it was thought Anneliese was cured, but more severe symptoms were observed, and Anneliese was eventually confined to a home, being seen by priests. Her death resulted from malnutrition, but from reading many different sources online, malnutrition was just the physical decay. Anneliese would go for days without eating, then eat voluminous amounts on other days, so her body was taking severe damage, as well as from supernatural forces.
The Plot
Emily Rose (Jennifer Carpenter) died after a torturous experience of being possessed. Or did she die due to the lack of medical attention Father Moore (Tom Wilkinson) could have assigned to her, but instead, decided to concentrate on religious healings. Since the coroner was forced to submit his findings on the death of Emily, which technically were not from natural causes, Father Moore is now in the crosshairs of the state prosecutor Ethan Thomas (Campbell Scott) and is defended by Erin Bruner (Laura Linney). What Erin discovers in her investigation for the defense, is certainly not natural.
Packaging
Packaging for The Exorcism Of Emily Rose (Unrated Version) came to me in the Sony Pictures Snapper Blu-ray case. Snapping aside, the case is the best quality I've seen, and I rarely come across them, unless an older title is purchased.
Video & Screencaps
Video for The Exorcism Of Emily Rose (Unrated Version) is a gem in the rough of Blu-ray releases. It's too bad the film has the entire movie dimmed down more than what I would have preferred, but for those who dare adjust the brightness on their HDTV...increase it just a little. Sony Pictures did a great job at transferring this movie to Blu-ray. If you look at the bitrate graph below, you'll see a massive chunk of data dedicated. If this were done today, you'd be looking at a BD-25 instead of a BD-50.
Additional Screencaps
The Unrated Version
There was the DVD theatrical version going around many years ago (and I even gave a short review of The Exorcism Of Emily Rose Unrated DVD Version back in November 3, 2006!), and since then, I haven't seen the theatrical on Blu-ray, and there is not an option to view the theatrical on this Blu-ray disc. The differences are somewhat noticeable. More coloring was taken out of the film to make it PG-13. Pictures of Emily are now in color.
Audio
Audio for The Exorcism Of Emily Rose (Unrated Version) sounded fairly good, but its saving grace was only due to the entire movie being dialogue. A few scenes would have sounded a lot better (such as Emily in a downpour of rain and even scenes where she's screaming) because the dynamic range of the audio track just wasn't enough. Another possibility is the original audio was just flat to begin with. Who knows. But overall, I didn't have too many issues.
Main Audio Track: Dolby TrueHD 5.1 @ 1508Kbps (48kHz/16-bit)
Subtitles: English, English SDH, French, Spanish, Portuguese, Chinese, Indonesian, Korean, Thai, Portuguese #2, Spanish #2,
Extras
Extras for The Exorcism Of Emily Rose (Unrated Version) run almost an hour, but unfortunately, we only have the 720x480 (4:3) featurettes.
Special Features
The Exorcism Of Emily Rose: Genesis Of The Story (19:48) 720x480
The Exorcism Of Emily Rose: Visual Design (18:59) 720x480
The Exorcism Of Emily Rose: Casting The Movie (12:24) 720x480

Specifications
Aspect Ratio: 2.35:1
Active Pixel Area: 1920 x 800 pixels
Inactive Pixel Area: 1920 x 280 pixels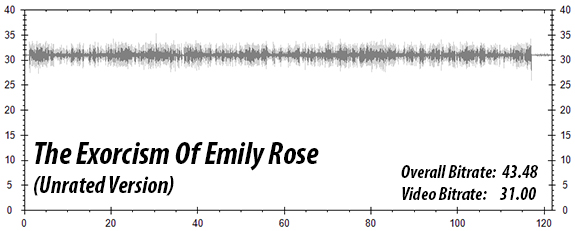 The Exorcism Of Emily Rose (Unrated Version) Bitrate Graph
Disc Name: EXORCISM_EMILY_LAM_P2
Codec: MPEG-4 AVC
Resolution: 1080p
Blu-ray BD-50
Disc Size: 43,856,481,924 bytes (40.84 GB)
Movie Size: 39,708,923,904 bytes (37.00 GB)
Overall Bitrate: 43.48 Mbps
Video Bitrate: 31.00 Mbps
Conclusion
The Exorcism Of Emily Rose (Unrated Version) is definitely an Americanized version of the true story which happened in Germany, but does bring up the issue of physical and mental issues versus supernatural causes. Most of the movie is courtroom drama, but still does a pretty good job at scaring the viewer because it's more raw story telling than adding any special effects. In fact, the only special effects I can recall were Emily looking out a window at night and seeing a face within a stormy cloud as it was being lit by a lightning strike.
Based on the true life story of Anneliese Michel, but could have done a better job at conveying the participants involved in her death, The Exorcism Of Emily Rose (Unrated Version) (Blu-Ray) receives a RECOMMENDED PLUS.
After watching this movie again, one of the most irritating issues is the low-light filter indifferently canvassed. As if the story itself was not scary enough, the director deciding/allowing to have such harsh filter over the movie was just unnecessary. On a more positive note, if you need a black reference for video, this film would be perfect.
For those who are interested in this subject and would like one of the best books written by those who have actually seen what most do not, I highly recommend The Demonologist (The Extraordinary Career of Ed and Lorraine Warren).