October 8, 2015
Introduction
In case you're not sure but remember something similar, there are factual elements tied to True Confessions, but know the entire movie has additional added content. Elizabeth Short was brutally murdered, cut in half, and left in a vacant lot on S. Norton Ave, which was positioned between Coliseum St. and West 39th St. in Leimert Park, Los Angeles. Ms. Short was assigned the nickname The Black Dahlia, allegedly mimicking the movie, The Blue Dahlia, where an airforce pilot returns home to discover his wife having an affair with a man who owns the nightclub of the same name.
Elizabeth Short was to marry an Air Force Major, until he was unfortunately shot down and killed, just before Japan officially surrendered. It was LA's most sensational crime in 1947, and continues to still make writers invoke particular aspects of the case. One of the reasons why the murder fascinated the public, if not, the nation, is not only due to the manner in which Elizabeth Short was killed, but the fact the murder is unsolved, and surprisingly, nobody saw anyone discarding an upper and lower half of a body in a vacant lot. It was only until the next day, a passerby and child discovered what they thought was a dismantled mannequin. True Confessions has some rather startling scenes which reflect the body being found the next day. However, as horrific these scenes are, they are not accurate as to the position of Elizabeth Short's body being found. When police arrived at the scene for the first time, the arms were raised above the head and legs had been spread out in a crude manner.
The Plot
True Confessions occurs during the late 40's, where a woman is brutally killed and two brothers on opposite sides of the law, are having to question their loyalties not only to the people they serve, but to each other. Father Des Spellacy (Robert De Niro) and Detective Tom Spellacy (Robert Duvall), are relunctantly brought into an investigation of murders, which involve a prostitute who is cut in half, and the upper and lower body parts left in a suburban vacant lot.
Jack Amsterdam (Charles Durning) is the real estate builder and property owner of where the murdered woman was found. He is in great regard by the Catholic Church, as his latter successes are more congratulated than his former accomplishments. Tom is very much aware of the history of Jack, but so is his brother Des, and the two meet at crossroads when actions take a surprising twist.
Monsignor Seamus Fargo (Burgess Meredith) has been with the Church for decades, and Tom has been his ear for just as long. However, Seamus is part of the old ways, and Cardinal Danaher (Cyril Cusack) tells Tom he has to go to make way for those who are more visionary (i.e., able to be bought off and look away).
Brenda Samuels (Rose Gregorio) is the madam of a brothel where a murder of a priest happened just before the finding of the murdered prostitute. Coincidence? Well, maybe. The woman who was murdered and left in two pieces is known to Brenda. Events are connected, people are connected, but finding a path which leads to the truth, is all but impossible.
Packaging
Packaging for True Confessions came to me in the standard Elite Blu-ray case.
Video & Screencaps
Video for True Confessions was not so great starting out, and this probably has to do with the age of the film, but taking a second look at it, this could also be due to low light shooting in the church as well. As the movie progresses, especially to the scenes of finding The Virgin Tramp, images look great, and I've never seen it look better.
Additional Screencaps
Audio
Audio for True Confessions was a little lacking, and I'm not exactly sure if the source material could have been better. At least KL decided to keep the stereo mix, versus going the route of insane mixing and presenting a 5.1 unrealistic mix. I have enough options on my receiver to do the audio circus act, so KL doesn't disappoint. The soundtrack comes through great in some scenes, but not in others, and I found myself turning up the volume and then down in some other instances. If I had any suggestions, a more level audio mix would have helped. It's possible the 1560Kpbs rate was lower than what it should have been (I would have preferred twice that amount).
Main Audio Track: German DTS-HD Master 2.0 @ 1560Kbps (48kHz/16-bit)
Subtitles: English
Extras
Extras for True Confessions are non-existent. Watching an included trailer, there is nothing else on the disc except for the movie itself. Due to this being a Kino Lorber release, I'm not surprised, and I generally tend to focus more on the audio and video presentation of the feature film.
Special Features
Trailer (2:17) HD

Specifications
Aspect Ratio: 1.85:1
Active Pixel Area: 1920 x 1040 pixels
Inactive Pixel Area: 1920 x 40 pixels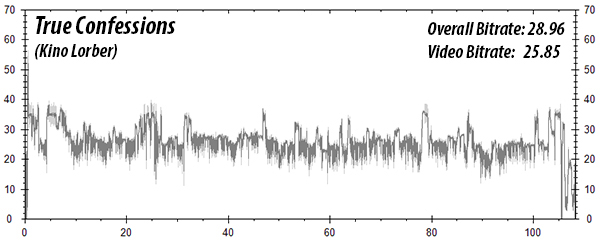 True Confessions Bitrate Graph
TRUE CONFESSIONS
Codec: MPEG-4 AVC
Resolution: 1080p
Blu-ray BD-25
Disc Size: 24,011,777,451 bytes (22.36 GB)
Movie Size: 23,513,118,720 bytes (19.65 GB)
Overall Bitrate: 28.96 Mbps
Video Bitrate: 25.85 Mbps
Conclusion
Looking over my 80's film collection in DVD Profiler, True Confessions is one of my top favorites and while I hear from so many people that is was just slowwww...and put everyone to sleep, I still like it a lot. If you watch a few times, the movie makes more sense as there is an assumed knowledge when you begin watching it. Most movies spend 10 minutes dumbing you down so it's impossible for you to NOT KNOW what's going to happen. But with True Confessions, you need to look deeper into what's going on around you.
Based on actual events based on Elizabeth Short's brutal demise, a two-prong cast of lead actors which did not disappoint, as well a handful of amazing other acting talents where they are sincerely missed, True Confessions (Blu-Ray) receives a RECOMMENDED PLUS.
Kino Lorber does a good job at restoring titles which just don't get the attention from their original movie studio, and True Confessions has never looked better. As noted above, I wish the audio track was a little more dynamic, and with a 1560Kpbs rate, this just doesn't leave much room a truly rich sound to come through without volume issues.
For those who would like to read the book of the same name, you can grab a copy of True Confessions by John Gregory Dunne on Amazon.