October 6, 2015
Introduction
Due to Everest being released in theaters not too long ago, I thought I'd bring another film which is one of my favorite mountain climbing movies into the spotlight which might not have been on your radar. Few movies out there are barely satisfactory when it comes to mountain climbing, and we're generally left with more outrageous drama and less about the actual skills involved which got the characters up to the summit in the first place.
I suppose what pulled me to North Face was the authenticity of the equipment used. Many climbing movies (which by the end you discover it has turned into more of a artistic expression of impossibility) just cannot get across the simplicity of what climbers do, and how persistent a climber has to be in order to reach a summit. And I suppose a good response would be this was a time-specific film which demanded such mountain climbing tools versus modern movies which can use all the latest (and impractical) hardware available. Fair enough. However, we also have the issue with what climbers experience while they climb. And North Face does a valid job of showing what Toni and Andi experienced. It's a multitude of different climates as you progress. And each climate does its peculiar tricks on those who dare face it.
The Plot
North Face is based on the true story of Toni Kurz (Benno Fürmann) and Andi Hinterstoisser (Florian Lukas), who are part of a competition to approach Eiger...from the North Face. The most dangerous approach. It was 1936, and at this time for Germans, it was extremely important to prove one's superiority as the political climate at the time dictated as much. The two mountain climbers were hesitant and cautious about engaging such a climb, but observing those from a few other countries being willing to embark on such a climb, they couldn't resist the competitive urge to win.
Packaging
Packaging for North Face came to me in the usual UK thick Blu-ray case.
Video & Screencaps
Video for North Face looked true to the time period. If it was exceptionally "clean", I would have been taken a little back on watching it. Keeping the film with a somewhat grainy appearance, mixed with a dark saturation looked good.
Additional Screencaps
Audio
Audio for North Face for the most part sounded good, and since most of the film was dialogue, came through without any issues with volume levels and voices. Other sounds, such as blizzard conditions and ice axes, boots, crampons, and hammering of pitons into Eiger's North Face gave sound-rich environments.
Main Audio Track: German DTS-HD Master 5.1 @ 2075Kbps (48kHz/16-bit)
Subtitles: English, German
Extras
Extras for North Face were few, but the Making Of North Face featurette was interesting. It's also worth it to take a look at the 6-minutes of deleted scenes. Being this was a drama, I'm surprised those scenes were cut.
Special Features
The Making Of North Face (17:48) MPEG2 Video 720x576 (16:9)
Deleted Scenes (6:10) MPEG2 Video 720x576 (16:9)

Specifications
Aspect Ratio: 2.35:1
Active Pixel Area: 1920 x 816 pixels
Inactive Pixel Area: 1920 x 264 pixels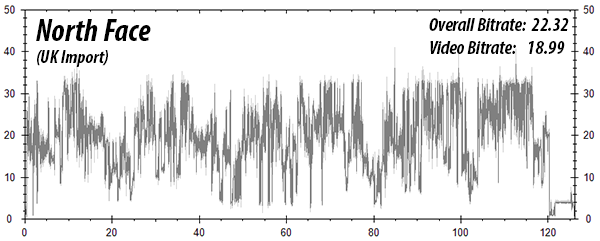 North Face Bitrate Graph
NORTHFACE
Codec: MPEG-4 AVC
Resolution: 1080p
Blu-ray BD-25
Disc Size: 23,367,868,621 bytes (21.76 GB)
Movie Size: 21,101,586,432 bytes (19.65 GB)
Overall Bitrate: 22.32 Mbps
Video Bitrate: 18.99 Mbps
Conclusion
North Face is one of my top favorite mountain climbing movies, and come to think of it, there are very few which do the act justice. The cinematography is something to be seen, and while there are special effects, they were subtly done and not distracting from the movie.
Based on actual events which viewers might want to further investigate and read about, along with some good acting by the three leading actors, as well as some breathtaking views of the local country, North Face (Blu-Ray) receives a HIGHLY RECOMMENDED.