September 5, 2015
Introduction
The latest X-Men installment Days Of Future Past was a very welcome addition to the X-Men series, and just when you thought it couldn't get any better, The Rogue Cut was subtly announced by Director Bryan Singer to be released on July 14th, 2015 (which is the same day the first X-Men movie was released...15 years ago). Once I heard about the announcement, I had to restrain myself from buying the initial version, because I knew there was going to be two versions released. Then of course, a Steelbook edition was announced, and I couldn't help but place an order for it. A three-month wait, but well worth it. This Steelbook review is more of an informative review for those who want to see what it looks like. It's impossible to have a review of many Steelbooks and expect the viewer to be able to buy for the same price. By the time I get most Steelbooks, they've already doubled in price or are just plain unavailable.
The Rogue Cut
X-Men: DOFP's Rogue Cut, is somewhat polysemous. Not only do we have a lot more footage of Rogue in this cut, but we also have a more in-depth look, with additional special effects. In fact, DOFP:RC has several extended sequences, which is rather impressive and looks fabulous on a large HDTV. This is one of those movies you'll want to put on the largest television set you can find.
The Plot
Being a superhero has its disadvantages, and in X-Men: DOFP, we see this more than ever. It is the year 2023, and the X-Men are faced with mutant killers, known as Sentinels, who were originally created by a genius, Dr. Bolivar Trask (Peter Dinklage) back in the early 70's. Having mutant killers wasn't necessarily bad for the US government, but as time went on, Sentinels began killing humans as well. By 2023, humans and mutants were under the ruthless and indifferent rule of machines.
With the extended cut, we see Rogue (Anna Paquin) in places where she was supposed to be, and some additional dialogue sequences which flush out a lot of character involvement.
Charles (James McAvoy) realizes there is only one way to solve the Sentinel issue and there is only one mutant who can help. Kitty Pryde (Ellen Page) can send a person's consciousness into the past, but suddenly there poses another problem. Who could withstand the amount of interference while going back in time, and still be alive? Who has the ability to repair cell damage so quickly to be able to make it back to 1973? Logan (Hugh Jackman) is the only solution and so the Time travel Duo begin a mission which will be to thwart the creation of the Sentinels.
Steelbook Packaging
Packaging for Days Of Future Past came to me in 2-Disc Steelbook packaging, from way across the pond, and from one of my favorite Steelbook sellers, Zavvi. Zavvi always packages their Steelbooks in a protective cardboard wrap which has never failed in the few dozen Steelbooks I've purchased from them over the years.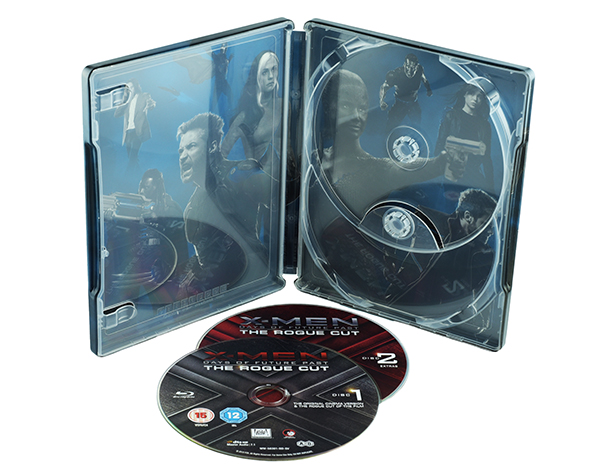 X-Men: Days Of Future Past (The Rogue Cut) (Zavvi Steelbook Exclusive)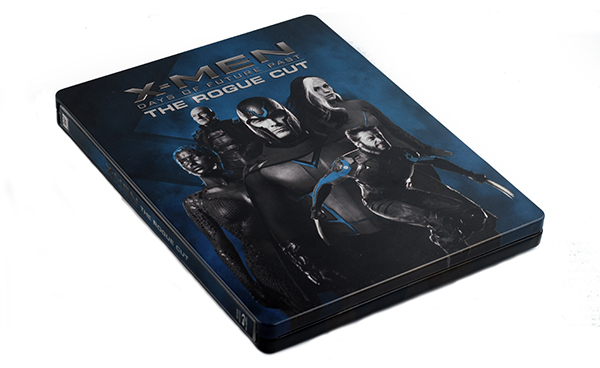 X-Men: Days Of Future Past (The Rogue Cut) (Zavvi Steelbook Exclusive) (Front)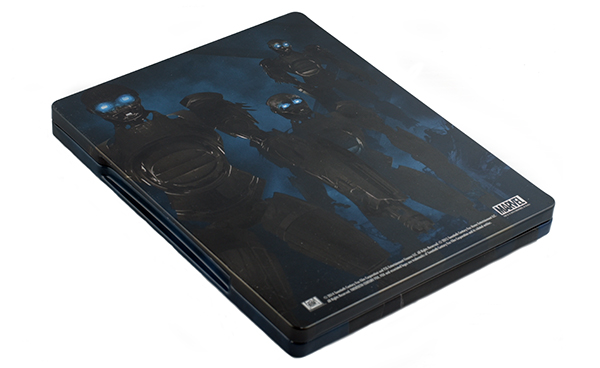 X-Men: Days Of Future Past (The Rogue Cut) (Zavvi Steelbook Exclusive) (Back)
Video & Screencaps
Video for X-Men: Days Of Future Past (The Rogue Cut) looked fantastic. Which probably explains why all the special features on the second disc.
Additional Screencaps
Audio
Audio for X-Men: DOFP sounded pretty good, and there many instances within the movie where the 7.1 soundtrack feels spread out and inclusive.
Main Audio Track: DTS-HD Master 7.1 @ 5389Kbps (48kHz/24-bit)
Subtitles: English, English SDH, French, Spanish
Extras
Extras for X-Men: DOFP include about an hour and a half of content on Disc 2. Disc One is exclusively for the Rogue Cut and Theatrical Cuts.
Disc One (Feature Film)
Theatrical Cut
Rogue Cut
Disc Two (Special Features)
X-Men: Unguarded (30:12) HD
X-Men: Days Of Future Past (Mutant vs. Machine) (52:42) HD

Specifications
X-Men: DOFP (RC) looks really good, and I was especially impressed with how the colors just popped off the screen. Many places refer to this film as being 2.35:1 but I found otherwise. It's 2.40:1.
Aspect Ratio: 2.40:1
Active Pixel Area: 1920 x 800 pixels
Inactive Pixel Area: 1920 x 280 pixels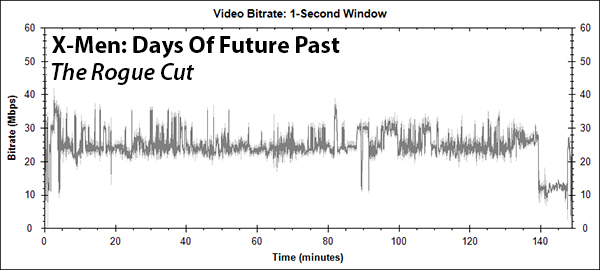 X-Men: Days Of Future Past (The Rogue Cut) Bitrate Graph
X-Men - Days of Future Past
Codec: MPEG-4 AVC
Resolution: 1080p
Blu-ray BD-50
Disc Size:46,212,057,775 bytes (37.94 GB)
Movie Size: 37,519,257,600 bytes (37.54 GB)
Overall Bitrate: 33.63 Mbps
Video Bitrate: 24.43 Mbps
X-Men Days of Future Past (Special Features)
Codec: MPEG-4 AVC
Resolution: 1080p
Blu-ray BD-25
Disc 2 Size: 23,882,763,282 bytes (24.41 GB)
Overall Bitrate: 18.89 Mbps
Video Bitrate: 17.58 Mbps

Conclusion
X-Men: Days Of Future Past's Rogue Cut was certainly welcome, but at the same time I also now understand why there was 17-minutes cut due to attention span. This particular installment of X-Men was really good, but it was also more throttled than other X-Men films. I enjoyed the extended and added scenes, but I did catch myself getting up out of my movie chair and getting refills on drinks...and not being too concerned on what I missed. Of course, there's a lot going on with DOFP:RC, and I am already planning on seeing this again very soon. Slow-pacing aside, there were some really cool effects and visuals, and the X-Men themselves are becoming more than just characters as we get to learn about so many other events which lead to their circumstances.
Having a gripping story and special effects which once again make it another awesome X-Men installment, X-Men: Days Of Future Past (Rogue Cut) (Blu-Ray) gets a HIGHLY RECOMMENDED.
A New Villain Rises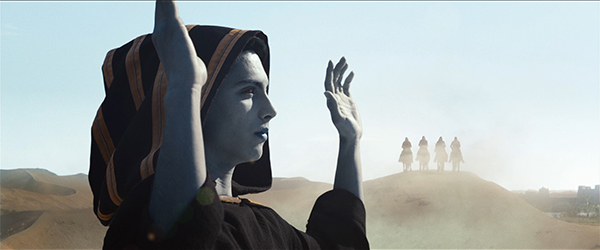 X-Men: Apocalypse Villain, En Sabah Nur
In case you haven't gone through all the extras, there is a mention about the next installment, X-Men: Apocalypse. As if things couldn't get more serious, there is a new villain, who is more Godlike than anything. He's an Ancient Mutant, who has extraordinary powers, and has been around for thousands of years. He has an unlimited amount of knowledge and will be the most formidable adversary of the X-Men so far.