Blu-ray Movie Review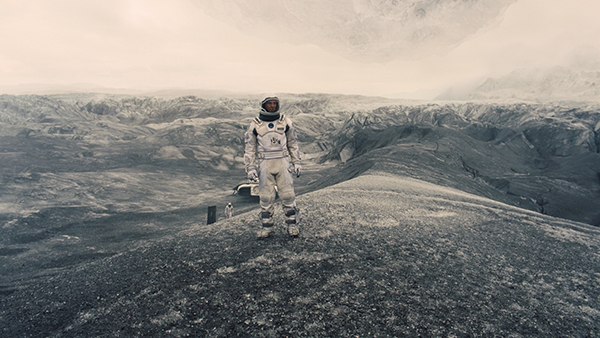 Interstellar
from Paramount Pictures
April 24, 2015
Introduction
Christopher Nolan is one of the most — if not the most — thought-provoking directors of his time. He's come so far since I saw one of his first films Momento, and his Dark Knight Trilogy is certainly one of his great achievements. But with Interstellar, Nolan takes his skills and polishes them off a little more with his take on a world where life is about to end, and survival must be off-planet.
Interstellar is also one of the few films to have a discipline when using space-time as a reference, and unlike so many films which don't approach the subject in a more mature way, Nolan has abided by requests to stay within the boundaries of current science theories.
For those who are very familiar with Matthew McConaughey's acting career, this won't be too much of a surprise, but I can't help but recall Contact (hard to believe it came out in 1997 but it's a timeless movie), where he co-stars with Jodie Foster. If this film has not yet been seen, I highly recommend it and maybe I'll even drag it out of my collection and review it for fans of this movie (or fans of Matthew McConaughey in general).
Come to think about it, there are several movies which date back to the mid-60's that came to mind when I watched Interstellar. Nolan is only a few months younger than I am, so he's more than likely seen a lot of the movies which I have as well, that influenced his latest masterpiece.
The Plot
In the not so distant future, the world has eventually come to a point where food has become a scarcity, and science has not found a way to counteract the impending fatal impact on human life. The specific impact has been a rare pathogenic organism which has attacked plants successively, year after year, taking each particular plant out of existence. Crops such as a lettuce, carrots, potatoes, are now gone. Corn is the only crop left, and even this crop is beginning to fade away.
Cooper (Matthew McConaughey) is a former NASA astronaut and US Military pilot. He has his own crops of sustenance, and keeps his family alive, while giving the rest to the local community. Unfortunately, he's noticing his limited crops (including the now rare Okra), are dying.
There's also something odd going on at the home where Cooper and his young daughter Murph (Mackenzie Foy) live. Strange formations of dust falling in the library room, make Cooper conclude there are beings from another planet who are attempting to communicate with his daughter. What these beings (maybe even ghosts) are saying or trying to convey to her, is a mystery at first, but Cooper realizes the formations in the dust are coordinates, which lead him and his daughter to a NASA installation. From this point on, he is enlightened...
Cooper's previous college professor Dr. John Brand (Michael Caine) is heading a mission which is aimed at a wormhole located in the proximity of Saturn. This wormhole has apparently been made by the same beings communicating with Murph. 12 spacecraft have been sent through the wormhole so far, with the hopes that at least one would reply back with information about a sustainable planet for human life. Cooper is informed Brand has received three signals from those missions, and he would like Cooper to be the pilot on the Endurance, which was created to go back to the wormhole and seek out the signals. Emelia (Anne Hathaway) is Dr. Brand's daughter, and will be going along on this mission. What follows, is a very entertaining and often mind-bending trip into space-time travel and the urgency of saving human beings from almost certain extinction.
Steelbook Packaging
Packaging for Interstellar came to me in 3-Disc Steelbook packaging, exclusively from Target. Walmart offered a Neo Case, but from reading several comments on the packaging being prone to scratches, I opted for the Steelbook as getting them directly shipped from Target has never been an issue. Still, I think Neo Cases will probably be a great way to display the artwork of a favorite movie.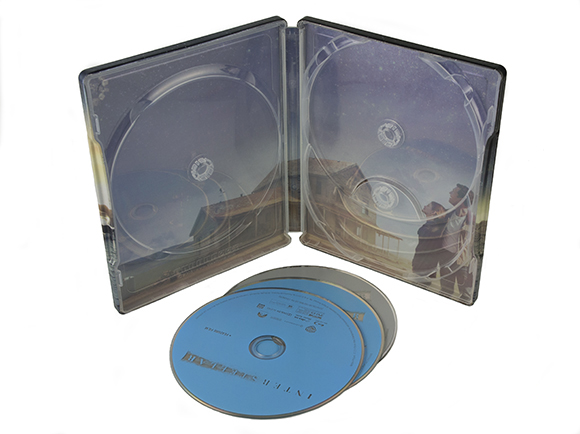 Interstellar (Target Steelbook Exclusive)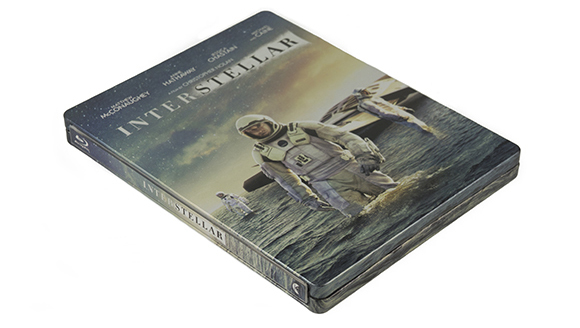 Interstellar (Target Steelbook Exclusive) (Front)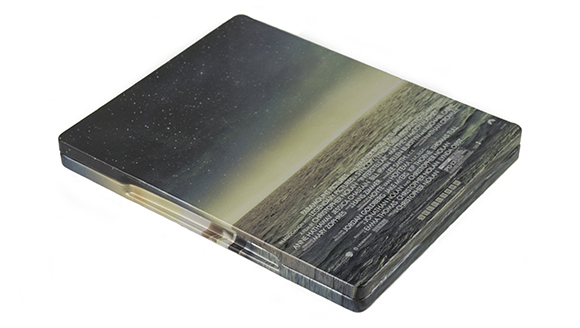 Interstellar (Target Steelbook Exclusive) (Back)
Video & Screencaps
Video for Interstellar was...stellar. Nolan tends to introduce a wide variety of colors and grain levels to match his conveyance of particular scenes, but when he wants clarity, it's certainly there.
Additional Screencaps
Audio
Audio for Interstellar sounds terrific, but what I experienced in this particular film...it's transcending. I'm a very big fan of Constance Demby, and hearing Hans Zimmer's scores, reminded me of her performances. A key difference however, is Demby's talent is with electronic interpretation, where we find Hans Zimmer purposely resorting to actual instruments to convey the cosmos.
Main Audio Track: DTS-HD Master 5.1 (English) @ 3693 Kbps (48kHz/24-bit)
Subtitles: English, English SDH, French, Spanish
Extras
Interstellar had so many extras, a second disc was needed. This is good. About 3 hours of extras are available and after watching all of them, they are as fascinating as the movie itself. If you really want an inside look at how Interstellar was created — from the creations of the spacecraft to the music — this special features disc is just a goldmine of information.
Disc One (Feature Film)
Disc Two (Special Features)
The Science Of Interstellar (50:20) HD
Inside Interstellar (1:53:51) HD
Plotting An Interstellar Journey (7:49)
Life On Cooper's Farm (9:43)
The Dust (2:38)
TARS and CASE (9:27)
The Cosmic Sounds Of Interstellar (13:40)
The Space Suits (4:31)
The Endurance (9:24)
Shooting In Iceland: Miller's Planet / Mann's Planet (12:42)
The Ranger And The Lander (12:20)
Miniatures In Space (5:29)
The Simulation Of Zero-G (5:31)
Celestial Landmarks (13:22)
Across All Dimensions And Time (9:02)
Final Thoughts (6:02)
Trailers HD
Teaser (1:52)
Trailer 1 (2:34)
Trailer 2 (2:35)
Trailer 3 (2:29)

Specifications
Interstellar is presented in an MAR format, which is Multiple Aspect Ratio format. The MAR ranges from 1.78:1 to 2.20:1. Nolan does a terrific job of inserting the aspect ratios at key points in the movie like he's done in the past. If you're hesitant to watch a movie with MAR, don't be. If you have a television that's larger than 50", you'll be immersed into some wonderful space action.
Aspect Ratio: MAR (Multiple Aspect Ratio)
Active Pixel Area: Variable
Inactive Pixel Area: Variable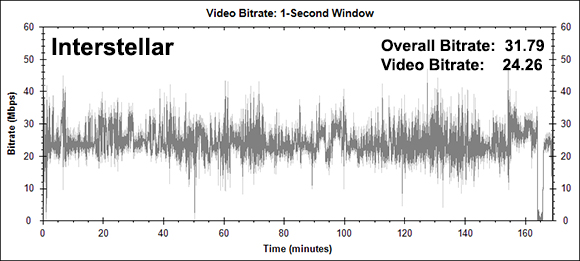 Interstellar Bitrate Graph
INTERSTELLAR
Codec: MPEG-4 AVC
Resolution: 1080p
Blu-ray BD-50
40,740,426,959 bytes (37.94 GB)
Movie Size: 40,306,139,136 bytes (37.54 GB)
Overall Bitrate: 31.79 Mbps
Video Bitrate: 24.26 Mbps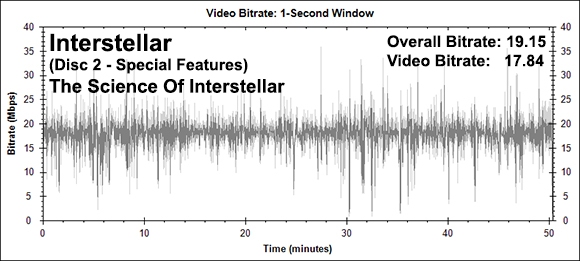 The Science Of Interstellar Bitrate Graph
INTERSTELLAR_BONUS_DISC Codec: MPEG-4 AVC
Resolution: 1080p
Blu-ray BD-25
Disc 2 Size: 26,206,710,875 bytes (24.41 GB)
Special Features Size: 24,379,262,976 bytes (22.70 GB)
Overall Bitrate: 18.89 Mbps
Video Bitrate: 17.58 Mbps

Conclusion
Interstellar is one of those rare masterpiece films which just touches every aspect of the viewer experience. An absolutely beautiful musical score by Hans Zimmer, amazing special effects (which Nolan said himself were created to stand the test of critics not just now...but in the future), and solid acting complete the trifecta criteria of a perfect movie.
Having an exceptional soundtrack, great video, and a story that's believable, Interstellar (Blu-Ray) gets a HIGHLY RECOMMENDED PLUS.
A second note on Interstellar's scientific content. Be sure to watch the extras disc as it goes into detail about the care which was taken to make sure the discussions and special effects you hear and see, are in sync within current scientific theories. Christopher Nolan didn't want a simple space movie, but wanted something which was more probable, believable, and had the scientific theories to back it up.