Blu-ray Movie Review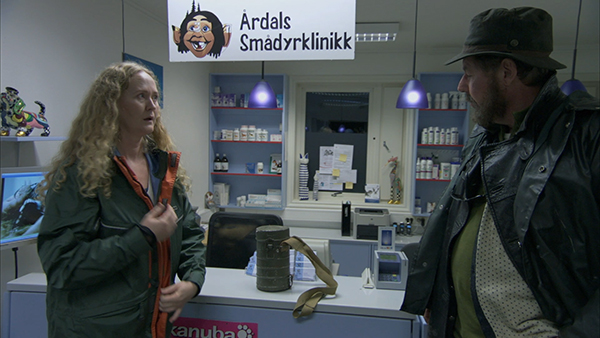 Trollhunter
from Magnet
April 12, 2015
Introduction
I'm not particularly a fan of the faux-documentary films, and this is mostly attributed to the observation there are just so many of them being released by new coming directors who think they've managed to set a new standard, and the new standard is more to do with how fast the viewer can eject the movie from their media player. It is a rarity indeed, to discover a movie which appears to be like all the others, but ends up being something completely independent and refreshing. Trollhunter is that film. Having seen this initially from an online digital streaming service at some crazy hour on the weekend, I enjoyed the movie so much I had to own it. I knew I'd be watching this again on a regular basis.
What makes a faux documentary a success? This is up to the viewer of course as we all have our own limitations and thresholds of acceptance, but for me, it's a combination of realistic expectations of interactions with people, then mixed with something completely unrealistic which is actually believable because the dialogue is so convincingly humorous (and on the flip side, so serious).
The Plot
Investigative college students are out to report about bear poachers in a local forest. The small team of college reporters Thomas (Glenn Erland Tosterud), Johanna (Johanna Mørck), and cameraman Kalle (Tomas Alf Larsen) are soon to discover their minor news piece is turning into a mysterious and controversial story. Interviewing hunters, they say there is no way a bear could have died from poachers, and there are tracks of an animal which is much larger than anything they've ever seen.
The young news team decides to follow a lead on a man who appears to be one of the poachers, and is rather mysterious. Hans (Otto Jespersen) is also very difficult to track down, until they find him coming back from an alleged poaching run and observe him coming back to an RV Park and residing in a small trailer.
After staking him out for the night, Hans unpredictably leaves during the night, and he is followed into the backwoods of the local Norway town. Soon, the team will find out just what exactly Hans is hunting for...but it isn't bears!
Packaging
Packaging for Trollhunter came to me in the typical VIVA Elite Blu-ray single-disc case.
Video & Screencaps
Video for Trollhunter looks exceptionally crisp in many scenes where there is enough daylight to flaunt the attentive high definition transfer, and at the same time, there are scenes which are purposely grainy at night.
Screencaps
Additional Screencaps
Audio
Audio for Trollhunter is full and rich, and when you turn up the volume to a moderate level, your living room will sound like Trolls have infested it. Dialogue comes through just fine.
Main Audio Track: DTS-HD Master 5.1 (Norwegian) @ 4270 Kbps (48kHz/24-bit)
Subtitles: English, Spanish
Extras
There is a fairly good amount of extras for Trollhunter, and range from extended scenes to how the Trolls were created. There is quite a lot of information and some hilarious humor by Otto Jespersen.
Deleted Scenes
Hans Is Collecting Evidence (:36) HD
If You're Driving At 80 KPH (:25) HD
At Finn's (:44) HD
Wolf Wolf! (1:25) HD
Troll Hairball (:28) HD
Improv And Bloopers
Trashed Car (:53) HD
Frozen Pizza And Hunter's Stew (:29) HD
Bloopers (:46) HD

Extended Scenes
The Electricity Goes Nowhere (2:27) HD
Poiter's Painter Service (3:29) HD
Breakfast At The Diner (2:00) HD

Visual Effects
Visual Effects Breakdowns: Ringlefinch (1:25) HD
Digital Models (:27) HD
Jotnar (2:10) HD
Tosserland & Mountain Kings (2:07) HD

Behind The Scenes
Troll Foot (2:23) HD
Good Vibes At The Shoot (2:02) HD
While We Wait (3:06) HD
Russian Bear (2:10) HD
The Tin Man (6:42) HD
The Beard (2:38) HD
Movie Stars (4:27) HD

Photo Galleries
Troll Sketches (1:21) HD
Troll Habitats (4:51) HD

HDNet: A Look At Trollhunter (4:21) HD
Also From Magnolia Home Entertainment Blu-ray
13 Assassins HD
Hobo With A Shotgun HD
Good Neighbors HD
The Perfect Host HD

Specifications
Active Pixel Area: 1920 x 1080 pixels
Inactive Pixel Area: Not Applicable
Aspect Ratio: 1.78:1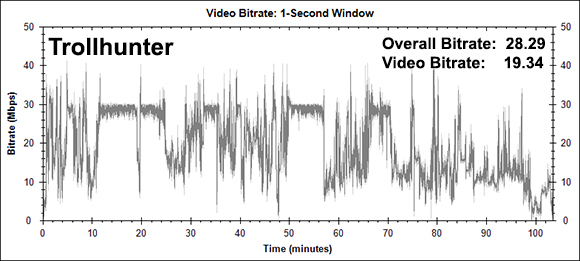 Trollhunter Bitrate Graph
TROLLHUNTER_BD
Codec: MPEG-4 AVC
Resolution: 1080p
Blu-ray BD-50
Disc Size: 31,961,082,591 bytes (29.77 GB)
Movie Size: 21,948,284,928 bytes (20.44 GB)
Overall Bitrate: 28.29 Mbps
Video Bitrate: 19.34 Mbps

Conclusion
Trollhunter manages to take the simple basics of a faux-documentary and create a truly inspiring film. It's not over-acted like so many "mockumentaries", and gives just the right amount of realism mixed with fairy tales to pull off something believable.
Having an exceptional soundtrack, great video, and a story that's believable, Trollhunter (Blu-Ray) gets a HIGHLY RECOMMENDED PLUS.
On a side note, be sure to look at the Photo Galleries section and choose "Troll Habitats". It's a gorgeous collection of still photos of the areas where Trolls were filmed in the movie.