Blu-ray Movie Review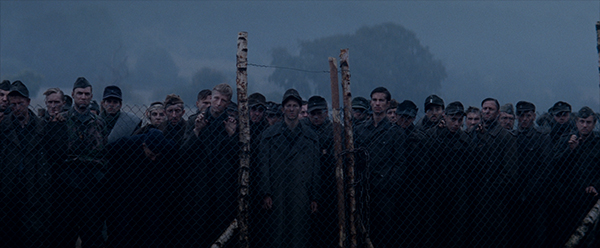 Fury
from Sony Pictures / Columbia Pictures
March 15, 2015
Introduction
I suppose many of us have seen a small circle of genres over the last few decades. World War II films are certainly still attracting viewers, and instead of sweeping plots, we tend to have more specific and isolated stories, bringing out the character. Fury is one of those WWII films which does a pretty good job of doing this, but as noted below, I think the time restraints sold it short on character development. Setting aside this issue, there's a solid cast being offered, and each one does a great job of bringing out their flaws and strengths.
The Plot
The Third Reich had an infamous tank authority in any geographic area it was placed. Sparing no expense when Nazi Germany created these metal monsters, the Tiger would take US Allies with a ruthless iron fist, decimating their own tanks, leaving troops open an vulnerable for the eventual slaughter. The Tiger had its weaknesses, but it was difficult to get them into those weaknesses because the Nazis were very good at surprise and counter-attacks, leaving most Ally troops on the run for their lives. However, as time went on, US Forces learned they needed more powerful anti-tank guns (the British were ahead of them already in this thinking), and the Soviets managed to physically get their hands on an abandoned Tiger, thus creating a better defensive strategy.
Towards the final months of World War II, the Nazis were using every sort of tactic possible to win, and ambushing allies as they marched closer and closer to Berlin, were becoming rather familiar.
Staff Sergeant Don 'Wardaddy' Collier (Brad Pitt) commands a Sherman tank ("Fury") with four other men, but recently had his gunner "Red" killed in a vicious battle. He's looking for somebody to take his place, maybe even somebody who hates the Waffen-SS as much as he did. As usual, choosing the best fighting partner is not a luxury in war, and he's told who is going to be the replacement by his commanding officer, and to make the best of it work.
The replacement is Norman Ellison (Logan Lerman), and he soon realizes — while he's cleaning out the Sherman tank's bloody insides and remains of his predecessor — this is not the job he imagined for himself. After all, only a few days ago...he was typing words on paper.
Boyd 'Bible' Swan (Shia LaBeouf), Trini 'Gordo' Garcia (Michael Peña), and Grady 'Coon-Ass' Travis (Jon Bernthal) are the rest of Wardaddy's crew who have seen just about everything, and are solid veterans. Realizing the new additional to their team is not only a surprise, but rather dangerous, Norman is subjected the typical hazing of an outsider until he manages to get a grip on not only what war is, but grasping who he really is as well.
Packaging
Packaging for Fury arrived as a Steelbook exclusive, from Target. Currently, it is not available on Target's website (and probably never will be), however if you're willing to spend the extra cash for a nicely done Steelbook, it's currently available on Amazon.
Steelbook Packaging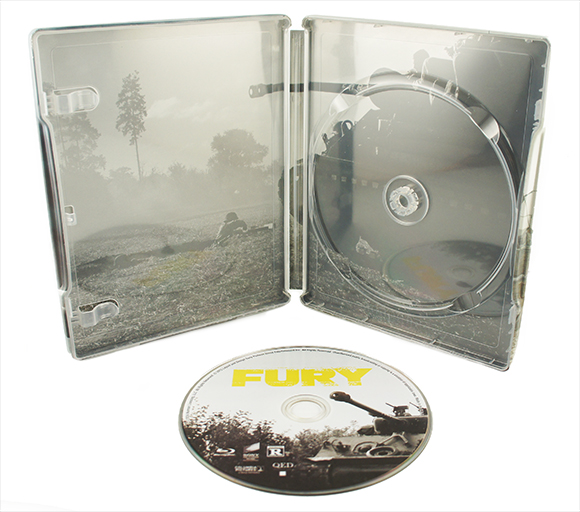 Fury (Target Steelbook Exclusive)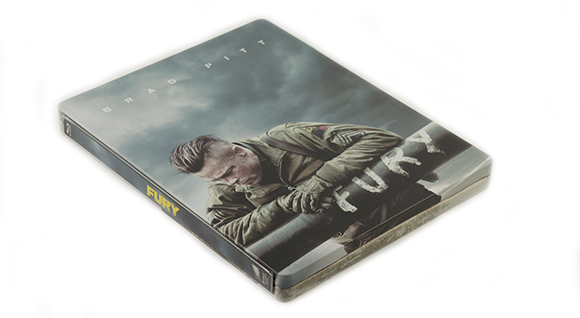 Fury (Target Steelbook Exclusive) (Front)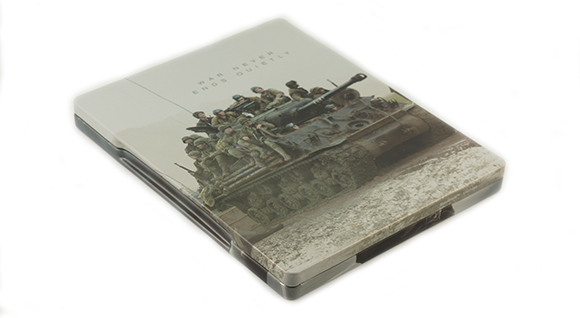 Fury (Target Steelbook Exclusive) (Back)
Video & Screencaps
Video for Fury looks superb, and certainly has the feel of war films we've all seen in the past. Colors are a bit saturated to bring out the browns, greens, and reds of the environment, but it's done tastefully, and there is never an over-abundance of excessive coloring in order to bring forward a statement that already exists. The dark colors of the tanks (Wardaddy's Sherman tank and the Tiger tanks) combined with a nicely crisp image, deliver.
You might wonder about the film's video presentation due to only averaging around ~21 Mbps, but this is another case where it does just fine because of most of the movie being stationary characters and dialogue (or slow moving characters during scenes of walking, etc.). The final scenes are where the bitrate jumps dramatically because of heavy fight scenes and because this is a BD-50 disc, there is more than enough room to basically double the video bitrate, keeping the video crisp and sharp.
Screencaps
Additional Screencaps
Audio
Audio for Fury sounds better than what I would have thought as the Kbps isn't necessarily that high. Most of the movie is dialogue anyway, and sounds from a few tank battles can be heard fairly well.
Main Audio Track: DTS-HD Master 5.1 (English) @ 2215 Kbps (48kHz/16-bit)
Subtitles: English, English SDH, French, Spanish
Extras
Extras for Fury are reasonable, and after watching the almost one hour of extended and deleted scenes, I'm certain this movie could substantially improve if those scenes were added.
Disc One
Deleted & Extended Scenes (56:13) HD
Blood Brothers (11:08) HD
Director's Combat Journal (11:32) HD
Armored Warriors: The Real Men Inside The Shermans (12:11) HD
Taming The Beasts: How To Drive, Fire & Shoot Inside A 30 Ton Tank (12:48) HD
Photo Gallery
Previews HD
Specifications
Active Pixel Area: 1920 x 803 pixels
Inactive Pixel Area: 1920 x 277 pixels
Aspect Ratio: 2.39:1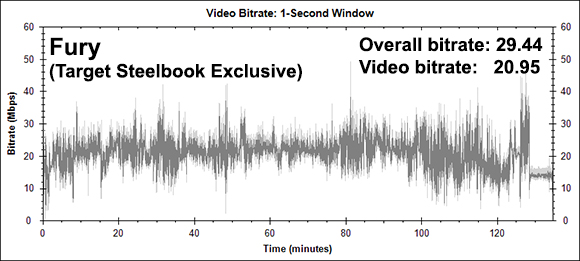 Fury Bitrate Graph
FURY
Codec: MPEG-4 AVC
Resolution: 1080p
Blu-ray BD-50
Disc Size: 48,224,671,671 bytes (44.91 GB)
Movie Size: 29,730,299,904 bytes (27.69 GB)
Overall Bitrate: 29.44 Mbps
Video Bitrate: 20.95 Mbps

Conclusion
Fury is a good film, and I enjoyed watching the interactions between the characters. However, I did get the impression the movie was abnormally sped along due to time constraints (towards the end of the movie, there is a daylight battle scene which changes to night much too quickly). More character development, along with additional battle scenes to get a better (more real?) sense of the camaraderie would have benefited greatly. Considering all the additional scenes I would have liked to have expanded/added, an additional 30-minutes to the film would have been necessary.
Having an interesting story, a great picture quality, but slightly missing the mark on delivery of the overall kinship in battle, Fury (Blu-Ray) gets a RECOMMENDED PLUS.
One of the best things I liked about Fury, was the "gritty" feel. The uniforms and equipment looked outstanding and especially the tanks, which gave a nice dark cobalt steel look in many scenes. Close-ups of the tanks' wheels and drive chains in the mud looked fabulous. It's too bad we didn't have more external tank scenes, as few WWII movies concentrate on the equipment used.