Blu-ray Movie Review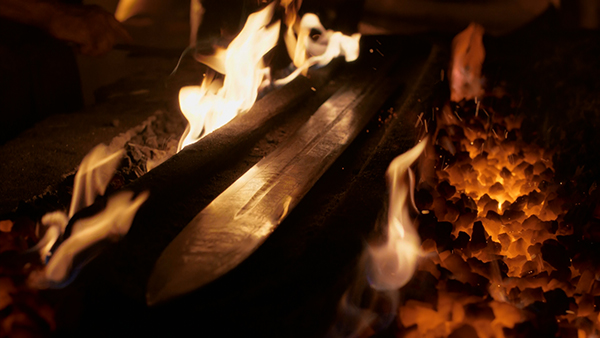 Game Of Thrones
(The Complete Fourth Season)
with House Martell Slipcover
from HBO Pictures
February 28, 2015
Introduction
I have to admit, Game Of Thrones has been a little slow-going in seasons two and three. While the presentation was fantastic, and special effects were done very well, I still can't get over the fact there was so much dialogue and reminiscing...and little to show for it. Sometimes I had The Little River Band playing in my head when I was watching eposides. True, we did have the Red Wedding episode, and that was quite the shocking event. However, with only 10 episodes per season, I expect to see something happening in almost every episode.
With that little bluster off my chest, season four is certainly not like any of the previous seasons, and I think the quantity of drama seen in the past two seasons are somewhat foregone, and the respective characters are coming to a point of meeting — whether they want to or not.
Now, let's briefly focus on a particular house. The Lannisters have basically proven themselves the masters of manipulation in the kingdoms of Westeros. Initially being viewed as crude and hedonistic in the first season, we've come to realize the Lannister family has much more adaptive skills to competition than any other family so far, and is willing to do whatever it takes to become the ruling entity over the all the Westeros kingdoms. We saw this ever so real in the third season.
In the last season, we also observed when making a pact with another family in order to position one's self to conquering another more dangerous family, it is wise to follow through with such promises, or be held to the ultimate consequence.
The Plot
By now you've come to realize the Stark family has been pretty much wiped out, and has been the washcloth of several families. The House of Lannister has managed to survive the deadly competition, nonetheless initiated by themselves, but not without some serious injury to Jamie Lannister (Nikolaj Coster-Waldau), who has not only lost his right hand, but a rather large amount of dignity and self confidence. He is certainly not the same Jamie we've been used to in the first two seasons and Locke (Noah Taylor) took great satisfaction in gradually working the Lannister son. However, just when we've thought Jamie was about to become another lost soul, he's managed to come back stronger than ever, and with a more solid sense of integrity (although this might be argued due to the infamous scene with Cersei).
Arya Stark (Maisie Williams) has been saved by Sandor "The Hound" Clegane (Rory McCann) more than once, and the last time we saw the two, he was quickly leaving the Red Wedding massacre, and the two barely made it out of there alive if it wasn't for his instincts. Arya is continuing her blood-thirsty quest to kill all of those involved with her family's demise.
Daenerys Targaryen (Emilia Clarke) is concerned about her three dragons. They are growing larger by the day...and so is their appetite. Shephards from the area have brought evidence of their flock being taken, and the dragons are only concerned about their ever-increasing nutritional needs, taking whatever they can.
Packaging
Packaging for Game Of Thrones: The Complete Fourth Season came to me in a Martell slipcover, offered exclusively from Best Buy. This was my own particular choice, and it's too bad Best Buy doesn't sell the slipcovers individually as the artwork really makes the seasons special to display on a bookshelf.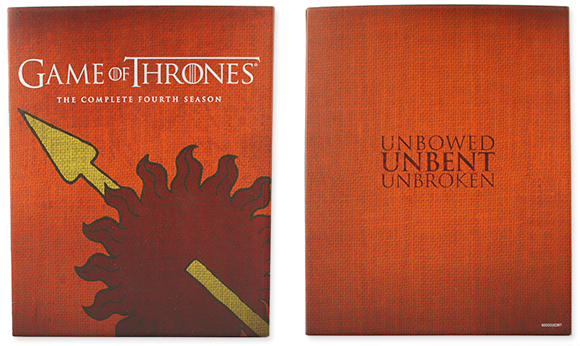 Game Of Thrones (The Complete Fourth Season) with House Martell Slipcover
GoT:S4 has four discs (one less disc when compared to other seasons) but still inherits the Fold-Out-Ad-Nauseum style which is really frustrating — unless you have a nice coffee table with the entire thing folded completely out on it. There is some really nice artwork done on the fold-out, but I would have preferred to have a small booklet with the same artwork, housed in a 7-disc or so Blu-ray case with a few empty slots for other discs. Why? Most Game Of Thrones fans are getting exclusive editions from Best Buy, Target, or Walmart, or even all three, in order to get the bonus Blu-ray discs which have one exclusive feature attributed to each retail outlet. Why fans cannot have a bonus disc with all three features on ONE DISC is beyond my marketing skills, but if HBO would offer a Blu-ray case with extra slots, fans could easily put their bonus discs in the case.
The Best Buy Bonus Disc
The fourth season of GoT comes from Best Buy with an exclusive bonus disc titled Shock & Awe: Creating The Visual Effects Of Season Four, and has a running time of 24:37. Yeah, it's short, but it's an interesting and somewhat entertaining extra with some depth of the visual effects used.
Video & Screencaps
Video for Game Of Thrones: The Complete Fourth Season looks just as good as its previous seasons, and in some cases appears to go a little further. The costumes worn by the actors look absolutely amazing, and this is achieved not only by a fantastic video transfer, but a massive thumbs-up to the costume department for GoT who have given this series a rich environment, placing the viewer right in the center.
Note the video Mbps rate drops from 25 Mbps on the first disc, to ~18-20 Mbps on the 2nd and 3rd disc. I didn't notice any change in video presentation, and this is due to most of the scenes being non-action. However, when action is taking place, the bitrate jumps without hesitation, and you can see this visually with the included BD Info bitrate graphs below.
Screencaps
Additional Screencaps
Audio
Audio for Game Of Thrones (The Complete Fourth Season) sounds fairly good this time around and I did not notice any major issues with any of the episodes. The Kbps is fairly consistent when compared to the previous season, which had a ~10% Kbps deviation on discs which had 3 episodes.
Main Audio Track 1: DTS-HD Master 5.1 (English) @ 3462 Kbps (48kHz/24-bit)
Subtitles: English, French, Spanish, Czech, Polish, Portuguese, Dutch, Danish, Finnish, Norwegian, Swedish, Greek
Extras
Extras for Game Of Thrones (The Complete Fourth Season) seem to be rather plentiful, and amount to about 2 hours or so of material.
DISC 1
The Politics Of Power: A Look Back At Season 3 (25:22) HD
Game Of Thrones: New Characters & Locations (7:39) HD
Bastards Of Westeros (7:17) HD
DISC 2
No Extras On This Disc
DISC 3
No Extras On This Disc
DISC 4
Behind The Battle For The Wall (37:11) HD
The Fallen: A Roundtable (29:37) HD
Histories & Lore (Animated) HD
House Martell
House Baelish
Dragons
Poisons
The Bastards Of Westeros
The Iron Bank
Robert's Rebellion
Sellswords & Hedge Knights
The Wall
Nations Of The North
The King's Guard - Jaimie Lannister
The Master's Chain
The Death Of Kings
Valyrian Steel
Justice Of The Seven Kingdoms
Deleted Scenes (3:04) HD
Bronn And Shae (1:52)
Dany And Missandei (1:12)
Season 4 Blooper Reel (2:02) HD
Specifications
Active Pixel Area: 1920 x 1080 pixels
Inactive Pixel Area: Not Applicable
Aspect Ratio: 1.78:1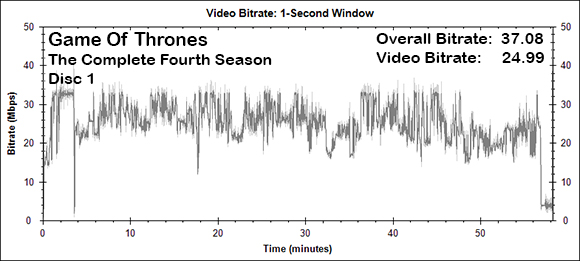 Game Of Thrones (The Complete Fourth Season) (Disc One) Bitrate Graph
GAMEOFTHRONES_S4_DISC1
Codec: MPEG-4 AVC
Resolution: 1080p
Blu-ray BD-50
Disc Size: 43,805,294,457 bytes (40.80 GB)
Movie Size (EPs 1-2): 30,807,816,192 bytes (28.69 GB) (1:50:47)
Overall Bitrate: 37.08 Mbps
Video Bitrate: 24.99 Mbps

Additional BD Info Graphs
Conclusion
Game Of Thrones (The Complete Fourth Season) resurfaces this season with more action, amazing cinematography, and fighting sequences which rival many movies today. The stories of all the families so far are coming together and in the fourth season, there is a lot of summation of particular characters and new adventures for others.
Having a thrilling new plot and several twists along the way, plus outstanding video, Game of Thrones: Season 4 (Blu-Ray) gets a HIGHLY RECOMMENDED PLUS.
here are an endless amount of additional accessories to purchase for this series, but my most favorite, is the Inside HBO's Game of Thrones: The Collector's Edition. This only covers the first two seasons, but the additional information is plentiful, and the beautiful pictures on the large pages are the real treat.
The Collector's Edition package is about 8 lbs, and arrived from Amazon in another box, which protected the contents nicely. If you buy from any other seller, you may not get this treatment.
A person could opt for the non-Collector's Edition, but I'd spend the extra money for the CE. Hundreds of never seen before unpublished set photos of the lavish costumes, embossed areas, a gold-stamped case for the book to be stored in, as well as acid-free printed maps which could be framed, make this Collector's Edition the version to have. In addition, it would be a rather great conversation piece on your coffee table or Game Of Thrones shelf, which would compliment the series nicely.
The Future Of Game Of Thrones From HBO
If you're any kind of GoT fan, you've probably seen comments on the web about how HBO's series is catching up to the books, and the announcement by George R.R. Martin that Winds Of Winter will be delayed until 2016 makes it certain this will be the case. More than likely, HBO viewers will see GoT expand more quickly on the television screen, and to read it in print will probably be a year or more. Since it's virtually impossible to follow television series from the book, in exact sequence and specificity, it's wise to regard the HBO series of its own character, and the printed version the same.