February 15, 2015
Introduction
The American Horror Story series is really picking up from the last time I watched the first season. For some reason, the second season just didn't interest me too much, but I'll give it another try in the future. I don't want to spoil the third installment, but Coven just excels so much that I couldn't get enough of it, and I completed the entire season over the weekend. The cast of characters included is just superb, and each actor does an excellent job at bringing their character to an amazing level.
Coven is much different than its previous season, and as noted below, it's more visually brighter and spacially open than Asylum. Creator Ryan Murphy made a wise choice for this season, as Asylum kept us confined to the institution, and he was looking for something which would give viewers space to breath.
The Plot
In this season of AHS, Zoe Benson (Taissa Farmiga) has been aware most of her life she's had particularly odd abilities, but when she invites her boyfriend into her room and intimacy begins...he dies a rather gruesome death. Zoe is then quietly and quickly whisked away to a place which is famous (or infamous) for dealing with such individuals who have certain abilities. Located in an aptly appropriate location of New Orleans, Miss Robichaux's Academy for Exceptional Young Ladies is run by Cordelia Foxx (Sarah Paulson), who takes unusual care in making sure her students are protected, master their powers appropriately, perform them only when necessary, and most importantly, taking measures to avoid public recognition of their powers.
Jessica Lange is Fiona Goode, a Supreme Witch, who by definition means the witch has successfully mastered seven different spells (aka, The Seven Wonders) and is someone to avoid pissing off — friend or foe.
Fiona drops in on her daughter, Cordelia, and politely explains she will be taking over the school, as it's a little soft, and the recent murder of a local woman who demonstrated unusual ability to bring back life from the dead Misty Day (Lily Rabe) is also of concern, and the school must be prepared for action (not re-action).
Of course, there is much more which will begin the season of Coven, but I don't want to spoil the excitement.
Packaging
Packaging for American Horror Story: Coven is packaged in a 3-Disc Elite Blu-ray case, having the footprint of a single Blu-ray case (13 mm).
Video & Screencaps
Video for American Horror Story: Coven is, like many 20th Century Fox shows, sharp. Colors are very pronounced and lively when they need to be, and I did not observe any major black crushing going on.
Additional Screencaps
Audio
Audio for American Horror Story: Coven sounds fairly strong, and dialogue comes through without any issues. Generally speaking, I don't notice any problems with 20th Century Fox shows, as their audio is consistent.
Main Audio Track 1: DTS-HD Master 5.1 (English) @ 3876 Kbps (48kHz/24-bit)
Subtitles: English, English SDH, French, Spanish, German
Extras
Extras for AHS: Coven were a little sparse, but the extras on Disc 3 are worth a view, as there's a commentary by Ryan Murphy about why he chose the subject of witches for the third installment, and a few other pieces of information.
Disc One
Zombie Halloween (10:22) HD

Disc Two
No extras on this disc

Disc Three
Enter The Coven (16:16) HD
Meet Ms. NOLA (11:58) HD
Specifications
Aspect Ratio: 1.78:1
Active Pixel Area: 1920 x 1080 pixels
Inactive Pixel Area: Not Applicable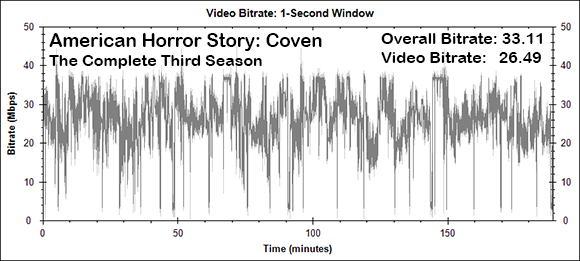 American Horror Story: Coven (Disc 1) Bitrate Graph
Disc Name: AHS_S3_D1
Codec: MPEG-4 AVC
Resolution: 1080p
Blu-ray BD-50
Disc Size: 49,722,136,839 bytes (46.31 GB)
Movie Size (EPs 1-4): 46,883,567,616 bytes (43.66 GB) (3:08:49)
Overall Bitrate: 33.11 Mbps
Video Bitrate: 26.49 Mbps
Conclusion
American Horror Story: Coven does not fail to deliver some exceptional content and thrilling sequences. Compared to Asylum (Season 2), Coven is more "open" and has a lot of locale cinematography in the New Orleans area. Additionally, Coven is more brighter than its previous season, with more scenes taking place outdoors.
Having a thrilling new plot and several twists along the way, plus outstanding video, American Horror Story: Coven gets a HIGHLY RECOMMENDED.
On a side note, American Horror Story: Coven features an actor who I haven't seen in quite sometime and I always enjoy his performances. Lance Reddick is Papa Legba, the VooDoo Master, and we only see him in three episodes of the entire season (Episode 10: The Magical Delights of Stevie Nicks, Episode 12: Go to Hell, Epsiode 13: The Seven Wonders)
Are American Horror Story Seasons Connected?
After having seen the same actors in completely different roles, I had to ask myself, Is there someway ANY of these episodes or events are connected beyond just one season? I haven't seen the fourth season just yet, but creator Ryan Murphy announced in October 2014, the AHS seasons are definitely connected. So far, season three hasn't been connected to the others, but season five could be the first to bind it to other seasons. This is a fascinating television series, which is leaps ahead of any other horror series I've watched.