January 12, 2015
Introduction
Television shows today are often more controversial than many of the movies we see at the theater, and Homeland is certainly one of those shows which contually make a person think and question what's going on. The best indicator of a television series puts the viewer within the show, and has them in the front seat, attempting to figure out the motives and consequences of actions.
Initially, I found Homeland: The Complete Third Season to be so different from the two first seasons, I was put off in the first three or four episodes, but my opinion suddenly changed when plots came together. I had to remember that Homeland was simply not a formula show, but more of a thinking and evolving type of thriller. So, I'll say right now, if you're contemplating the third season for a purchase, get it. It's probably the best season yet.
The Plot
Controversial CIA Director David Estes (David Harewood) is dead.
When season two ended, we were left with CIA HQ being car bombed, and the owner's vehicle used in the bombing...belonged to Nicholas Brody (Damien Lewis). As a matter of luck, Brody and Carrie (Claire Danes) left the CIA gathering, and were in a different area of the building...exchanging bits of saliva. Brody looks out the window of the room and noticed his SUV was parked in a place he did not remember putting it. A few seconds later, the SUV exploded, leaving him and Carrie cut and bruised, but otherwise alive.
Realizing Brody will certainly be blamed for killing over 200 CIA employees, and wreaking the worst terrorist event on US ground since 9/11, Carrie arranges to have him smuggled out of the country, where he eventually ends up in Caracas, Venezuela.
What ensues, is complete chaos. Carrie is now being investigated and questioned by Senator Andrew Lockhart (Tracy Letts), who is heading an inquiry into the CIA bombing. His inference is rather direct, and he accuses Carrie of making poor decisions which lead to her being responsible for the infiltration into the CIA where a coordinated attack was most sensitive, killing its members. Carrie only makes things worse by attempting to defend Brody at the hearing, making herself seem mentally unstable, and unfit as a CIA agent.
Saul Berenson (Mandy Patinkin), who has shielded Carrie and been her boss and advisor for quite some time, cannot protect her anymore, and Carrie is forced into a mental health institution, or face certain time in prison for helping a terrorist. In addition, Saul is now temporarily in charge of CIA operations, and coordinates a six-point attack on known terrorists abroad who were involved with the CIA bombing.
Saul's confidant, Dar Adal (F. Murray Abraham) is now in the middle of operations with Saul's new responsibilities, and he brings advice where many wouldn't validate or acknowledge. Dar is also a veteran CIA Black Ops man, and trusting him completely could be a tragic mistake. Saul seems aware of this but still keeps him informed (mostly, that is) of plans.
Packaging
Packaging for Homeland: The Complete Third Season is packaged in a 3-Disc Elite Blu-ray case, having the footprint of a single Blu-ray case (13 mm).
Video & Screencaps
Video for Homeland: The Complete Third Season is once again consistent with other seasons. Day scenes (more light) are super crisp and lower light scenes (dark rooms, night, etc.) are a little more grainy. This is normal. Bitrate averages for video hover around 21 Mbps, but as you take a look at the bitrate graph below, when necessary, the bitrates can spike as much as 40 Mbps. Since most of the series is dialogue and characters not moving quickly, the average video bitrate more than does its job at delivering a really nice image quality.
Additional Screencaps
Audio
Audio for Homeland: The Complete Third Season sounds good, but believe it or not, I think a 7.1 soundtrack would help. There are many scenes which are in room with various characters spread throughout and movement in multiple areas, and although the 5.1 soundtrack is nice, a 7.1 might even expand the realism.
Main Audio Track 1: DTS-HD Master 5.1 (English) @ 3696 Kbps (48kHz/24-bit)
Subtitles: English, French, Spanish, Portuguese
Extras
Extras for Homeland S3 are rather lacking. This being the third season, and with some pivoting episodes which probably require a double-take on figuring out a few plots, and not to mention going into the fourth season with a completely new storyline...I would have expected a lot more content and just what an important third season this was. All we have are a few minor featurettes, with deleted scenes.
Disc 1
Homeland Season 3: Re-Creating The Tower Of David (7:24) HD

Disc 2
Deleted Scenes HD

Disc 3
The Last Days: Filming The Season Finale (12:43) HD

Specifications
Aspect Ratio: 1.78:1
Active Pixel Area: 1920 x 1080 pixels
Inactive Pixel Area: Not Applicable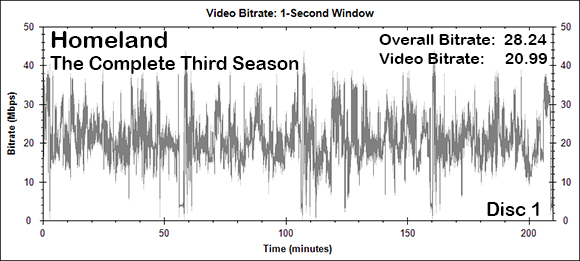 Homeland: The Complete Third Season (Disc 1) Bitrate Graph
Disc Name: HOMELAND_S3_D1
Codec: MPEG-4 AVC
Resolution: 1080p
Blu-ray BD-50
Disc Size: 46,943,011,487 bytes (43.72 GB)
Movie Size: Movie Size: 44,422,987,776 bytes (41.37 GB) (3:29:43)
Overall Bitrate: 28.24 Mbps
Video Bitrate: 20.99 Mbps
Conclusion
Homeland: The Complete Third Season takes a different path this time, and it might have you wondering just what the hek is going on, but trust me, you'll appreciate the season even more once you get the full picture.
Having a thrilling new plot and several twists along the way, plus outstanding video, Homeland: The Complete Third Season gets a RECOMMENDED PLUS.
Normally, Homeland would have received a Highly Recommended, and it still is if you look at the content rating of "9.5/10", but technically, due to the lack of extras in the third season, I had to take it down a half-point, which resulted in an average of 8.75.
On a late note, having F. Murray Abraham in the third season is just a real treat. He just shines as a Black Ops agent who has decades of experience, and many times competes with Saul. Abraham's character is slippery, and I just don't know where his loyalty truly lies — except exclusively for his own selfish reasons and motives. I am very much looking forward to the fourth season.