December 28, 2014
Introduction
Guillermo del Toro initially envisioned this television series...as a television series. Let me clarify things a little. Initially del Toro wanted a television series like this one, but unfortunately, no network wanted it. It was then suggested he publish a novel (or two or three) and with the help of Chuck Hogan, the first book was published. Of course now interest was beginning to take hold, but del Toro resisted the temptation as he believed it would interfere with his completed work, which would turn into a few more books, finally making this a trilogy. Finally an agreement was reached, and now the television series del Toro initially wanted...has began to blossom. It is said the series could last three to five seasons which would encompass the entire trilogy writings.
The Strain is a peculiar series which tends to avoid zombies and vampires outright, and concentrates on a virus which infects humans. However, as the season unfolds, the series can't help but combine both currently popular genres. This isn't necessarily a bad thing. The script for the first season is fairly solid, and recently being renewed for a second season, is a good indication we have an entertaining television series for those who are interested in the disease and infection aspect of vampires. With Guillermo del Toro at the helm of the series, I think this is going to turn out well.
The Plot
Something rather horrific has happened to the passengers on board a Being 767. After landing at JFK Airport, and shutting down all electrical, mechanical, and communication systems thereafter, a phone call is headed in the direction of Dr. Ephraim Goodweather (Corey Stoll), leading a team of specialists at the CDC who investigate biological threats.
As Dr "Eph" and his partner Nora Martinez (Mía Maestro) board the aircraft, they discover all passengers appear to be dead, but from what has yet to be figured out. Jim Kent (Sean Astin) is a CDC paper-pusher, who is more of a mediating entity between his friend Eph and the massive CDC bureaucracy which is failing to take this latest threat seriously.
Abraham Setrakian (David Bradley), a former professor and also a survivor of the Holocaust, is keeping up on current events in his eccentric pawn shop and reluctantly concludes there is a very similar pattern happening which he saw several decades ago, while being imprisoned by Nazis.
Packaging
Packaging for The Strain: The Complete First Season is packaged in a 3-Disc Elite Blu-ray case, having the footprint of a single Blu-ray case (~13 mm).
Video & Screencaps
Video for The Strain: The Complete First Season looks pretty good. There are different color tones for particular scenes which can become saturated and gritty, then change to very crisp and natural. This is normal, due to the director's intent and the type of lighting.
Additional Screencaps
Audio
Audio for The Strain: The Complete First Season sounds good, but believe it or not, I think a 7.1 soundtrack would help. There are many scenes which are in room with various characters spread throughout and movement in multiple areas, and although the 5.1 soundtrack is nice, a 7.1 might even expand the realism.
Main Audio Track 1: DTS-HD Master 5.1 (English) @ 3551 Kbps (48kHz/24-bit)
Subtitles: English, French, Spanish, Portuguese
Extras
The first season of The Strain doesn't have too many extras, but on each disc, is a relatively short featurette. Still worth watching. The primary reason for spreading out the featurettes is more than likely making sure the video quality of the episodes is hovering around 24 Mbps.
Disc 1 (Blu-ray)
In The Beginning (14:12) HD

Disc 2 (Blu-ray)
A Novel Approach (9:39) HD

Disc 3 (Blu-ray)
Setrakian's Lair (9:47) HD
Specifications
Aspect Ratio: 1.78:1
Active Pixel Area1920 x 1080 pixels
Inactive Pixel Area: Not Applicable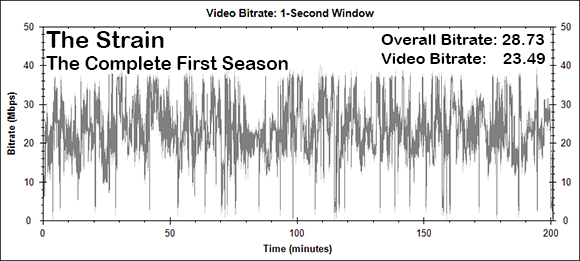 The Strain: The Complete First Season (Disc 1) Bitrate Graph
Disc Name: THE_STRAIN_S1_D1
Codec: MPEG-4 AVC
Resolution: 1080p
Blu-ray BD-50
Disc Size: 46,314,067,009 bytes (43.13 GB)
Movie Size: 43,242,215,424 bytes (40.27 GB)
Overall Bitrate: 28.73 Mbps
Video Bitrate: 23.49 Mbps
Conclusion
The Strain: The Complete First Season is a good series presented from FXP. As long as del Toro is on the set, I think this series has a lot of potential, and will only get better. David Bradley's character Abraham Setrakian, stands out as one of the most influential of the series, and I hope he sticks around for a while.
del Toro's vision comes through rather well from the novels, and along with a good cast of characters, a plot which has a lot of room to expand for future seasons, nice picture quality, and a good soundtrack The Strain: The Complete First Season gets a RECOMMENDED PLUS.
If you haven't read any of the novels, but are interested, be sure check them out at your favorite book store, or visit Amazon for a list of The Strain
titles available. I haven't read the novels myself just yet, but this series has me curious and interested in reading the written works of Guillermo del Toro and Chuck Hogan's creation.