December 7, 2014
Introduction
In case you're wondering what to watch during the holidays this year, and eventually filling a space in your Christmas collection, Rare Exports will be something that transcends what you currently believe about Christmas — at least according to American entertainment standards that is. Rare Exports is something which is quite rare as it provides a dark — but simple and believable — secret to the popular Santa Claus, then backs it up in a way which leaves you filling in a few pieces for yourself. This is the best way to tell a story.
Written and directed by Jalmari Helander, Rare Exports is taken from a few shorts which were created years earlier, and the demand finally gave the director a thumbs-up to create a full-length movie. Surprisingly, there has not been a follow-up or any kind of sequel.
The Plot
Pietari (Onni Tommila) and Jusso (Ilmari Järvenpää) are two young Finnish boys taking an interest of an excavation project on a large hill, located not too far from their homes.
The excavation project is located near the city of Savukoski, in the province of Lapland, Finland. Savukoski is positioned somewhat close to the Korvatunturi fell, which is a mountainous and hilly populated landscape, and is pretty much barren except for the known thousands of reindeer which are indigenous and graze on the land. Needless to say when a mysterious excavation project on an arid hill is taking place, Pietari and Jusso are very interested in what's going on and make their way up to the hill, and hide behind a few boxes.
Up on the hill, the man in charge of financing the project informs the workers they cannot smoke, and most importantly, cannot curse or use any fowl language while on the scene of the excavation. Laughs and giggles are the response from the excavation team, but a seemingly wise and elderly man informs the workers he is very serious.
Packaging
Packaging for Rare Exports: A Christmas Tale is packaged in a standard Elite Blu-ray case.
Video & Screencaps
Video for Rare Exports: A Christmas Tale looks absolutely fabulous, and the video bitrate proves it. Everything is just so crisp, and detail is spectacular and is something to be seen on a large HDTV.
Additional Screencaps
Audio
Audio for Rare Exports sounds full and rich. No complaints here. The 5.1 track is aptly used throughout the entire film.
Main Audio Track 1: DTS-HD Master 5.1 (Finnish) @ 3566 Kbps (48kHz/246-bit)
Subtitles: English, English SDH
Extras
There is a nice collection of extras for Rare Exports, and for the Blu-ray edition, Santa Claus Conquers the Martians is included which is like having another feature film added at no charge. You really have to see this film which is 50 years old! It could be a hidden classic of itself, and for those in the US, it's a rare glimpse of a Finnish treat.
Rare Exports, Inc. (2003) (7:04) HD
Rare Exports, Inc. (2005) (10:22) HD
Santa Claus Conquers the Martians (1964) (1:20:12) MPEG-2 / 4:3
The Making Of Rare Exports: A Christmas Tale (28:21) HD
Animatics & Computer Effects Comparison (Comparison #1) (3:58) HD
Animatics & Computer Effects Comparison (Comparison #2) (2:19) HD
Blood In The Snow: A Look At The Concept Art (3:09) HD
Photo Gallery
Original Finnish Trailer (1:58) HD
Specifications
Aspect Ratio1920 x 817 pixels
Inactive Pixel Area: 1920 x 263 pixels
Aspect Ratio: 2.35:1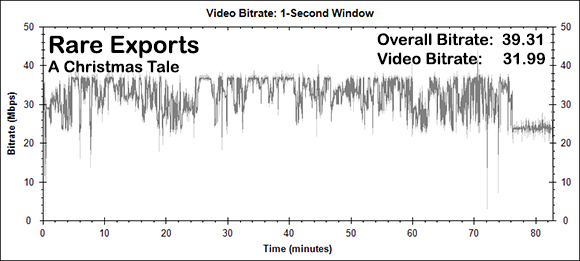 Rare Exports (Blu-ray)
RARE_EXPORTS
Codec: MPEG-4 AVC
Resolution: 1080p
Blu-ray BD-50
Disc Size: 48,810,765,933 bytes (45.46 GB)
Movie Size: 24,403,451,904 bytes (22.73 GB)
Overall Bitrate: 39.31 Mbps
Video Bitrate: 31.99 Mbps
Conclusion
Yes indeed, Rare Exports probably won't be the best idea to continue the holiday cheer after A Christmas Story, but depending on your family's maturity, it has a great amount of entertainment and laughs. Dark humor and a few mature scenes (along with a crowd of naked old men), Rare Exports can still be a treat on the holidays, if only for mom and dad to have a relaxing moment after a hard day's work with the kids on Christmas.
Putting a nice twist on a classic interpretation along with an outstanding video presentation and healthy amount of extra material, Rare Exports gets a HIGHLY RECOMMENDED PLUS.
For more info (and entertainment), please visit http://www.rareexportsmovie.com/.