November 28, 2014
Introduction
The name Jacques Mesrine probably won't sound familiar to most people in America, but for those in Europe, and especially in Canada and France, his name is akin to many of the infamous names in the US. His ability to blend in with the local population, and escape several prison incarcerations, gave him an exceptional notoriety during a solid decade of bank robbing, kidnapping, and murder.
When criminals who manage to outlive their law enforcement counterparts with apparently awkward finesse, the question arises...how did they do it? I think the military background of Mesrine contributed greatly to his success. For about four years, he was in the French Army, and participated in counter-terrorist operations, using whatever methods were necessary to complete the mission and kill the enemy. This type of behavior can be seen in the movie, and will often answer the question of just how he could be so ruthless. Of course, another question arises, was it the military that made him this way, or was he naturally attracted to violence? Mesrine's younger history of a teenager shows us he was a rather rebellious student at school, and literally attacked authority figures.
When we turn to the family for an explanation, we have his father commenting the French Army made him so violent. I tend to think Mesrine's father was probably correct in that the exposure to violence, and having unlimited and unrestrained powers to use at will for several years, certainly did not help tame an otherwise adventurous and controversial man.
Two Different Distributors For Mesrine
Mesrine can be purchased on one Blu-ray disc (which is what this review is taken from) or you can buy the two parts separately. Music Box Films Home Entertainment has released Mesrine (Part 1) and Mesrine (Part 2), which have higher video bitrates (just how much higher, I do not know). In the future, I might entertain myself and get these as well, but I have to say, the less expensive version which clocks in at 17Mbps, looks rather good. More about that later.
The Plot
Jacques Mesrine (Vincent Cassell) is a man who is not content with what he's given, and is consistently wanting something more out of life. Of course, this isn't necessarily bad, but when Mesrine decides to disregard basic humanitarian respect to his fellow citizens, he crosses that line society says is criminal.
As Mesrine begins, we see Jacques being told by his commanding officer, to kill the girlfriend or wife of a prisoner. He is currently in the Algerian military, and has conflicting views. Authority figures telling him what to do, are not appreciated, and in this particular case with a prisoner who is being threatened with the life of his girlfriend/wife if he does not speak, Mesrine decides to disobey his commanding officer and kills the prisoner instead. This results in the end of his military career, but as we see, does not end his ruthless violence.
After returning home, Mesrine's father offers him a job through one of his friends. Not being particularly attentive to his new career, Mesrine is the first to be laid off, which only fuels his justifications and desire to obtain his own goals of power and control — instead of being reactive and letting others determine his fate. What we see following, is a man who is intelligent and myopically wise, but unfortunately cannot set aside his impulses.
Packaging
Packaging for Mesrine is packaged in a typical European Amaray ("thick blu-ray") 14mm (.55") case.
Video & Screencaps
Video for Mesrine looks quite good for clocking in at a 17Mbps video bitrate. As you can tell by the graphs below, the bitrate has been locked at 17. From looking at all the contents on the Blu-ray disc, it seems another 3-4GB could have been assigned to video portion, which would have translated to about a 19Mbps rate. In any case, this presentation isn't bad at all, and I expected worse. Once again, I had to realize that most of this movie is dialogue, and characters sitting at a bar, in a hotel, wherever. Few scenes which have the characters moving quickly (which demand more video strength), are present, and it's only in the second half of the film where things get adventurous.
Additional Screencaps
Audio
Audio for Mesrine seems a little lacking, and the ~1850 Kbps validates this. It's too bad we didn't have a more robust soundtrack. Mesrine sounds ok, but I think could do much better.
Main Audio Track 1: DTS-HD Master 5.1 (French) @ 1853 Kbps (48kHz/16-bit)
Subtitles: English
Extras
Extras for Mesrine are healthy, but they are NOT in HD. All the extras are MPEG-2 (DVD quality). They are still worth viewing, but it would have been nice to have these in HD (if in fact HD transfers are available for these extras).
Mesrine: The Making Of Killer Instinct (47:33) MPEG-2 / 4:3
Mesrine: The Making Of Public Enemy No. 1 (44:53) MPEG-2 / 4:3
Richet L'Entretien (25:04) MPEG-2 / 16:9
Vincent Cassell is Mesrine (17:56) MPEG-2 / 16:9
Making The Film Score (10:12) MPEG-2 / 16:9
Deleted Scenes MPEG-2 / 16:9
Trailer MPEG-2 / 16:9
Specifications
Active Pixel Area: 1920 x 820 pixels
Inactive Pixel Area: 1920 x 260 pixels
Aspect Ratio: 2.34:1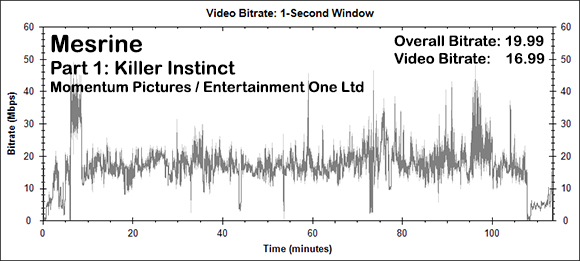 Mesrine (Part 1): Bitrate Graph (Blu-ray)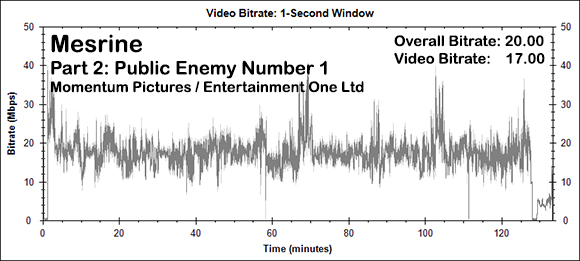 Mesrine (Part 2): Bitrate Graph (Blu-ray)
Disc Name: MESRINE_BD
Codec: VC-1
Resolution: 1080p
Blu-ray BD-50
Disc Size: 44,135,286,891 bytes (41.10 GB)
Part 1 Size: 17,014,204,416 bytes (15.85 GB)
Part 2 Size: 19,998,898,176 bytes (18.63 GB)
Overall Bitrate: ~20.00 Mbps
Video Bitrate: ~17.00 Mbps
Conclusion
Mesrine does a pretty good job at giving a look at Jacques Mesrine's life, but of course with all interpretations on the screen, there will always be parts left out. For those who want to dive deeper into the life of Mesrine, I'd highly suggest reading more literature about him. While Mesrine may not be a resourceful character study, it does well in conveying his impulsive and violent nature.
Having a good presentation (and nothing out of the ordinary regarding the video), Mesrine gets a RECOMMENDED PLUS.
Vincent Cassell is one of those actors who can transform on the screen for whatever the role he plays. As his role of Jacques Mesrine, this film could not have been what it was without him.