November 14, 2014
Introduction
There are certainly several apocalyptic films being released just about every single year these days, and it's a genre which has been recycled heavily over the last 10 years. Because of this, there are some which are overlooked and filed away into movie studio heaven once it hasn't reached a particular monetary threshold. The Book Of Eli was on my wishlist for the last several years, and I finally managed to get a copy for relatively cheap. I will say however, if you're into Steelbooks, there is a The Book of Eli Blu-ray SteelBook which is rather nice, and occasionally, a few will become available here and there. Considering it's only about $5-$7 more for the Steelbook edition, you might consider it for your Steelbook collection.
If you're wondering if TBOE is a typical Apoc film, it isn't. I impulsively bought this because Denzel Washington was in it, plain and simple. I've rarely seen a movie which hasn't had some controversial and critical-thinking element where Denzel was right in the middle of it, and I'm glad I wasn't disappointed.
The Plot
Eli (Denzel Washington) is one of the few who have survived man's tampering with the planet. Relentlessly walking day after day, Eli is searching for something. Just what is it? We are not quite sure. Eli happens to come across a woman who's cart — which is probably the best form of transporting belongings these days — has apparently broken. The helping spirit which Eli is, begins to offer help, but then realizes it's a typical ambush, where those who prey on the weak and caring, are ready to take advantage. The crude gang of thugs experiences Eli's skills at surviving hostility.
Eli continues on and observes another situation where a group of ruthless raiders is taking advantage of a small group of people who were unaware of the danger. Unfortunately, Eli has to remain inconspicuous and waits till the marauders leave the area. Of some importance, the bandits are rummaging through the belongings of their victims, taking as many books as they can possibly find.
After a little while passes, Eli walks a road, eventually entering a town, which has a collection of characters which range from the harmless to the very harmful. As he's in a bar, he notices the same group of bandits who more than likely killed the entire group of travelers and stole their belonging — especially their books.
Of course, with every town, there has to be somebody running it. Even in this day of spartan possessions. Carnegie (Gary Oldman) is looking for a book. A special book. With that book, Carnegie knows he can sway the masses — even beyond the town he currently controls. The books which were stolen previously are put on his desk in front of him, but he does not see the book he's looking for. He orders the books to be burned.
Carnegie's blind girlfriend Claudia (Jennifer Beals) is told to have her daughter Solara (Mila Kunis) get close to Eli, and get any information about him, as he's a mystery and has exceptional surviving skills (i.e., doesn't rely on or need anyone so let's figure out why).
Packaging
Packaging for The Book Of Eli was housed in a standard Elite (non-snapper) single-disc case.
Video & Screencaps
Video for The Book Of Eli might put a lot of viewers off...or might just make them fumble for the TV remote and use the settings they never thought they'd use (and don't try adjusting your television to compensate as you'll mess your HDTV up). Any other film I'd probably question the amount of extreme muted colors, but it works for TBOE. One of the reasons is the viewer is supposed to feel how the conditions are in the world, after a chemical apocalypse. During key scenes, a few more colors will come through, and this is by design.
Additional Screencaps
Audio
Audio for The Book Of Eli is rather full sounding and although a lot of the film deals in dialogue, the few action scenes come across just fine.
Main Audio Track 1: DTS-HD Master 5.1 (English) @ 3431 Kbps (48kHz/24-bit)
Subtitles: English, English SDH, French, Spanish
Extras
There is a significant amount of extra material on this single Blu-ray disc for The Book Of Eli.
Behind The Story
- Eli's Journey: Creation (17:54) HD
- Starting Over (13:03) HD

Focus Points
- The Look Of Eli (3:32) HD
- Underpass Fight (3:11) HD
- Building Carnegie's Town (3:16) HD
- The Motorcycle Brigade (2:59) HD
- Eli Goes To Battle (3:29) HD
- Eli's Mission (1:54) HD
- Shootout at George & Martha's (3:53) HD
- Eli's Weapon Of Choice (2:15) HD
- Solara Causes Mayhem (6:24) HD
- Apocalyptic San Francisco (3:28) HD

"Billy": A Lost Tale (5:02) HD

The Book Of Eli Soundtrack (Composer Atticus Ross and Co-Director Allen Hughes discuss the score) (4:59) HD

Deleted/Alternate Scenes (1:53) HD
Specifications
Active Pixel Area: 1920 x 800 pixels
Inactive Pixel Area: 1920 x 280 pixels
Aspect Ratio: 2.40:1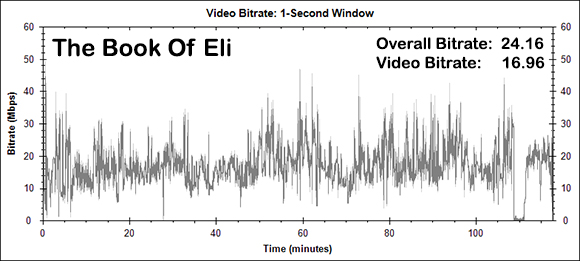 The Book Of Eli Bitrate Graph (Blu-ray)
Disc Name: THE_BOOK_OF_ELI
Codec: VC-1 Video
Resolution: 1080p
Blu-ray BD-50
Disc Size: 30,318,500,745 bytes (28.24 GB)
Movie Size: 21,325,245,888 bytes (19.86 GB)
Overall Bitrate: 24.16 Mbps
Video Bitrate: 16.96 Mbps
Conclusion
The Book Of Eli is a good apocalyptic movie with a little bit of a twist to it. There aren't any zombies, which is somewhat refreshing. Denzel Washington keeps the atmosphere in its proper tone, and Gary Oldman and Mila Kunis are some nice additions to the cast.
Keeping an earthly feel and producing some rather amazing cinematography scenes, The Book Of Eli gets a RECOMMENDED PLUS.
The Book Of Eli may not be at the top of your apocalypse movie To-Get list, but it should be.