digitaldingus Review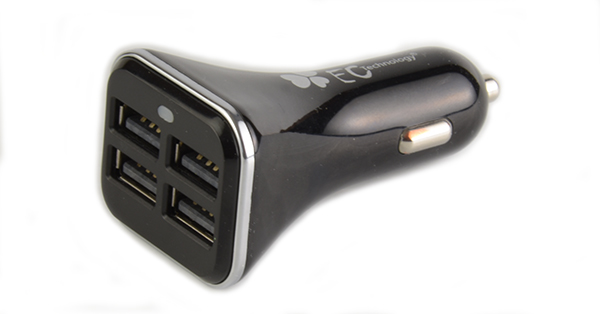 4-Port 48W Car Charger
Introduction
I've noticed over the last few years, a major influx of products from China, which in itself isn't necessarily a bad thing, but the quantity versus quality issue...is something to be desired. A reliable company that I've grown to use more and more, is EC Technology, and in this review, we'll be taking a look at their 4-port USB 48W Car Charger. What's exciting to me is...there are 4 ports for independent charging.
In today's world, the chances of having a few smartphones and a tablet are very high, and you might even be reading this review on a tablet. Tablets are a nice way to do your activities away from the computer, but also away from the laptop. Sometimes having a lightweight tablet is the best option for those who just want to use to view images, videos, and maybe surf the internet for a while. And what about an eReader like a Kindle? There are so many devices consumers own these days to carry out specific tasks and compliment our lifestyle. Having 4 ports on a single car charger is very welcome.
4 Ports: 48W Of On-Demand Power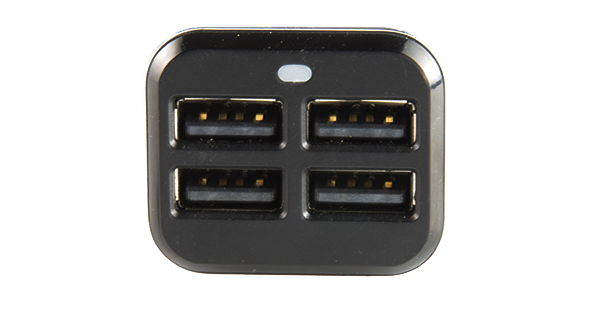 Many of the multi-port car chargers I see, are somewhat restrained if they have more than two ports. Which is understandable as they aren't built for several devices which draw a lot of power. Unfortunately, the consumer isn't aware of this...until they plug in their devices and discover it takes a lot longer to charge them. EC Tech's 4-Port Charger gives you 5V/2.4A (12W) of power per port. This translates into 48 Watts total.
Build Quality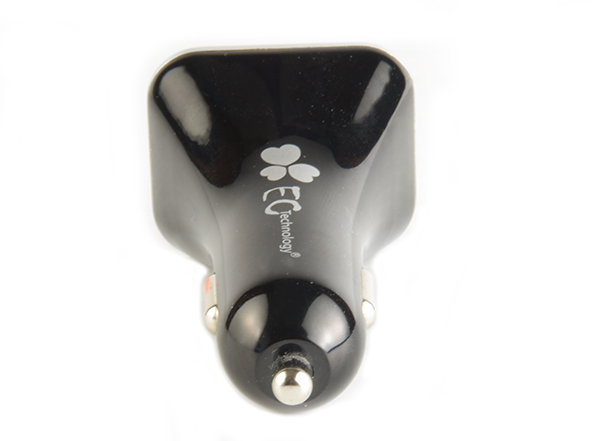 The build quality of the EC Tech 4-Port USB Charger is impressive. Sure, this is only a car charger, but I've purchased numerous car chargers on eBay and other online websites, only to find out the product isn't as great in person as I thought it was online. What I like about this charger, is the solid casing, and how the design's edges meet each other perfectly. This is a sign of manufacturing quality control.
Another point I'd like to make is the three contact points (which can be viewed above) are flexible. Many car adapters have gotten cheap over the years and they don't flex with the outlet you put them in. This is not good. Not good for the car adapter, but certainly not good for your car's receptacle. The EC Technology's adapter is firm...but flexible, and will appropriately adjust to to the size of the car socket. Let's face it, every car has just a slight difference in their 12V outlet diameter socket, and having a flexible car adpater, is big plus.
Pros
4 USB Charging Ports

Quality housing

AUTO Technology for individual charging requirements

Power Indicator

Quality power contact points

Flexible power contact points

Fairly inexpensive

Sleek contemporary design
Cons
Observations
A sleek and smooth black color with modern design

One USB-to-mini charger cable included
Conclusion
This is another EC Technology product which I am pleased to have when I go traveling. Before, I used a simple no-name 2-port USB charger, but this charger is now my main preference. I can hook up to four devices, and with AUTO Technology, those devices can have individual power requirements without giving this charger any power distribution issues. Very nice.
Having a good build quality, sleek design, 4-Ports for multiple devices, and a price that's certainly worth the convenience, the EC Tech 4-Port 48W Car Charger receives a HIGHLY RECOMMENDED.
For only ~$15, I can easily see having several of these permanently being in the lighter sockets of my car.