Nikon Confirms D70s and D50
April 8, 2005
Well, it's been over a week since April Fools, so it's real. The Nikon D70s and D50 are confirmed from Nikon. The D50 is assumed to be the entry-level DSLR, most likely selling below any current DSLR price Nikon currently has, and the D70s is an upgrade from the D70. While these two models are certainly a welcome addition to Nikon's DSLR product line, current D100 owners are asking when their replacement is coming.

Nikon Announces The D2Hs
February 15, 2005
Nikon has announced an updated D2H model, the D2Hs. The D2Hs is technologically more on par with Nikon's latest professional DSLR, the D2x. It still sports a 4.1MP imager, which some Nikon owners were hoping would be increased. Other than some hopeful resolution increases, the D2Hs is another addition to Nikon's high-performance line.

Happy V-Day Astrophotographers: Canon 20Da
February 14, 2005
Canon has announced a specific DSLR for astrophotographers: the Canon 20Da. The 20Da offers a modified cut-off IR filter, so that IR can be more easily seen. In normal photography, you wouldn't want this, but with celestial photography, you need a camera that releases restrictions on Infra-Red light. The 20Da, so far only seen on Canon Japan's website, is special-order only (rough translation from the 20Da webpage). Canon Japan says it will take 3 months from placing your order, to get this specialty DSLR. Orders can be taken as of February 15, 2005. More info coming soon.

DxO Lighting and DxO Noise
February 13, 2005
DxO has announced two new additions to the DxO line of processing. Officially announced February 11, 2005, DxO has added DxO Lighting and DxO Noise to its image processing features. Noise Ninja and Neat Image are the predominate noise reduction technologies used today, but DxO has introduced their own version. DxO Lighting is most likely meant to compete with Adobe Photoshop.

Adobe Updates Camera Raw & DNG
February 7, 2005
Adobe announced today they have added six new camera models to Adobe Camera Raw ("ACR"), bringing the total number of supported cameras to over 70. Also, Adobe has expanded the DNG capabilities Click Here for the official announcement and more details.

Olympus At Superbowl XXXIX
February 4, 2005
Olympus will feature two commercials during Superbowl XXXIX, this weekend. The commercials will feature a traveller who uses an Olympus m:robe 500, recording his adventures. Click Here for the official announcement and information on the commercials.

Picasa 2: Free Download & Use
January 26, 2005
Since Picasa was obtained by Google, the quite convenient image & file browser is now free in version 2. Click Here to download. I've reviewed a previous version of Picasa, and it's one of the few interfaces I like. The image engine is also quick for instant thumbnails of your images.

DigitalDingus Forums Are Back Online
December 31, 2004
DigitalDingus forums are working. Drop by, register, and say Hello!

DigitalDingus Forums Offline
December 30, 2004
DigitalDingus forums are currently offline due to SQL database converting so that the forums will be much quicker.

DigitalDingus Forums Are Now RSS
November 27, 2004
DigitalDingus has now implemented RSS for its forums area. Soon, RSS will also be available for the main website, which will give DD visitors updated news whenever the main page is updated. Eventually, special events such as PMA and Photokina will be available as well.

Leica Digital-Module-R: April / Late Summer 2005
November 23, 2004
Leica has announced the Digital-Module-R will be delayed until April, and most likely late Summer 2005 (due to pre-orders). The reason is due to the performance of the Automatic White Balance needing to be tested. Leica says, the AWB "Is still being optimized and is undergoing severe testing." It is my impression Leica is not the kind of company to release a camera with a few quirks, only to be fixed later on with firmware. Their DMR (Digital-Module-R) is worth waiting for.

Olympus Officially Announces E-300 Price
November 23, 2004
Olympus has officially announced the street price of the 8.3MP E-300: $999.99 USD, which also comes with the 14-45mm lens (28-90 35mm FOVEF). MSRP is quoted at $1399 USD, but since Olympus posted the "Street Price" you should be able to get the E-300 package for a penny under $1000.

Capture One To Support Adobe DNG In 2005
October 29, 2004


Although dated 10-21-2004, Phase One has just released their newsletter which mentions C1-RAW Workflow software adding the Adobe DNG format in 2005.
Kodak KAF-8300CE Revision 1.0
October 12, 2004
Kodak has released a revision specification sheet of the KAF-8300CE sensor, which is in the Olympus E-300. Click here for the preview of the sensor.
Mamiya ZD & ZD Back (More Info)
October 5, 2004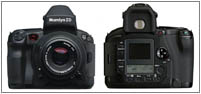 Mamiya has released the official specs as well as several images. The Mamiya features 1.5fps (this is 22MP), and Mamiya has engineered their own software to handle these images, Digital PhotoStudio. click here for the preview.
The Medium Format Factor


October 1, 2004
The latest releases of DMF SLR cameras have created some interesting questions and new possibilities for digital photography enthusiasts. In The Medium Format Factor, these new possibilities and future changes will be discussed.
Hasselblad H1D
Photokina 2004 (September 28, 2004)
Hasseblad has announced the new 22MP H1D, a complete digital version of its very popular H1 medium format camera. This is a Medium Format DSLR, with the imager size of 49mm x 37mm.
Hasselblad H1D Announcement
Mamiya ZD & ZD Digital Back
Photokina 2004 (September 28, 2004)
Mamiya is expected to release images of their ZD and ZD Digital Back, a 22MP medium format system. The only information currently is a flash teaser by Mamiya
Mamiya ZD Flash Teaser
OmniVision 5MP 2.775µm CMOS Sensor
Photokina 2004 (September 28, 2004)
OmniVision has announced the OV5610 1/1.8" 5MP CMOS sensor. The pixel size is 2.775µm, and OmniVision says "The OV5610 delivers the image quality of more expensive charge coupled devices (CCDs), and is expected to measurably reduce the cost of high-resolution digital still cameras..."
OmniVision 5MP CMOS Sensor
Kodak KAF-8300CE: Inside the E-300
Photokina 2004 (September 27, 2004)
Kodak has announced they are the makers of the Olympus E-300 sensor. The sensor is the KAF-8300CE, and has a 5.4µm pixel size (about the same size as the D2x's pixels). Kodak Press Release
Olympus E-300 & 3 New Lenses
Photokina 2004 (September 27, 2004)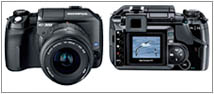 Olympus has announced an 8MP 4/3 DSLR. MSRP has not been announced but Olympus says it has a "very tempting price". Olympus has also introduced 3 new lenses to the 4/3 system: 7-14mm f/4.0, 40-150mm f/3.5-4.5, 14-45mm f/3.5-5.6.
Olympus Press Release
Adobe Announces DNG
Photokina 2004 (September 27, 2004)


Adobe has announced an image format called DNG, a Digital Negative Specification. DNG is a format which will be able to interpret metadata from multiple digital cameras and manufacturers--which is a downside to using proprietary RAW converters of a particular camera manufacturer. The purpose of DNG is to allow for one single format to handle RAW image information without running into compatability issues of the metadata, which are often the case when importing RAW files from cameras. Adobe DNG Press Release
Leica Digital-Modul-R
Pre-Photokina 2004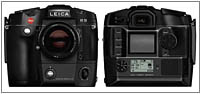 Leica is expected to announce the Digital-Modul-R DSLR during Photokina 2004, which will be available by the end of this year. The Digital-Modul-R is a 10MP, 6.8µm pixel size, "interchangeable digital module", with a 1.37 FOVEF (focal length equivalency), and compatible with all R8/R9 cameras.What's probably the most interesting, is Leica released these specs in June 2003, citing the reasoning for doing this so that it would " give our customers of the Leica R System a clear prospective where the future will be for their equipment." Leica says this is the world's first hybrid 35mm which can be used for digital or film photography. MSRP is $4,995.
Canon 1Ds MK II Confirmed
September 21, 2004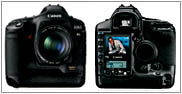 Canon has the 1Ds MK II website online and with 4 image samples. The MSRP is $1 under $8,000. The image samples look pretty darn nice, and I can already see differences between the original 1Ds. Will it be enough to justify the $2500 higher price than the D2x. Canon Press Release
Canon 1Ds MK II: 16.7MP
September 20, 2004
Not confirmed as of yet, but a few brochures have been leaked about the upcoming 1Ds replacement. On the front of the cover brochure it says "16.7". Some may think this makes Canon "King" of megapixels, and I guess technically it does, however, we are only talking about a 4.3MP difference, and at this point in the game, it's not much of a lead. If Canon can price this monster at around $5500-$6000, they may have ruffled Nikon's feathers a little.
Nikon D2x: 12.4MP
September 16, 2004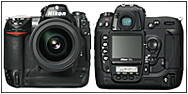 After a long period of utter silence, Nikon has responded with a 12.4MP effective DSLR. It's not an LBCAST sensor, but a strictly CMOS APS-C sensor. The D2x also has a 8fps/6.8MP mode. ISO is 100-800 w/HI-1 & HI-2, with 15 NEF buffer (pretty big buffer considering the image size). Image quality will be very interesting to see, as this puts the pixel size at around ~5.44 microns, which is the smallest DSLR pixel pitch available (the Canon 20D once had the smallest). MSRP of the D2x is around $5500.
Konica-Minolta Maxxum 7D
September 15, 2004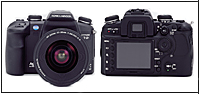 Konica-Minolta has announced a 6MP DSLR, the Maxxum 7D (aka Dynax 7D outside the US) with 9-area AF, 3fps, ISO 100-3200, and a 12 JPEG buffer. The expected price is to be competitive with the Canon 300D.