SAMSUNG SSD
64GB
MZ-7PC064D/AM
Features: A 64 GB Solid State Drive, rated at 6Gb/s (SATA III), SATA II backwards compatible, and includes a Desktop/PC Installation Kit for installing in 3.5" areas.
Manufacturer: Samsung
Form Factor: 2.5"
Connection Type: SATA III/II
Controller: 3-Core MCX
UPC: 036725604711
MSRP: $129.99
Current Price: Check Price / Purchase

In this section, we'll deal with installing the SSD and a little later on, the performance. While other manufacturers may have issues with their SSDs appearing within a motherboard's BIOS, I observed no such problems. In fact, installation was so quick and easy, I decided to restart my system to make sure it was correct. Generally speaking, you should not have any issues with your motherboard recognizing a Solid State Drive. If your motherboard has SATA III/II connections, and you have no odd adapters in-between, there shouldn't be a reason why your SSD cannot be recognized. Taking an example personally, my DFI LP LT X48-T2R is more than 4 years old, but saw the Samsung MZ-7PC064D/AM upon the first connection. While there are drivers and software available from Samsung, and included in this package, I didn't need them.


Samsung SSD BIOS Recognition
Windows 7 Friendly
As usual, by the time I complete a review...another Windows Operating System has been released. Yes, there is Windows 8, but I'm quite comfortable with Windows 7 Ultimate, thanks. Windows 7 recognized the drive without any hiccups either, and I was ready to install the operating system.

Windows 7 recognition of Samsung 64GB SSD
The Performance Factor
So, now we're going to take a look at just how much of an improvement should be realized. The Samsung 830 Series 64GB SSD is capable of SATA III speeds, but is backwards-compatible for SATA II (3Gb/s). This is the best of both worlds, as some of us (myself included) may only have a SATA II motherboard.
SSD vs. 3.5" HDD
Below is a comparison of the form factor sizes of a 3.5" HDD and a typical SSD. When I received my first SSD, I took it out of the package and almost flung it across the room, because it was so light. I'm rather used to hard drives being heavy with a bunch of screws glaring at me. Not this time.
Looking at the completely different connections, I can only imagine what folks like me are going to tell children 5-10 years from now who are getting into computers. I can only recommend taking your 3.5" out of your History Box in your closet with caution, as you may permanently scare your kids, as you show them what you were using as a storage device.


3.5" HDD vs. SSD
Samsung 830 Series 64GB SSD Performance
The following is a performance comparison between a typical 3.5" HDD and the Samsung 830 64GB SSD. A rather small but effective program I use for disk performance is the ATTO Disk Benchmark tool.
3.5" Performance
The following performance stats are from a Western Digital 3.5" 120GB 7200RPM HDD. For those who have faster RPM drives, such as Western Digital's VelociRaptor 10,000RPM series, you will see better numbers (probably around 80-90MB/s read and write). Of course, these drives are still not so affordable, and the more common drives are 7200RPMs, which is why I chose this drive.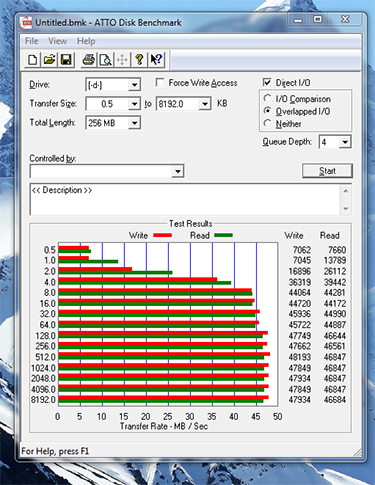 Using ATTO's benchmark, we see about 46MB/s read and 47MB/s write speeds.
SSD Performance
The following performance stats are from the Samsung 830 Series 64GB SSD (MZ-7PC064D/AM):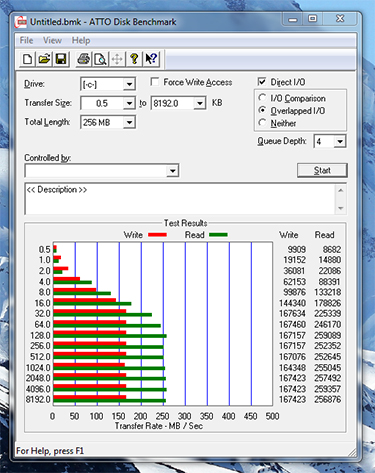 Using ATTO's benchmark, we see about 250MB/s read and 160MB/s write speeds. Much quicker. And if I had a SATA III motherboard available, I'm sure I'd be looking at almost double the read speeds as stated by Samsung. Of course, we must note this 64GB model has a maximum write speed of 160MB/s, which we've already observed above, so in a SATA III environment, we wouldn't see much more for the write speed.
Performance Conclusion
Having only a SATA II motherboard (DFI LP LT X48-T2R LGA 775), I noticed nearly 5x the read speed, and 3x the write speed, when installing the Samsung MZ-7PC064D/AM. Was it worth the ~$57 price when it was on sale? Ummmm...YES!
On a side note, I'd also like to comment about data paths, and what they are capable of. You see, the consumer has had MORE THAN CAPABLE data paths when it came to data transfer speeds, but the bottleneck has been the actual storage component itself. And every single year, we see increased data paths for storage drives on motherboards...but the storage devices themselves aren't keeping up with the potential.