M˛Convert Professional
Application: Compress multiple file formats for popular portable media devices, such as PSP, iPod, Zen, Zune, and Smartphones. Create DVD menus, titles, and chapters.
Official Website: M2Solutions, Inc.
MSRP: $89.00

Now let's take a look at some of M˛Convert Pro's advanced features. One really exciting option M˛Convert Pro offers, is scheduling. Scheduling allows files which are placed within the Tasks List area to be converted without the need to be physically present at the time the audio and video conversion processes. Have a ton of files you need converted and you don't necessarily want to be hanging around the computer all day while the files process? No problem. Simply use the scheduling option, and walk away from your computer. We'll take a look at scheduling below, but first, a little intro on the General Settings area and what components are involved.

General Settings

As you become more familiar with M˛Convert Pro, the General Settings area will become more powerful. There are five areas which are conveniently displayed on the lower-left side of the interface:
Output
Tasks Lists
Log Report
Schedule
Other
M˛Convert Pro: Output
Below is a screenshot of the Output setting. Here is where you can view just where exactly your converted files are going as well having the option to select the original folder of the source, and overwrite settings.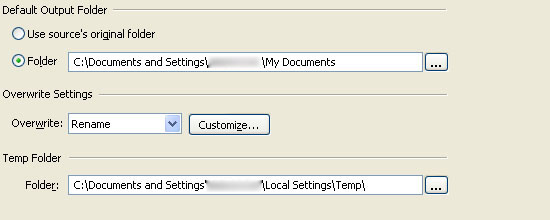 Task Lists Settings
You have several options within Task Lists Settings which are essential to making sure your hard drive is not consumed by failed conversions and redundant files.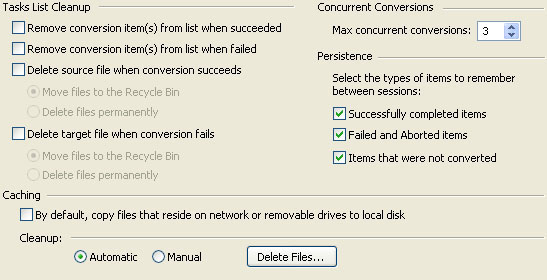 Log Report
The Log Report is very basic, but informs you of what occurred during your conversions. Below is a screenshot of whether or not you want to enable the log report, and where you want the log report file to reside.

And here is an actual sample of a log report:

This example shows only one conversion of one audio file, so a log file would be incrementally larger when multiple audio and video files are processed.

M˛Convert Pro: Scheduling

Below I selected my files to process Friday, Saturday, and Sunday at 10:00pm.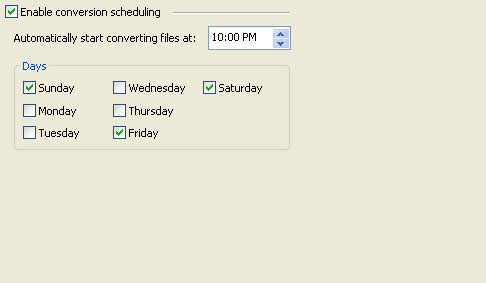 Of course, DigitalDingus would love to see an even more advanced feature. Having the ability to create folders and have them scheduled to process at different times, would be most ideal.

Other

The Other area rather simple, but provides a few options for file system settings and previews.

By adding an "other" setting, I suspect future updates and upgrades can easily be placed here. This demonstrates M˛Convert Pro's continuing evolution and support.