The $20 Billion Question


August 27, 2005; 12:45am PST
Ever wonder where retail printing is headed? Will it be available in the future? Read The $20 Billion Question.
The $20 Billion Question

Canon 5D Preview
August 23, 2005; 6:45pm PST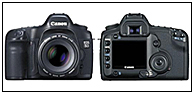 The DigitalDingus Preview of the 5D is now online. The 5D Preview is a basic overview of the major features of this Full-Frame DSLR.
Canon 5D Preview



Canon 1D MKII n Preview
August 23, 2005; 2:12am PST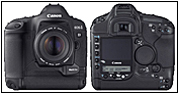 The DigitalDingus Preview of the 1 DMK II n is now online. It is not an overwhelming overview, but merely touches on the new features of the 1D MKII n.
Canon 1D MKII n Preview
Canon Announces 5D & 1DMKIIn
August 22, 2005
Canon has announced a new upgrade DSLR (becoming more common these days) and a full-frame DSLR for those who could not afford the 1DsMKII. The Canon 5D is a 12.8MP Full-Frame CMOS sensor. The 1DMKIIn now has a 2.5" LCD monitor, as well as some software improvements. More details to come.

Fujitsu 2.5" MHV2080AH 80/8 HDD


August 15, 2005; 3:45pm PST


Macally's 250OTG is highly recommended for digital photographers and those who are On The Go, but now you get to see what was inside the macally, making two great products perform at their best.
Fujitsu MHV2080AH Review
macally USB 2.0 PHR-250OTG


July 29, 2005; 2:30am PST


Macally's 250OTG, using the Fujitsu MHV2080AH 80GB HDD, is now online for review. For those seeking high-capacity and high-quality storage, as well as one-touch file transfers from your digital camera, this 2.5" enclosure will more than likely be your best friend on many camera adventures.
macally USB 2.0 PHR-250OTG Review
Olympus Announces 8mm Fisheye
June 30, 2005
Olympus has announced an 8mm f/3.5 Fisheye lens. More details coming, and images will be posted of the lens around next week.

Adobe Acquires Macromedia
April 18, 2005; 5:19am PST
Adobe has apparently finished a deal to acquire Macromedia. The $3.4 Billion of stock deal is supposed to be completed by the end of this year. Those familiar with Adobe and Macromedia will know there are many "overlap" products. Macromedia is the company behind Flash, Fireworks, DreamWeaver, Director/Shockwave, ColdFusion, and Freehand. These products have been Adobe's competition for many years, and the removal of this competition has naturally created controversy.
Adobe to buy Macromedia
Exclusive images of 3 new Olympus ZD Lenses
April 14, 2005
Olympus announced 3 new lenses during PMA 2005, but the availability of the images was was nonexistent, because no one had any images to provide. However, DigitalDingus has 3 images of the new lenses and would like to share them with DD viewers.
Images Of 3 New Oly ZD Lenses
Nikon D2x Article
April 13, 2005
A longtime member of the DigitalDingus Forum is one of the lucky few to have purchased a D2x. Joe Hoddinott is a Wedding & Portrait Artist and owner of BBS Photography. Click here for his article of the D2x, which concentrates on the ISOs of the camera.
Logitech Harmony 676


April 9, 2005


A review of one of the better Digital Video Remotes available today. The Harmony 676 can reduce your remote clutter and improve your older remotes performance by importing your older remotes' functions. Have a computer center remote you'd like to integrate with your other home theater remotes? The 676 could be the answer...
Logitech Harmony 676 Review